Press Release – Eugene, Oregon – Thursday, July 17, 2014
Tactics Boardshop is marking the return of large-scale competitive skateboarding back to the Willamette Valley. Tactics, along with title sponsors Nike SB and Independent Truck Co., will host the inaugural Northwest Jam on Saturday, August 2 at WJ Skatepark in Eugene. The event will feature up to 60 pro-am skateboarders from Oregon, Washington, California and beyond with $6,000 up for grabs, including a $1,000 best trick contest.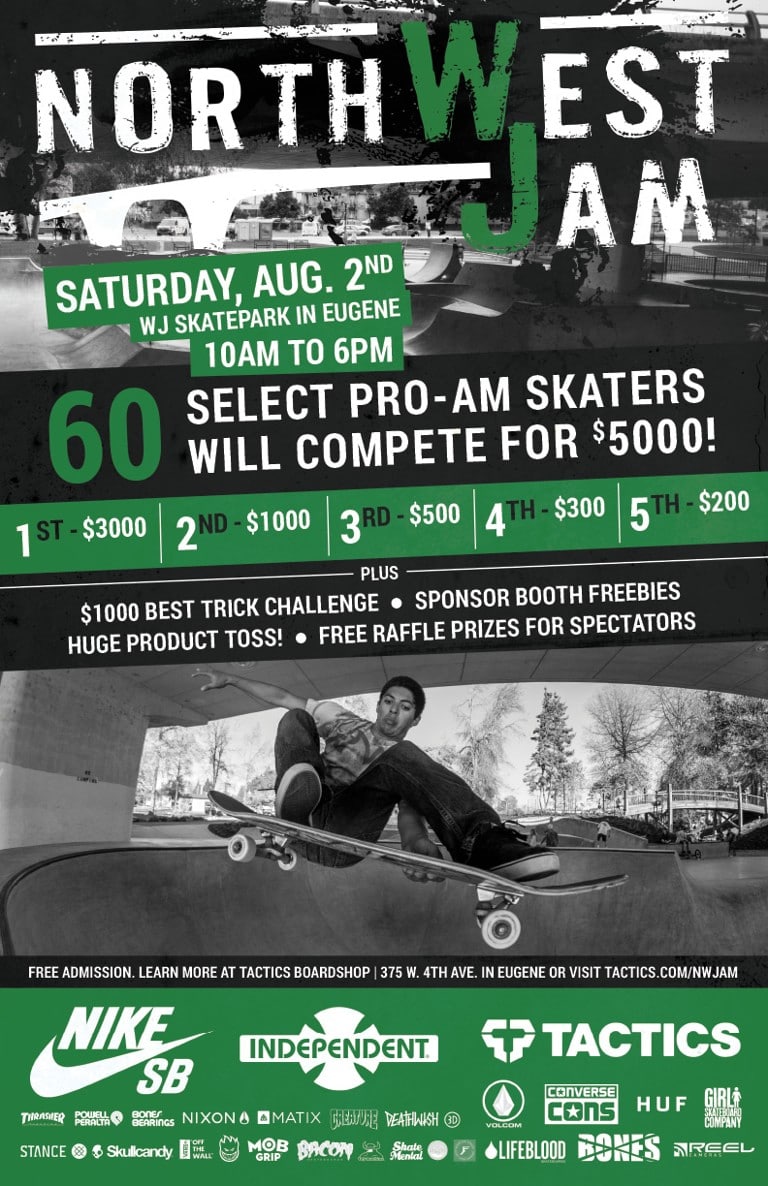 Northwest Jam will be the first regional competition to be held at Eugene's new WJ Skatepark. The 23,000 square foot park opened in April and is hailed as the nation's largest covered and lighted public skatepark.
"WJ Skatepark has two very distinct parts – a complex bowl system and an expansive street section. Our goal is to showcase the entire park," said Jeremy Conant, Marketing Director at Tactics. "We know many of the guys are bowl rippers. We know some shred the street-style. Northwest Jam will reward the skateboarder who kills it in both sections."
For the inaugural event, Tactics partnered with Nike SB, Independent and 26 other skate industry brands to bring a "survive & advance" pro-am competition to WJ, but the sponsors aren't the only support pouring in from around the skateboard community.
"Key industry people like Bryce Kanights, Charlie Wilkins, Colin Sharp and Emile Janicot have helped us ensure we get this event right," Conant said. "We have an impressive group of skaters registered, to go along with a long list of high-profile sponsors, world class judges and, we think, the best MC. It should be quite a day."
Emile Janicot, co-founder of Blood Wizard skateboards and a veteran of professional skate competitions worldwide, will serve as MC for Northwest Jam. He'll be joined by a veteran crew of judges led by longtime pro Charlie Wilkins.
The field of competitive skaters reflects the quality of skateboarding up and down the west coast with riders representing brands like Lifeblood, Bacon, Blood Wizard, Nike SB, Lib Tech, Volcom, Adidas and many more. To retain some local flavor, Tactics will host two qualifying events this summer, allowing six local skaters to earn a spot in the August 2 competition where they'll compete against the region's top pro-ams. CONScrete Carnage, presented by Converse and Tactics on June 28, qualified three skaters for #NWJAM, with the Vans NWJ Qualifier happening Saturday, July 19 at WJ.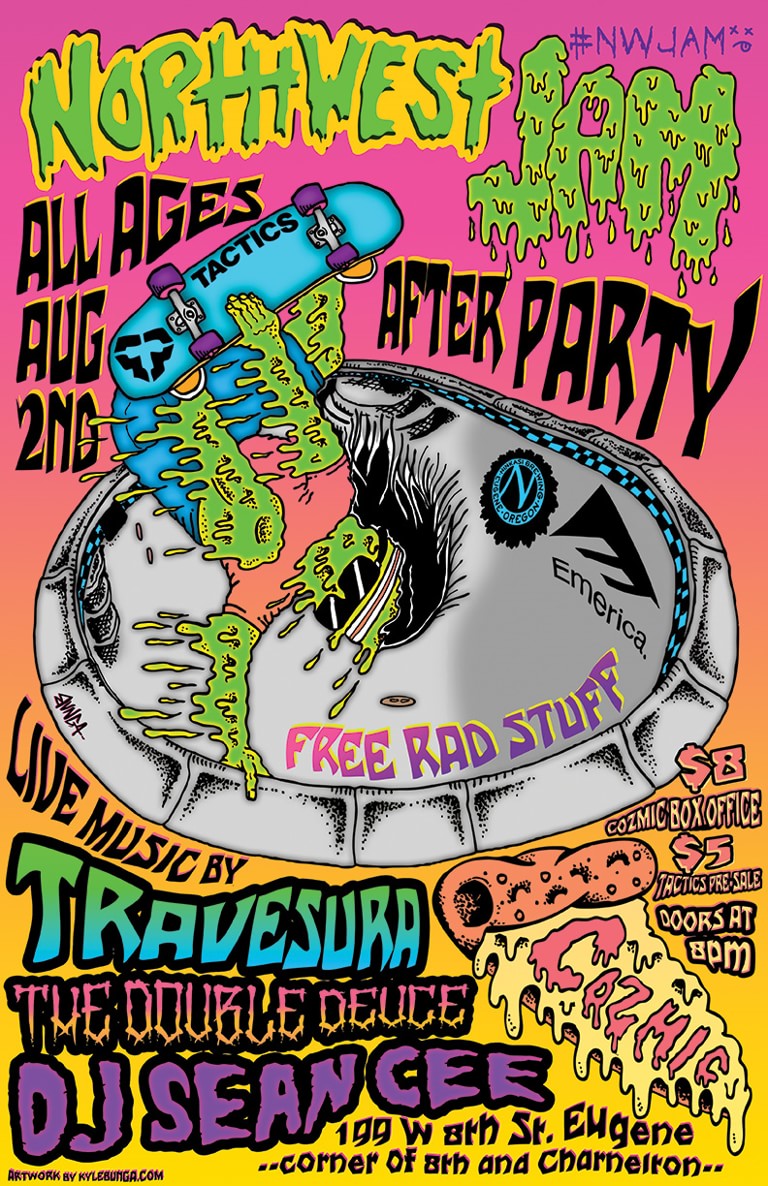 Northwest Jam will be followed by the NWJ After Party sponsored by Tactics, Emerica Footwear and Eugene's Ninkasi Brewing. The party will celebrate the first year of the skate competition and will double as a birthday bash as Tactics commemorates 15 years in business. The NWJ After Party begins at 8 p.m. at Cozmic in Downtown Eugene. Music starts at 8:30 with Eugene's The Double Deuce followed by award-winning DJ Sean Cee from Seattle. The evening's headliner will be Travesura from Long Beach, CA fronted by singer, guitar player and 2010 Thrasher Skater of the Year, Leo Romero. Pre-sale tickets are available at Tactics Boardshop for $5, or for $8 at the Cozmic box office the night of the party. Head to Tactics.com for more information about Northwest Jam and the After Party.
---
About Tactics Boardshop
Founded in 1999, Tactics Boardshop is a privately held retailer located in Eugene, OR. Tactics specializes in skateboarding, snowboarding, surfing, men's and women's clothing, apparel accessories and footwear, with a single retail location in Eugene and shipping to all 50 states and 54 countries worldwide. The company is a reseller for more than 300 action sports brands of gear and related apparel, including Nike SB, Volcom, Burton, Vans, Adidas, RVCA, Billabong, Dakine, Nixon, and 686.
Media Info
Contact:
Jeremy Conant
Marketing Director
Tactics Boardshop | Tactics.com
jeremyc@tactics.com
541-349-0087
Media passes for Northwest Jam and for the NWJ After Party are available upon request.