Mini Logo

MiniLogo 7.63" Skateboard Trucks
Overview
The Mini Logo 7.63" skateboard trucks combine strength, stability, and smooth turning in a lightweight design.
Truck Features
No Break-In Period
Precision Axles
Ultra High Rebound Bushings
Lightweight Hanger/Baseplate
Lifetime Warranty
Features
Truck Features
No Break-In Period - No break in needed. Turn and grin smoothly right out of the package.
Precision Axles - 8mm axles with a slightly curved hanger designed to lock you into grinds.
Ultra High Rebound Bushings - Offers a smooth ride with precise control.
Lightweight Hanger/Baseplate - The last thing you want is a pair of trucks that unnecessarily weigh you down, Mini Logo has ensured that is never their case with their trucks.
Lifetime Warranty - A warranty against manufacturer's defects.
Non-Compatible Risers
Risers from the following brands are not compatible with the baseplates of these trucks.
Sizing Reference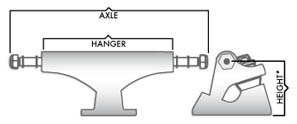 Note - Every skate truck brand represents their sizing a little differently, so it's easy to get confused. Take a look at this graphic and then reference the size chart.
Specs
| Size | 7.63 axle |
| --- | --- |
| Hanger (mm): | 127.0 |
| Board Range (in): | 7.5 - 7.88 |
| Height (mm): | 47.0 |
| Weight (g): | 326.0 |
Reviews
by
Josh
in
Philadelphia, PA
(Verified Buyer)
Posted on 10/24/2021
Mini Logo MiniLogo 7.63" Skateboard Trucks - raw
Super under rated trucks. Excellent turn, no break in time and the grind is as good as any of the big names (the turn is better than most of them).
mini logo trucks with purple technology
Posted on 7/27/2015
Mini Logo MiniLogo 7.63" Skateboard Trucks - purple/black
purple technology, developed by Stacy Peralta's character in the movie Real Genius
Asked by
Skatrallday
on 6/10/2016
Do these trucks grind well?
Answered by
Elijah W
(Tactics Employee) on 6/13/2016
I don't have personal experience with Mini Logo's trucks, but I can say that all of their products are made with durability in mind. The trucks might not grind better than other trucks but they will get the job done and are worth the affordable price.
---
More from Mini Logo