Outdoor Tech
Chips 2.0 Universal Wireless Helmet Audio W/ Walkie Talkie
Be the first to write a review
Overview
Wanting to consolidate all of the things you like to bring with you to the mountain, Outdoor Tech created the Chips 2.0 wireless drop-in headphones so you can combine the features of an MP3 player, phone and walkie talkie into one durable design. Oh, it also happens to have 40mm drivers for a clean sound that can still handle bass. Bang.
Features
Works in Below Zero Conditions
Even at temperatures as low as -4°F (-20°C) your Chips 2.0 headphones will still work
Helmet Compatibility
The CHIPS 2.0 are compatible with helmets from the following manufacturers (and possibly more), as long as they have slots for audio drop-ins: Bern, Giro, Smith, K2, Anon, Pro-Tec, Bolle
Includes
USB Charging Cable, 3.5 to Micro-USB Converter, 3.5mm Audio Control Cable, ODT Logo Carry Pouch, User Manual, and Stickers
Details
Included 3.5mm wire controls volume, pauses, plays, and takes calls
Patented 2-button control system allows you to adjust volume, change tracks, play/pause music, answer calls, & engage the app from outside your helmet knit, without removing your gloves
Details
Hi-Fi Sound - Big bass, clear highs, clean sound. Engineered to hit all the notes for a superior music listening experience.
Built-in Microphone - When connected with your smartphone, the built-in microphone allows you to make and receive hands-free calls from anywhere, any time. Now you can dominate the seesaw and trade a few stocks as easy as pie.
IP45 Shock and Water Certified - Will withstand a single splash of water from any direction. Resists the harmful effects of dust and shocks and protects against sweat.
Voice Activation - Lets you take calls, voice dial, and use Siri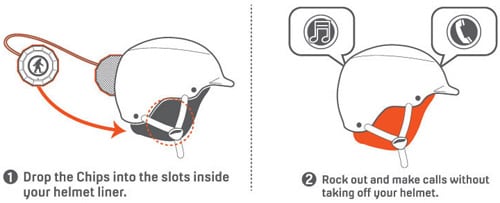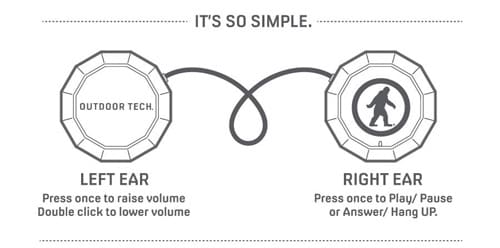 Walkie Talkie - ODT Walkie-Talkie App provides push-to-talk communication with your crew with limitless range.
Fully Wireless and Universal - Works with nearly any audio compatible helmet, the CHIPS 2.0 stream music from your Bluetooth audio device, completely wirelessly. Each earpiece features a single oversized button that you can operate easily with your mittens still on. Simple button press combinations let you control every feature without ever removing your device from your pocket.
---

More products from Outdoor Tech