Randal
R-II 125mm 42 Degree Longboard Trucks
2 Reviews
(2)
Write a Review
Overview
The R-II 125mm 42 Degree skateboard trucks from Randal deliver tight turns and excel on mini-skateboards and retros. Though short and compact, these trucks maintain plenty of control for slalom and carving, which makes them a truly versatile option for a variety of skating.
R-II geometry also allows you to adjust the caster angle by flipping the hanger. Both baseplates are interchangeable within the Randal System.
Features
Material
Virgin Grade Aluminum
Grade 8 King Pin
Grade 8 'cast in' Axles
Details
Reverse Kingpin
Lifetime Guarantee
Made in the USA
Ride Style
Carving/Cruising - Big California style carves, epic summertime adventures around the neighborhood, and everyday shenanigans are supported with trucks flexible enough to handle a bit of everything. You'll find these trucks often have a higher truck angle because this is what controls the amount of energy required to turn your board. Bigger angles equal big carves and a quick response to your movement. Stock bushings tend to be on the softer side for cruising making these trucks great for everyday use and for beginners alike. Make sure to go with the recommended truck width for your board to give you the best match and the most fun.
Hanger Style
Raked Hanger (Offset) - Raked hangers change the way you approach a corner. With a raked hanger, you can lean a lot further into a turn without the truck responding, but once you lean in far enough you'll get a lot of turn, fast. Because your wheels will be going straight for longer you will go faster so if you can handle it, go for it!
Baseplate Angle
42° - Good for downhill use or for more stability on shorter wheel bases.
The truck angle you select will switch up how your board handles. A lower angle truck will require more lean for your turn, where as a higher angle will give you more turn for your lean. Generally speaking, higher angle trucks will be more suited for turning and carving and lower angle trucks will be more stable and better suited for speed.
Bushing Shape
Barrical/Barrical - Freeride dreams are made of these. They are flexible, yet stable. . . can't go wrong with that!
Non-Compatible Risers
Risers from the following brands are not compatible with the baseplates of these trucks.
Sizing Reference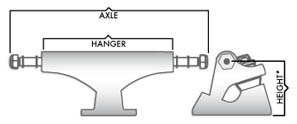 Note - Every skate truck brand represents their sizing a little differently, so it's easy to get confused. Take a look at this graphic and then reference the size chart.
Details
Reverse Kingpin - Reverse kingpins offer increased stability at high speeds and generally provide more strength when compared to traditionally mounted trucks. The reverse nature of the kingpin makes the truck higher and usually heavier, giving you the best controlled turns for downhill bombing.
Specs
| Size | 7.5 axle |
| --- | --- |
| Hanger (mm): | 121.0 |
| Board Range (in): | 7.25 - 7.75 |
| Height (mm): | 56.6 |
| Weight (g): | 335.2 |
Reviews
Posted on 5/8/2018
Randal R-II 125mm 42 Degree Longboard Trucks
I've been using this truck for grip and rip downhill as well as racing on technical roads. A 50/35 split with riser in the back is an absurdly good downhill setup and provides unreal grip. run it with big wheels like Venom Magnums on a skinny board so you dont have too much overhang.
Posted on 10/14/2015
Randal R-II 125mm 42 Degree Longboard Trucks - raw silver 125mm
The short axle allows for a kicking closer to center of board which provides both more powerful stroke and better stability for standing on board. Increases turning ability. Had to use old 50 degree hanger instead of 42 to avoid wheel bite. Don't do downhill so not sure if decrease in board stability due to narrowness would occur but I assume it would.
---

More from Randal