Salomon

Super 8 Snowboard (Closeout) 2023

Be the first to write a review

Pay in 4 interest-free payments of $92.74 with
.
Learn more
Out of stock
But there's another version of this product: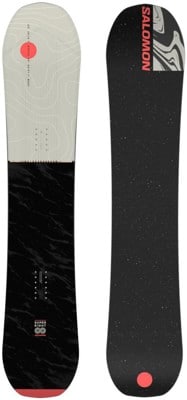 Salomon
Super 8 Snowboard 2024
$549.95
More from Salomon
---
Overview
Film your best freeride line with the Salomon Super 8. The Super 8 is a powder board that is engineered to give you tons of control in deep and steep situations. This board has camber in the back and is flat up front to provide tons of float in powder. Salomon's Quadratic Sidecut makes edge-to-edge carving smooth and catch-free.
Core
Aspen SLCT Core
Popster Core Profile
Laminates
BA MD Fiberglass
C/FX Basalt
Base
Sintered Base
Fine Stone Finish
Details
All Mountain Edge Bevel
Quadratic Sidecut
Rocket Science EQ
Damplifier
Features
Key Features
Backseat Camber - Camber under the back foot for explosive turning capabilities, and flat segments under the front foot for freedom on pow days. The best of both worlds, without any unwanted vibration.
Core
Aspen SLCT Core - Every single FSC certified wood strip is hand selected to ensure unparalleled core quality and lightness.
Popster Core Profile - Maximize the natural snap and powerful pop of wood with Popster's shaped core profiles. Feels like your skateboard kicktail finally connected with your snowboard kit.
Laminates
BA MD Fiberglass - Medium density European-made fiberglass layers guarantee a consistent quality level, for light and lively boards.
C/FX Basalt - Composed of natural basalt and fiberglass, this exclusive fiber make up provides a powerful and smooth ride.
Base
Sintered Base - An industry standard for quality sintered base materials. Provides a moderate balance between the speed created by a hard surface and good wax retention.
Fine Stone Finish - Salomon's fine stone finish is particularly efficient in Salomon's Sintered EG base, speed up in powder or softer snow conditions.
Details
All Mountain Edge Bevel - All Mountain Edge Bevel detunes the tip and tail to a 1° edge, holding tune throughout the key parts of the sidecut, back to a 2° bevel between the feet. This delivers the most solid edge hold with no hang-ups.
Quadratic Sidecut - A blend of elliptic curves for easy turn initiation, effortless direction changes and fluid edge-to-edge transitions.
Rocket Science EQ - Just plain fun, all day long.
This board is 1cm wider for increased stability and 5cm shorter for a more playful, maneuverable feel.
Damplifier - Cork and ABS inserts on the nose help absorb vibrations or a smoother ride at high speeds.
Specs
| Size | 154 | 157 |
| --- | --- | --- |
| Width: | Mid-Wide | Wide |
| Suggested Boot Size (US): | 11.5 & under | 12 & under |
| Waist Width (cm): | 25.9 | 26.0 |
| Stance Set Back (in): | .6 | .6 |
| Effective Edge (cm): | 114.5 | 117.5 |
| Tip Width (cm): | 30.5 | 30.9 |
| Tail Width (cm): | 29.7 | 30.0 |