Tensor

Alloys Skateboard Trucks
Overview
Tensor Alloys Skateboard Trucks have a traditional aluminum alloy hanger and baseplate providing a lightweight and durable skateboard truck. Multiple axle sizes available. Sold as a set of two.
Features
Non-Compatible Risers
Risers from the following brands are not compatible with the baseplates of these trucks.
Dooks
,
Independent
,
Krooked
,
Loaded
,
Lucky
,
Paris
,
Thunder
Sizing Reference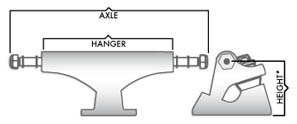 Note - Every skate truck brand represents their sizing a little differently, so it's easy to get confused. Take a look at this graphic and then reference the size chart.
Specs
| Size | 6.9 axle | 7.3 axle | 7.625 axle | 8.0 axle | 8.75 axle |
| --- | --- | --- | --- | --- | --- |
| Hanger (mm): | 107.0 | 120.65 | 127.0 | 133.35 | 152.0 |
| Board Range (in): | 6.75 - 7.25 | 7.0 - 7.5 | 7.38 - 7.875 | 7.75 - 8.25 | 8.5 - 9.0 |
| Height (mm): | 49.5 | 50.5 | 50.5 | 51.0 | 51.0 |
| Weight (g): | 310.0 | 319.5 | 320.4 | 330.6 | 362.2 |
Reviews
by
Natalia Gutierrez
in
East Elmhurst, NY
(Verified Buyer)
Posted on 2/16/2023
Tensor Alloys Skateboard Trucks - black (5.0)
Posted on 2/9/2023
Tensor Alloys Skateboard Trucks
Great trucks I didn't know what to expect especially at this price point but overall they are very nice quality and the bushings are great. They fit my 8.375 board perfectly.
Great trucks, terrible bushings (for adults)
Posted on 1/7/2023
Tensor Alloys Skateboard Trucks
As mentioned by everybody else, the bushings are super soft. I'm 170lbs, and tightening the trucks doesn't really do anything surprisingly fast - like the diff between the kingpin nut at the tip of the kingpin or tightened down past several several threads on the kingpin is hard to even discern. I dunno what the hardness could be... Switched them out for a $6 pack of 98a Doh Dohs (which have to be trimmed/beveled a little bit to fit in the Tensor washers) and now I think they're great. Nice turning, nice grind surface area on the hangars, and very adjustable tightness/looseness.
Not just good for the price, good period
Posted on 10/24/2022
Tensor Alloys Skateboard Trucks
I can't believe how good these are since they're so cheap. I found the stock bushings to be way too soft for me, since I like med-tight trucks. I replaced them with some harder thunder bushings and they're about perfect now. I compared these back to back against standard thunders on an 8.0 board, and liked these better. They're almost the exact same weight, but with a couple mm taller axle height. They turn a little more responsively than the thunders, and have more kingpin clearance. I wasn't a big fan of how the grinding surface is kind of curved in the middle, but if you have a belt sander, steady hands, and a good eye, you can make them flat in a few minutes for more stable grinds.
by
Joshua
in
TX
(Verified Buyer)
Posted on 11/19/2021
Tensor Alloys Skateboard Trucks - raw (5.0)
Very reliable and precise in handling. Great starter trucks for kids and newbies.
by
Chris Davis
in
Silver Spring, MD
(Verified Buyer)
Posted on 10/1/2021
Tensor Alloys Skateboard Trucks - raw (5.5)
Not sure what is up here, but the pivot on these just doesn't feel right to me. The price is great, which is why I bought them, plus I had some bushings to replace the stock ones. Both before and after changing bushings these trucks just did not feel right on my board with a steep inward pivot that I could not get used to. The only other thing I can think is that these trucks cannot work for boards slightly wider than 8.25 though the buying guide says it should be fine.
Asked by
Bilal
on 11/10/2020
Will a 6.9 truck fit on my 7.75 deck
Answered by
Graig A
(Tactics Employee) on 11/10/2020
Yes this will fit, however the board will simply be slightly wider than the trucks themselves.
Asked by
Willyperez
on 8/30/2020
Will an 8.0 axle fit my 8.1 board
Answered by
Hunter H
(Tactics Employee) on 8/31/2020
Yes, the 8.0" axle will fit great with the 8.1" deck~
---
More from Tensor