Tensor
Mag Light Skateboard Trucks
Coming Soon
Success! We'll email you when it arrives.
Enter your email below and we'll hit you up when it arrives.
Skateboard Truck Size & Buying Guide
Overview
The Tensor Mag Light skateboard trucks feature a hollow kingpin and axle to shave weight. The magnesium hanger and baseplate further reduce weight while maintaining the same strength as steel. The result is a truck that's 29% lighter than a traditional steel truck, but just as strong. What this means for you is easier ollies and a much lighter skateboard. That's a plus. A big plus.
Features
Axle/Kingpin Style
Hollow Axle & Kingpin - Hollow axle trucks cut down on the materials used in the axle, so your trucks feel lighter. Hollow kingpins further reduce weight while still maintaining strength in this critical area.
Non-Compatible Risers
Risers from the following brands are not compatible with the baseplates of these trucks.
Dooks
,
Independent
,
Krooked
,
Loaded
,
Lucky
,
Paris
,
Thunder
Sizing Reference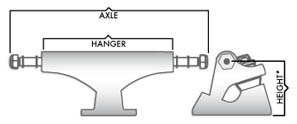 Note - Every skate truck brand represents their sizing a little differently, so it's easy to get confused. Take a look at this graphic and then reference the size chart.
Specs
| Size | 7.625 axle | 7.625 axle (low) | 8.0 axle | 8.0 axle (low) | 8.25 axle | 8.25 axle (low) | 8.5 axle |
| --- | --- | --- | --- | --- | --- | --- | --- |
| Hanger (mm): | 127.4 | 127.0 | 132.8 | 132.8 | 143.6 | 139.4 | 149.0 |
| Board Range (in): | 7.5 - 7.75 | 7.5 - 7.75 | 7.75 - 8.25 | 7.75 - 8.25 | 8.0 - 8.5 | 8.0 - 8.5 | 8.25 - 8.75 |
| Height (mm): | 53.5 | 46.0 | 45.5 | | 53.0 | 45.5 | 53.0 |
| Weight (g): | 257.0 | 247.6 | 233.6 | | 267.6 | 254.3 | 276.0 |
Reviews
by
Max Schearer
(Verified Buyer)
Posted on 7/30/2022
Tensor Mag Light Skateboard Trucks - black (5.5 lo)
I love how low and light they are! They make it easy for curb slides and tricks. They come really loose. And when I tighten them up to a comfortable amount, they get stuck. I don't know if just the bushings need to be broken in. But when I ride the trucks get stuck to the one side or to the other. And I have to push hard to balance them out so they stop pulling to the one side or the other. I've never had this problem with other trucks.
Tensor mag lights- Black 5.25
Posted on 3/29/2022
Tensor Mag Light Skateboard Trucks
Lightestttt truck everrrr by a long shot. Very much noticeable difference. Can no longer skate other trucks, as even other brands hollows feel heavy to me sometimes now. Could never Ollie, do flip/spin tricks, or maybe biggest pro, could never do that many high-energy tricks consecutively without needing to stop to give my legs a rest. Can skate a LOT longer, do wayyyy more tricks in same amount of time, all while still maintaining my highest/near highest level of energy/strength that's very much needed to keep all my trick-attempts as close to 100% effort as possible for as long as possible. Makes sessions more productive. N being an adult with a job and bills. I try 2 make the most out of my always 2 short skate time.
Best trucks ever (when paired with best suited deck/wheels for them ofcourse)
Posted on 3/29/2022
Tensor Mag Light Skateboard Trucks
Dif trucks can improve or hinder ur setup as a whole. Every piece works in harmony with every other. So when evaluating trucks, u can't just switch them all on same deck/wheels and judge them anywhere close to accurately. Not even a little bit.
by
Cody Stites
in
Middleburg, FL
(Verified Buyer)
Posted on 3/17/2022
Tensor Mag Light Skateboard Trucks - black (5.25)
Honestly, I have always skated with stage 11 Indy's. These tensor trucks literally are lighter, I was very shocked, but everything down to the kingpin is hollow so that's why their so light. I do have higher pop and I get faster rotations on the flicks for whichever trick I am going for. Now these trucks do take a lot of damage on rails and curbs. But if your just doing tricks and casually skating the streets your totally fine. If you are grinding and do a lot of stairs you will want heavy duty trucks that can withstand that kind of skating. But all in all, you will have no issues using these trucks for every day skating. You can grind rails and stuff with no issue but if your going hardcore then you will want stronger trucks. But i absolutely love these trucks. They don't do that well for turning. But all in all I give these trucks a 9 out of 10
these maglight los are good trucks
by
Brendan McGinnis
in
Milpitas, CA
(Verified Buyer)
Posted on 11/8/2021
Tensor Mag Light Skateboard Trucks - black (5.0 lo)
Grinds great, looks great. I love skating flatground and ledges with these trucks! You're gonna suffer wheelbite hell if you skate wheels bigger than 52mm and no risers. The sticker on the hangar is excessive in my opinion, that's taken off the moment they're set up so why even have them on in the first place?

They turn kinda crappy but they're low trucks so you're kind of asking for it by getting them (I can't recall skating a low truck from another brand, so I don't have much to compare them to, maybe I shouldn't have made that generalization lol). One thing worth noting is that they use different bushings than the standard Tensor bushings (the bottom bushings in the Los are nearly a quarter inch taller than the ones in the normal height trucks), so unless you want to compromise the turning in your truck I would leave the Lo bushings in there.
by
Brendan McGinnis
in
Milpitas, CA
(Verified Buyer)
Posted on 11/8/2021
Tensor Mag Light Skateboard Trucks - black (5.0)
Grinds great, looks fine, almost never any wheel bite even with pretty loose trucks. I feel like the feeling of the turn is somewhere in between Ventures and Aces.

It seems that they put a lot of lubricant on the bushings, which gave a remarkably sharp turn right out of the box, I can see why you would want to do that so that the user gets the full turn of the truck immediately and they don't have to wait for the bushings to break in but I like to break in my bushings, it was kind of annoying that I had to take apart the truck and clean out all the lubricant.

Also, having that sticker on the hangar is kind of annoying, I took it off immediately but the sticker residue stayed and ended up leaving a dirt silhouette of the sticker on the truck for all to see. If you're a truck manufacturer/distributor and you really have to leave a sticker on the truck (which you shouldn't in my opinion, just put it on the packaging) please put it in a spot where people can't see it with the board assembled, like on the bottom of the baseplate like most other truck companies.

This is my second set of maglights (I am also skating the 5.0 Los) and I haven't experienced any axle bending yet. Perhaps that's more of an issue with the wider versions of those trucks?
Asked by
Michael
on 2/3/2020
Are you selling the original mag lights (as seen in the photo) or are you only selling the new ones with "all terrain geometry"?
Answered by
Hunter H
(Tactics Employee) on 2/4/2020
These Tensor Trucks will feature the updated All Terrain Geometry.
Asked by
Dean P
on 6/20/2019
Is each truck sold separately?
Answered by
Cody W
(Tactics Employee) on 6/20/2019
All of our trucks are sold in pairs!
Asked by
Plaid Retina
on 6/10/2017
Hey guys can I get a height and weight for the 8.625? Thanx so much for your time!!
Answered by
James D
(Tactics Employee) on 6/16/2017
These trucks are 48mm tall from the ground to the bottom of the axle. Together as a pair, they weigh 1.2 lbs
---
More from Tensor