Ace

AF-1 Hollow Skateboard Trucks

Be the first to write a review

Pay in 4 interest-free payments of $17.49 with
.
Learn more
Overview
Strongest Cast Truck Ever Made
All-new proprietary process
Strength at a molecular level
Faced Hangers
Machined to perfection so the bearings sit flush
Bonus Re-Threading Die
Keep it on your key chain to fix a friend's axles on the fly
Re-Threading Axle Nuts
No more stripped axles
*Patent Pending Technology
Upgraded Pivot Cups
Hand-poured 96a urethane
Maximum durability
Improved Suspension
Refined bushing and washer shapes
Upgraded Axles
SAE 4140 Alloy Steel Axles
Non-slip, don't trip
Material Upgrade
Higher grade aluminum
True T6 heat treatment
Details
Comes in a 100% Biodegradable Bag
Features
Axle/Kingpin Style
Hollow Axle & Kingpin - Hollow axle trucks cut down on the materials used in the axle, so your trucks feel lighter. Hollow kingpins further reduce weight while still maintaining strength in this critical area.
Non-Compatible Risers
Risers from the following brands are not compatible with the baseplates of these trucks.
Diamond
,
Girl
,
Independent
,
Loaded
,
Paris
Sizing Reference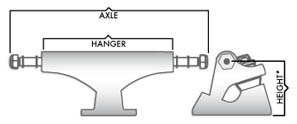 Note - Every skate truck brand represents their sizing a little differently, so it's easy to get confused. Take a look at this graphic and then reference the size chart.
Specs
| Size | 8.0 axle | 8.25 axle | 8.5 axle | 8.75 axle |
| --- | --- | --- | --- | --- |
| Hanger (mm): | 133.3 | 138.9 | 144.1 | 153.1 |
| Board Range (in): | 7.75 - 8.25 | 8.0 - 8.5 | 8.25 - 8.75 | 8.5 - 9.0 |
| Height (mm): | 52.5 | 52.5 | 52.8 | 52.6 |
| Weight (g): | 360.5 | 369.4 | 376.91 | 382.9 |
---
More from Ace