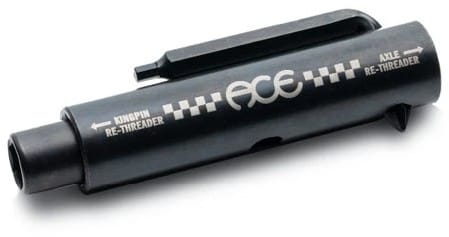 Overview
Details
Phillips and Allen Screwdriver
Kingpin Nut Tool
Axle Nut Tool
Griptape File
Mounting Hardware Tool
Built-In Kingpin Re-Threader Die
Collapsible and More Compact Than Ever
Reviews
by
Lukas Bagshaw
in
Pittsburgh, PA
(Verified Buyer)
Posted on 8/4/2023
Most convenient and versatile skate tool. The pins were a lil sticky and don't stay in place as snug as usual.
Posted on 5/5/2023
I haven't had to use the re-threading dies yet, so I don't know how well those work, but everything else is perfect. Much more compact & pocket friendly than the "T" or "Y" style tools.
by
Aaron
in
Tampa, FL
(Verified Buyer)
Posted on 11/4/2022
This thing turns nuts. It's built very well. It fits in your pocket and stays in my car cupholder. If I lost it, I'd probably buy another.
---
More from Ace