K2
Ender Snowboard Boots (2019 Closeout)
Be the first to write a review
Out of stock
But there's another version of this product: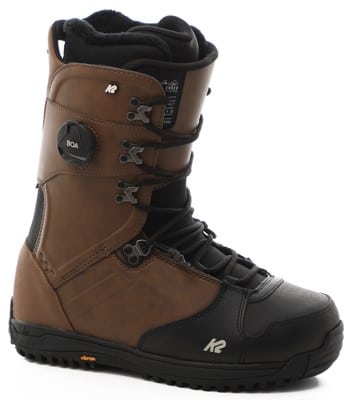 K2
Ender Snowboard Boots 2021
$339.95

More from K2
---
Overview
The Ender is an all-mountain freestyle boot built with a load of premium features for the most tech-savvy freestyle riders out there. Moldable J bars and Boa Mobility Conda Liner Lacing provide maximum control and response by securing and planting your heels in the back of the boot. The medium Endo Flex profile ensures mobility and response, providing you with confidence in all conditions. Harshmellow Impact Reduction, Intuition Pro Foam 3D Liners and 3D Formed EVA Footbeds provide increased dampening to keep you comfortably riding hard all day.
Features
Key Features
Boa® Mobility Conda Liner Lacing
Endo 2.0 Flex Construction
Harshmellow™ Impact Reduction
Liner
Intuition® Pro Foam 3D Liner
3D Formed EVA Footbed
Details
K2 Boa Partnership: The Original Boa Boot Company
1 Year Warranty
Key Features
Boa® Mobility Conda Liner Lacing - The Boa® Mobility Conda system allows you to adjust the tightness of your liner on-the-fly from outside of your boot, even with gloves on. This patented design uses a flexible urethane harness that gently hugs the ankle to improve heel hold and can be adjusted laterally for comfort.
Endo 2.0 Flex Construction - A complete rethink of how a boot is constructed and flexes. Endo brings precise, engineered flex that stays consistent from day one through the life of the boot. The 100% urethane structure also adds a lively, energetic feel that reduces fatigue.
Harshmellow™ Impact Reduction - Formulated for long lasting impact absorption and vibration killing, the same Harshmellow material used in boards and bindings can be found in K2's boots. Integrated in the heel and forefoot areas of K2's top boots, minimizing rebound and making landings softer and more controlled.
Shell
Articulating Cuff - K2's articulated cuffs are performance constructed to provide you with a smooth and flexible feel without sacrificing support and durability.
Sole
Vibram V4 Outsole - Combining Vibram's 70 years of experience in outsole design with K2's 28 years of snowboarding knowledge, this is the best in snowboard outsoles. Focused on durability, weight reduction, grip and classic lug design, it doesn't get any better than the V4 outsole.
Liner
Intuition® Pro Foam 3D Liner - K2's most supportive liner that uses a high-density Intuition foam for added stiffness without sacrificing custom molded comfort. K2 added internal and external J bars where extra support is needed around the ankle. A newly integrated power strap provides extra-customized support that stays in place.
3D Formed EVA Footbed - Superior vibration and impact performance.
Details
K2 Boa Partnership: The Original Boa Boot Company - K2 introduced Boa® lacing systems to the snowboard market more than 10 years ago. Now, more than ever, K2's decade of partnership with Boa® is a stand out advantage. They continue to lead the charge, featuring exclusive K2 Boa® low-friction, low-profile guides, Boa® H2 and H3 reel closures, as well as many other advancements within each Boa®-equipped model. K2 continues to offer the most progressive, comfortable and fastest Boa® systems on the market.
1 Year Warranty - Covered under manufacturer warranty for 1 year from the time of purchase. Warranty includes manufacturer defects in materials and workmanship only and DOES NOT cover cracked or broken parts due to impact or misuse, damage caused by any modification done outside the manufacturer's facility, or lost parts due to lack of hardware maintenance.