Smith

Barra Polarized Sunglasses

Be the first to write a review

Pay in 4 interest-free payments of $44.75 with
.
Learn more
Overview
These Smith Barra sunglasses feature slim side shields pair with a 6-base curve for large coverage that wraps your face and cuts backside glare. The Anti-slip nose and temple pads will keep your sunglasses in place while the ChromaPop lens tech enhances definition and clarity helping you see detail and color beyond normal capabilities.
Frame Tech
Hydrophilic Megol Nose Pad
Lens Tech
Smith Polarization
Hydroleophobic Coating
Anti-Reflective Coating
ChromaPop
Fit
Medium Fit / Large Coverage
Details
Auto-Lock Hinges
Rx Compatible
Features
Curvature
6 Base Curvature - The base curvature corresponds to the curve of the lens. The higher the number, the higher the curve. 6 base styles have a "flatter" look. 8-9 base curves hug closer to the face.
Frame Material
eVolve Material - For more than 40 years Smith has been a steward of the outdoors. Great days in the water, dirt, and snow are made better when we protect the environment as well. By utilizing a new material called Rilsan Clear, they are creating lightweight, durable, and fully transparent sunglass frames that are over 53% bio-based.
Frame Tech
Hydrophilic Megol Nose Pad - Placed at the nose and on the temple tips, this material gently grips your skin to help keep your frame in place. The gripping power increases when introduced to moisture.
Lens Tech
Smith Polarization - Smith precisely aligns the polarized visual layer inside the lenses to filter out 99.9% of this "visual static" for a finely tuned, glare-free view of the action.
Hydroleophobic Coating - This coating repels moisture, grease and grime. A barrier between your lenses and the world. Water will bead up and dispense without streaking. Smudges from fingerprints are wiped clean easily.
Anti-Reflective Coating - Vacuum applied Anti-Reflective (A/R) coatings on the back side of the lens will eliminate bothersome sidelight reflections.
ChromaPop - By blocking color wave intersections as they pass through the lens ChromaPop is able to eliminate color confusion, enabling you to see the outside world with an unparalleled level of vibrancy.
Frame Measurements (mm)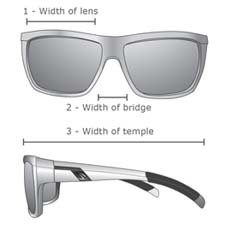 These measurements include the width of the lens, the width of the bridge and the width of the arms/temples.
---
More from Smith