Smith

Guide's Choice Polarized Sunglasses

Be the first to write a review

Pay in 4 interest-free payments of $52.25 with
.
Learn more
20% Off With Code: BFCM23
Overview
These sunglasses are extremely lightweight, the lenses are packed full of technology that helps your sight cut through the water, and the lens and frame wrap around enough to cover your peripheral vision a bit as well so for fishing they are ideal. Something Smith specializes in is their Hydroleophobic coating which will not only repel water but grease and grime too, allowing you to spend less time cleaning and more time out doing what you really want to. And, with the wide selection of lenses to choose from you're sure to find the perfect fit for your lifestyle.
Lens Tech
TLT Optics
Smith Polarization
Hydroleophobic Coating
Anti-Reflective Coating
ChromaPop
Includes
Integrated/detachable sunglass leash
Features
Curvature
8 Base Curvature - The base curvature corresponds to the curve of the lens. The higher the number, the higher the curve. 6 base styles have a "flatter" look. 8-9 base curves hug closer to the face.
Frame Material
eVolve Material - For more than 40 years Smith has been a steward of the outdoors. Great days in the water, dirt, and snow are made better when we protect the environment as well. By utilizing a new material called Rilsan Clear, they are creating lightweight, durable, and fully transparent sunglass frames that are over 53% bio-based.
Lens Tech
TLT Optics - Tapered lens thickness for zero distortion and true optical clarity; what you see is what you get.
Smith Polarization - Smith precisely aligns the polarized visual layer inside the lenses to filter out 99.9% of this "visual static" for a finely tuned, glare-free view of the action.
Hydroleophobic Coating - This coating repels moisture, grease and grime. A barrier between your lenses and the world. Water will bead up and dispense without streaking. Smudges from fingerprints are wiped clean easily.
Anti-Reflective Coating - Vacuum applied Anti-Reflective (A/R) coatings on the back side of the lens will eliminate bothersome sidelight reflections.
ChromaPop - By blocking color wave intersections as they pass through the lens ChromaPop is able to eliminate color confusion, enabling you to see the outside world with an unparalleled level of vibrancy.
Frame Measurements (mm)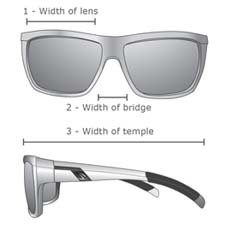 These measurements include the width of the lens, the width of the bridge and the width of the arms/temples.
Extra Info
Pro Tip - Are polarized sunglasses better? Are they worth the price?
In many cases, yes. All sunglasses reduce brightness and block some amount of harmful UV rays. However, only polarized sunglasses are scientifically constructed to eliminate glare. Not just reduce it, but eliminate it. Fully polarized sunglasses reduce eye strain and help you see better around water, snow, sand or any other reflective surroundings.
---
More from Smith