Smith
I/O S Replacement Lenses
Pay in 4 interest-free payments of $8.75 with
.
Learn more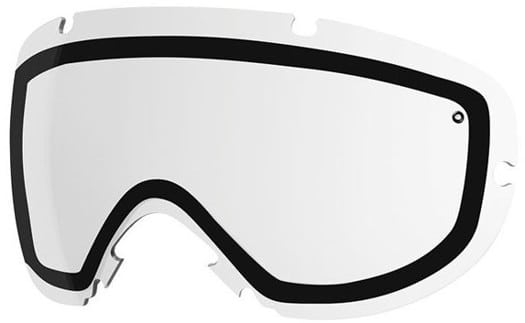 Overview
Your new I/OS replacement lenses from Smith are right here. Just pick your favorite shade and go.
Features
Lens Features
Spherical Carbonic-X Lens
100% UVA/B/C Protection
5x Anti-Fog
Porex Filter Technology
Tapered Lens Technology (TLT)
Lens Features
Spherical Carbonic-X Lens - Smith has set the standard in lens performance. Each lens is individually molded to offer optimum scratch and impact resistance, increased visual acuity, and enhanced contrast sensitivity. The inner lens is impregnated with Smith's Anti-Fog lens treatments for increased anti-fog performance. The Carbonic-X lens meets Class 1 optical standards as well as ANSI Z80.3 standards.
100% UVA/B/C Protection - All Smith lenses provide 100% protection from harmful UVA/B/C rays.
5x Anti-Fog - Building upon the hydrophilic, micro-etched surface area principles of Smith's Fog-X lenses, the 5X Anti-Fog inner lens has been engineered to provide more than five times the absorptive properties of anything on the market. Initial testing showed standard anti-fog lenses fogging between 30-50 seconds. Smith's proprietary, 5X Anti-Fog treatment withstood fogging for more than 120 seconds in controlled lab tests.
Porex Filter Technology - Changes in elevation bring changes in atmospheric pressure. These forces have the potential to diminish the optics of thermal lens systems. Smith's patented Porex filter solves this issue by allowing the air pressure within the sealed lens chamber to equalize with the atmosphere outside, ensuring class 1 optical standards.
Tapered Lens Technology (TLT) - When light passes through a medium, it refracts, or changes course. If left uncorrected, this refraction can cause visual distortion and eye fatigue. Smith's Tapered Lens Technology straightens out the incoming light rays by progressively tapering the lens from the optical center toward the peripheral view. What this means for you is that you see with 100% accuracy and maximum comfort.
Quick Release Lens
I/OS - Flip the top switches, articulate the outriggers 90 degrees, pop out the lens and replace it with a new one.
Reviews
by
David Riley
in
Steamboat Springs, CO
(Verified Buyer)
Posted on 1/14/2019
Smith I/OS Replacement Lenses - clear lens