Features
Baseplate Style
Forged - Forged baseplates are compression molded making them lighter, stronger, and more impact resistant compared to cast or poured-mold baseplates. Forging also eliminates the most common manufacturing defects and imperfections.
Axle/Kingpin Style
Hollow Kingpin - Lightening the load, hollow kingpins reduce weight for lighter feeling trucks, while still maintaining strength in this critical area.
Origin
Made in the USA - Made in San Francisco, California
Non-Compatible Risers
Risers from the following brands are not compatible with the baseplates of these trucks.
Dooks
,
Girl
,
Loaded
,
Paris
Sizing Reference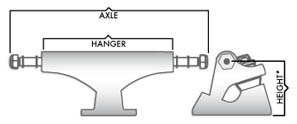 Note - Every skate truck brand represents their sizing a little differently, so it's easy to get confused. Take a look at this graphic and then reference the size chart.
Specs
| Size | 7.6 axle | 7.6 axle (low) | 8.0 axle | 8.25 axle | 8.5 axle |
| --- | --- | --- | --- | --- | --- |
| Venture Size: | 5.0 Hi | 5.0 Lo | 5.2 Hi | 5.6 Hi | 5.8 Hi |
| Hanger (mm): | 127.0 | 127.0 | 132.0 | 144.3 | 147.2 |
| Board Range (in): | 7.4 - 7.85 | 7.4 - 7.85 | 7.75 - 8.25 | 8.0 - 8.5 | 8.25 - 8.75 |
| Height (mm): | 53.5 | 48.3 | 53.5 | 53.5 | 53.5 |
| Weight (g): | 333.4 | 333.5 | 340.8 | 350.95 | 358.5 |
Reviews
by
SUKJUN YUN
in
New Castle, DE
(Verified Buyer)
Posted on 1/9/2022
Venture V-Lights Skateboard Trucks - all polished (5.6 hi)
As a beginner try to experience as many trucks as possible. And these V-Lights are it?? Landed my first ollie wit this??
Posted on 4/9/2021
Venture V-Lights Skateboard Trucks
I switched from Thunders to these after about a year. They feel so much better. I had no problem with my spitfire skate tool on the bolts. Bushings feel pretty nice so far. Pop is noticeably more responsive instantly.
Nice, stable ride. Normal skate tools don't work!
by
Robin J
in
Long beach, CA
(Verified Buyer)
Posted on 7/15/2020
Venture V-Lights Skateboard Trucks - all polished (5.2 hi)
Just FYI - the truck itself covers two of the bolt holes, so you can't use a normal T shaped skate tool. You'll need a small wrench instead. other than this small hiccup during install, these trucks ride great. Very smooth and stable. We'll see how the bushings break in but very happy with it now
by
Peter Raizis
in
New Orleans, LA
(Verified Buyer)
Posted on 4/14/2020
Venture V-Lights Skateboard Trucks - wings polished black/silver text (5.8)
Glad they finally made some ventures with bigger axles. Everything else is the same truck you know and love.
Posted on 9/23/2019
Venture V-Lights Skateboard Trucks
I tried the titanium's and had so many problems. Got the v hollow and loved them but the hollow axles are not durable (in any truck imo) and don't appear to be straight. Always wondered why the v hollows were only 5 bucks more I thought that was a no brainer but I see why now. The V lights are it. Throw some bones bushings but keep the stock top washer instead of the bones flat washer it comes with and you're good to go (the bones flat washer always clicked and is just not durable). Forged baseplate and hollow kingpin lighten the load up a bit while still remaining durable. I had to get a little used to the weight difference coming from lighter trucks but don't be a baby. I highly recommend.
by
James Moody
in
Richmond, VA
(Verified Buyer)
Posted on 4/14/2019
Venture V-Lights Skateboard Trucks - polished (5.8 hi)
---

More from Venture