Gullwing
Charger Longboard Trucks
Pay in 4 interest-free payments of $11.99 with
.
Learn more
Overview
The Charger longboard trucks from Gullwing feature a reverse kingpin setup that provides improved turning for downhill and carve-oriented skating.
Get your shred on!
Features
Details
Reverse Kingpin
Pivot redesigned for better freeriding and carving
Pivot redesigned for compatibility with Charger II and Stalker
Updated larger bushings for increased stability
Ride Style
Carving/Cruising - Big California style carves, epic summertime adventures around the neighborhood, and everyday shenanigans are supported with trucks flexible enough to handle a bit of everything. You'll find these trucks often have a higher truck angle because this is what controls the amount of energy required to turn your board. Bigger angles equal big carves and a quick response to your movement. Stock bushings tend to be on the softer side for cruising making these trucks great for everyday use and for beginners alike. Make sure to go with the recommended truck width for your board to give you the best match and the most fun.
Hanger Style
Symmetrical Hanger - Symmetrical hangers are the standard. Sometimes it's best to go with what is tried and true. Symmetrical hangers will turn evenly as your weight is redistributed and are great for all kinds of skating.
Baseplate Angle
50° - Good for more effortless turning and carving, or for handling boards with longer wheel bases.
The truck angle you select will switch up how your board handles. A lower angle truck will require more lean for your turn, where as a higher angle will give you more turn for your lean. Generally speaking, higher angle trucks will be more suited for turning and carving and lower angle trucks will be more stable and better suited for speed.
Bushing Shape
Cone/Cone - Cones give your trucks a wonderful carvelicious feeling. Try different durometers like 90a boardside and 87a roadside to customize your ideal carving machine.
Non-Compatible Risers
Risers from the following brands are not compatible with the baseplates of these trucks.
Sizing Reference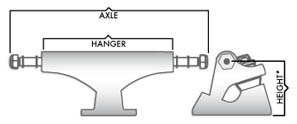 Note - Every skate truck brand represents their sizing a little differently, so it's easy to get confused. Take a look at this graphic and then reference the size chart.
Details
Reverse Kingpin - Reverse kingpins offer increased stability at high speeds and generally provide more strength when compared to traditionally mounted trucks. The reverse nature of the kingpin makes the truck higher and usually heavier, giving you the best controlled turns for downhill bombing.
Specs
| Size | 9.0 axle | 10.0 axle |
| --- | --- | --- |
| Hanger (mm): | 160.0 | 186.0 |
| Board Range (in): | 9.5 - 10.5 | 9.75 - 10.75 |
| Height (mm): | 68.0 | 68.0 |
| Weight (g): | 453.5 | 538.5 |
Reviews
by
Francisco Sandoval
in
Jacksonville, FL
(Verified Buyer)
Posted on 5/1/2020
Gullwing Charger Longboard Trucks - 9" orange/blue
Bought these for my 10 year olds longboard and he loves them. Says they're comfortable and smooth ride height.
by
Jacob Sandy
in
Encinitas, CA
(Verified Buyer)
Posted on 7/8/2019
Gullwing Charger Longboard Trucks - 10" spectrum
Don't forget these are reverse axle trucks when putting them on...
In a bowl and on the street, surprisingly competent
by
Tyler Dunbar
in
TORRANCE, CA
(Verified Buyer)
Posted on 6/1/2019
Gullwing Charger Longboard Trucks - 10" black
Grind okay, carve well, speed wobbles a lot so you really have to tighten them. Oh and they look cool.
by
Evan Wangenheim
(Verified Buyer)
Posted on 2/15/2017
Gullwing Charger Longboard Trucks - 9" silver/black
Used these to build my first longboard. They are well priced, well built, and a solid choice. One axle was fraction of a mm wider, so the bearings get stuck on it, but that's it.
by
Amanda Wines
in
Thomasville, NC
(Verified Buyer)
Posted on 8/19/2015
Gullwing Charger Longboard Trucks - 10" orange/blue
Pretty darn low with excellent carves. Love these drop through truck- never been more stable with these trucks! Colors are bright and statement making!
by
Luciana O
in
ORLANDO, FL
(Verified Buyer)
Posted on 1/22/2015
Gullwing Charger Longboard Trucks - orange/blue
Asked by
Mark
on 5/22/2017
What brand of bushings are available for these trucks. mine came with blue and red. I'm looking for a stiffer set. Please let me know. Thanks.
Answered by
Graig A
(Tactics Employee) on 5/24/2017
Any of the venom SHR or HPF downhill bushings will work in this truck. Anything higher than 87a durometer is going to be stiffer than the original ones you had.
Asked by
Angel
on 1/28/2013
What are the bushing durometer of gullwing trucks...light blue, light yellow, red and black??
Answered by
Jesse C
(Tactics Employee) on 3/29/2013
Gullwing doesn't give the exact durometer, but they come with a mid-range bushings. Probably around 90a
---

More from Gullwing