Press Release – Eugene, Oregon – Tuesday, August 5, 2014
If a skateboarder is going to travel all the way from Florida to jump in a west coast pro-am event, he might as well win it and justify the time and expense. So that's exactly what Dalton Dern did Saturday, taking the top podium spot and $3,000 at Tactics Boardshop's inaugural Northwest Jam in Eugene, OR.
Dern, riding for Lifeblood Skateboards, led a field of 58 skaters who competed in the first regional skate comp to be held at Eugene's newly opened WJ Skatepark. He threw down trick after trick with his signature smooth style to lead all skaters after completing qualifying runs in WJ's street and bowls sections, then dominated the group of 12 finalists.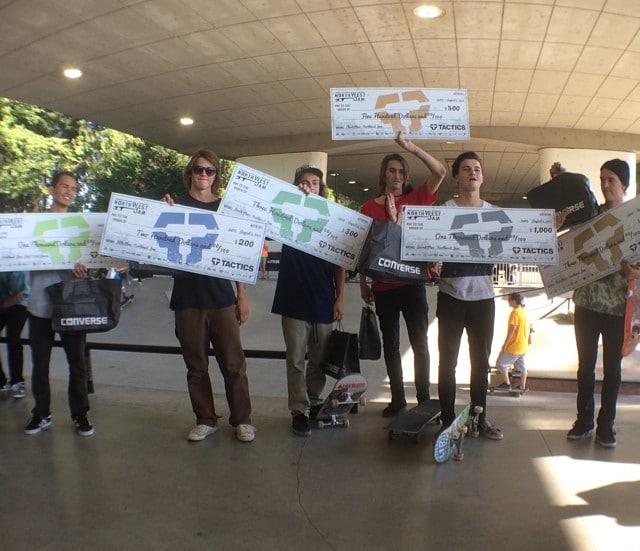 Zion O'Friel (Redding, CA; Lib Tech) took home $1,000 by finishing second. Anakin Senn (Portland, OR; Blood Wizard) was third, Jake Selover (Bend, OR; Lifeblood) was fourth, and Nick Peterson (Portland, OR; Bacon) was fifth. Remaining finalists were Brendan Garcia (Roseburg, OR; Bacon), Danny Tumia (Portland, OR; Sector 9), Sean Donnelly (Eugene, OR; Tactics), Kyle Ward (Portland, OR; Lib Tech), Tyler Martin (San Diego, CA; Sector 9), Trever Bates (Toledo, OR; Unheard), and Jason Singler (Seattle, WA; Casual Industrees).
David Lobasyuk (Portland, OR; Oh My Skateboards) didn't make the Northwest Jam finals, but he did provide one of the highlights of the day. With event MC Emile Janicot counting down the final five seconds of the $1,000 winner-takes-all best trick contest, Lobasyuk rolled up to WJ's eight-stair and stomped a big flip front board to fakie to take the cash.
Northwest Jam featured pro-am skaters from up and down the west coast and represents the first regional competition for WJ Skatepark, a Dreamland park that officially opened in June. It was also the first event of this magnitude hosted by Tactics Boardshop.
"We've been dabbling in smaller local competitions for a few years, and with the new park finally built, we wanted to go big," said Jeremy Conant, marketing director at Tactics. "So far, the feedback has been tremendous. Having guys like Dalton, Zion and Anakin here in our first year…they really elevated our event. And not just them, but dozens of skaters in the field had notable runs, impressed the judges and stoked the crowd."
"It was year one and we couldn't be happier. We had tremendous support from our title sponsors Nike SB and Independent, plus participation from about 30 other skate industry brands. It started with a vision of establishing a major event for the Pacific Northwest. Having that vision embraced and supported by guys like Bryce Kanights, Emile Janicot, Charlie Wilkins and Matt Milligan put us in a position to get it right. We're absolutely doing this again next year."
---
About Tactics Boardshop
Founded in 1999, Tactics Boardshop is a privately held retailer located in Eugene, OR. Tactics specializes in skateboarding, snowboarding, surfing, men's and women's clothing, apparel accessories and footwear, with a single retail location in Eugene and shipping to all 50 states and 54 countries worldwide. The company is a reseller for more than 300 action sports brands of gear and related apparel, including Nike SB, Volcom, Burton, Vans, Adidas, RVCA, Billabong, Dakine, Nixon, and 686.
Media Info
Contact:
Jeremy Conant
Marketing Director
Tactics Boardshop | Tactics.com
jeremyc@tactics.com
541-349-0087