David's Map Deck | by David Lobasyuk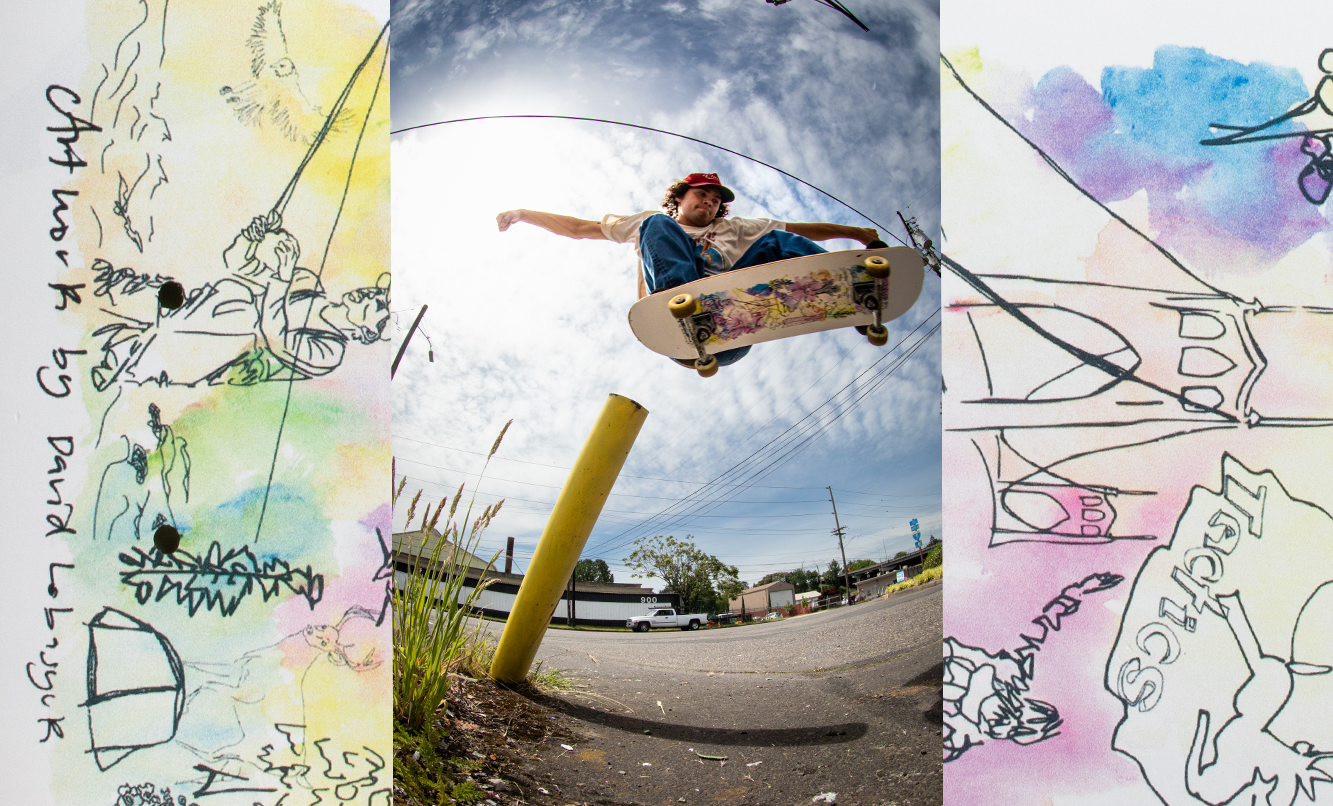 Meet David L; Animal lover, doodler, hat enthusiast, and an old soul in his music taste. He loves to ride his skateboard, and can make a skate spot out of nothing. You may see him flying around Pier Park, but he's one of the rare ones who looks more comfortable in the streets than at a "smooth" skatepark. David's Deck is an ode to Portland; his current love letter to the St John's district, back up the Willamette River to Portland's rugged and crusty downtown, and then out of the city and into nature. We caught up with Dave about his latest Tactics graphic, spot hunting, and the Blazers.
---
Good afternoon David, what are you up to today?
Warming up at the courts before hitting the streets
Your David's Map graphic came out sick. Where did your inspiration come from?
Well I've always had fascinations with photo collages growing up. So since then I incorporated it into my art. Something about having an organized cluster and putting them together to make a whole story is a good feeling to me.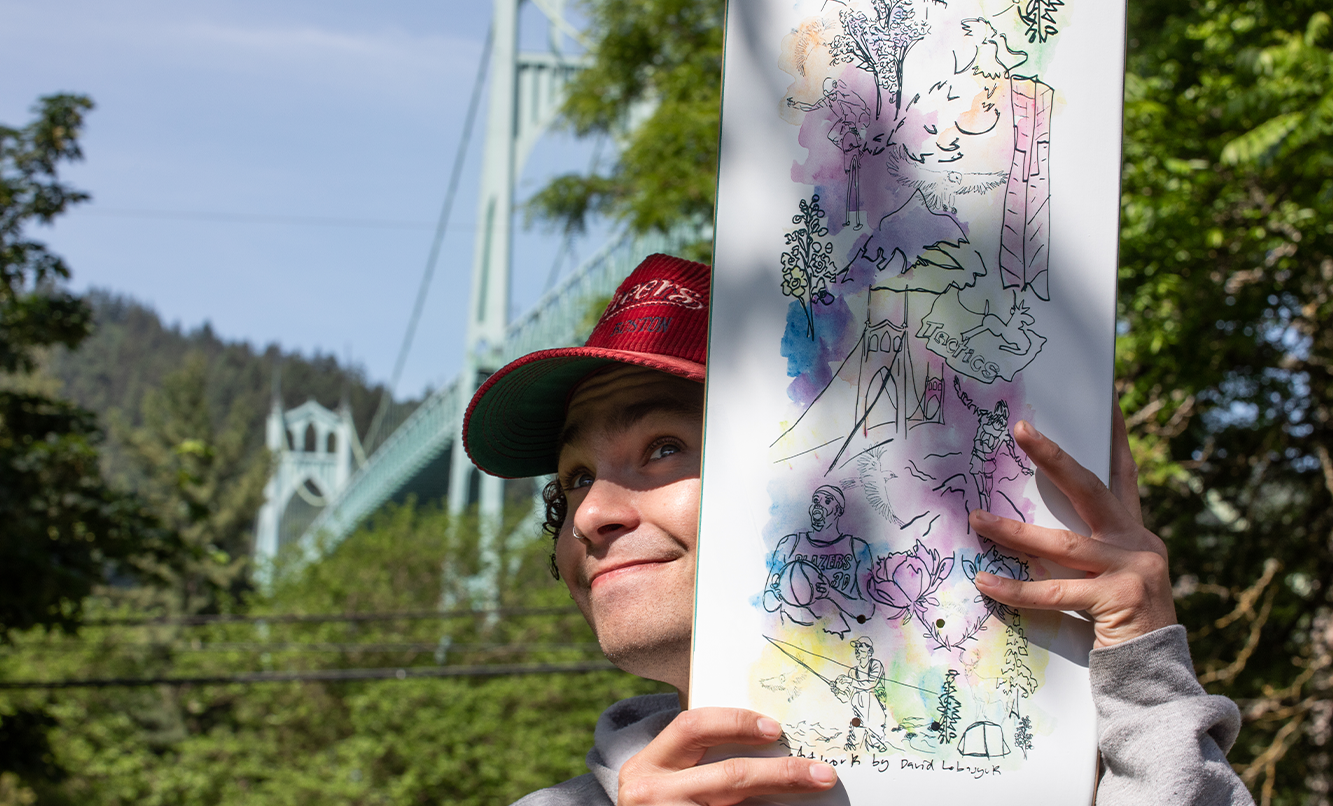 Does the map follow a specific route?
Like it's all kinda connected, the route goes from St. John's, skate across the bridge, go to Pier, hit up zoo bomb, check out the Japanese Garden then bomb the rest of zoo bomb. Once you hit the bottom at Washington, that view of hood is to die for. Once that goes you can hit downtown and skate around/ hang out with the homies while you get them clips. It's like a perfect day full of views and good times. Then on them off days when you don't feel the city you can drive out and go camping/ fishing and enjoy the green nature.
What do you like about living in Portland?
Something about living in Portland your like right in between everything. Like if you wanna see the beach or mountains it's only an hour away. Plus, it's always fresh energy out here in Portland. You'll meet peeps from all over for instance, Montana, Florida, Arizona, Idaho, Cali. It's so energizing, people are down for the fun and it's a good toxic time.
Have you ever seen a Bald Eagle in the wild?
Dude always, especially if you drive outside Portland! One time I went out towards Eugene and I saw one at home base catching a fish, it was probably by far the most wildest/coolest thing I've seen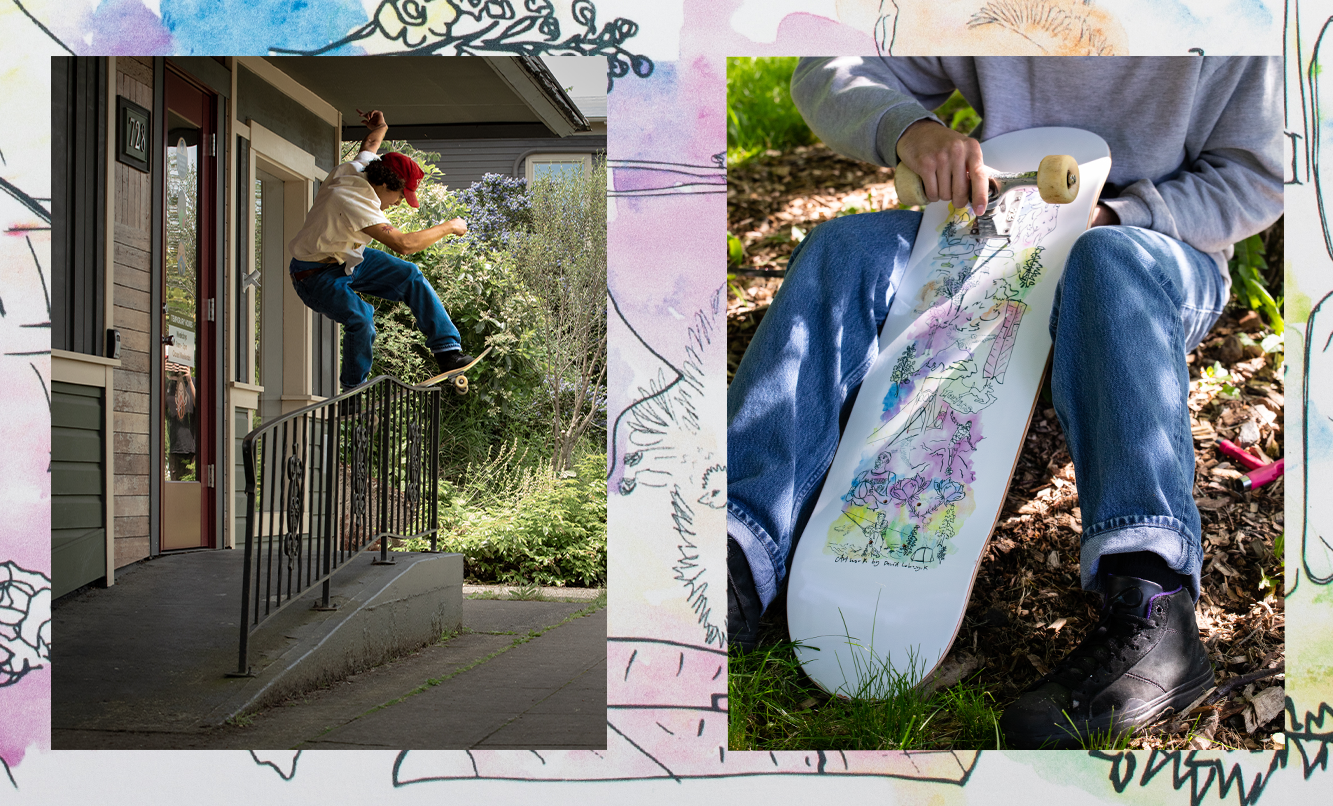 You are a spot hunter. How do you go about finding spots in Portland?
Honestly I just let the road take me, no plans just do what feels right
Didn't think you were a sports guy. Why the basketball player in the graphic?
I mean I'm not really, but something about Rasheed Wallace speaks to me. His vibe is just very pure and outgoing. Someone you'd definitely want to hang out with.
Always nice chatting with you Dave, thanks for taking the time out of your sesh. Enjoy skating today!
Oh you know it!!