K2UESDAYS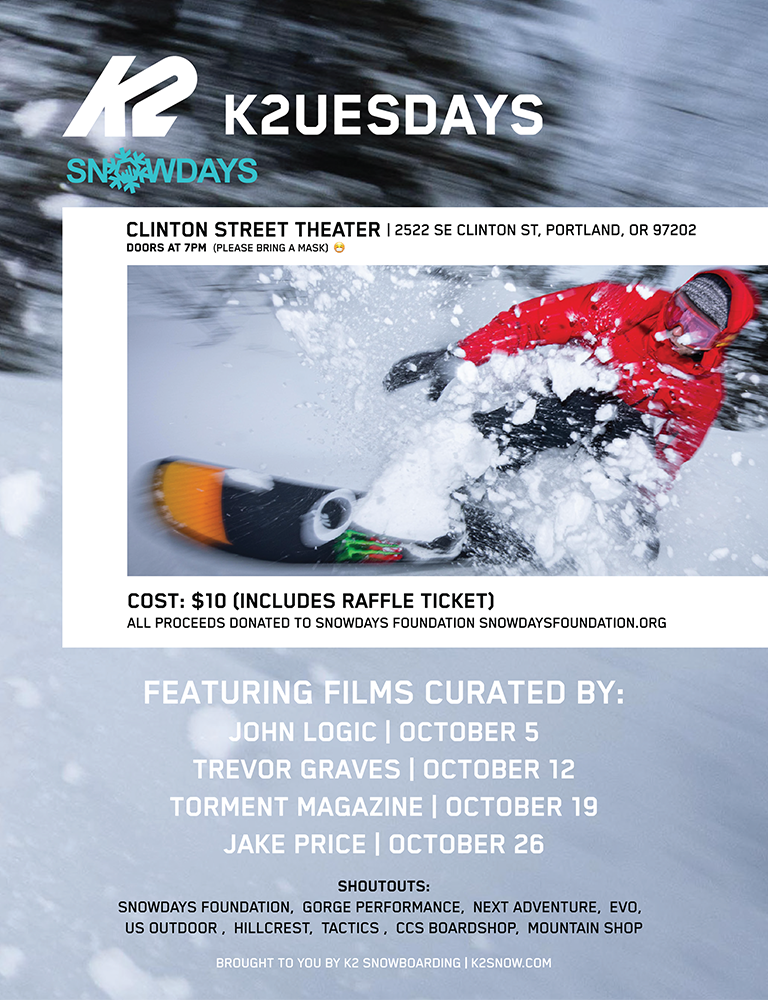 With winter around the corner, there's no better way to get hyped for the upcoming season than to watch some snowboard videos. K2 is hosting film screenings at Clinton Street Theatre in Portland every Tuesday at 7pm in October. The $10 ticket entry ticket also gets you in on a raffle. But more importantly, 100% of proceeds will be donated to the Snowdays Foundation, a non-profit aimed at empowering youth through snowboarding. Get stoked and support a great cause in snowboarding!
Location:
Clinton Street Theater
2522 SE Clinton Street,
Portland, OR 97202
10/5:
Curated by John Logic
Showing : Fall Line Films "Riders on the Storm" and Absinthe's Films "Pop!"
Doors at 7pm. Masks required.
10/12:
Curated by Trevor Graves, @trevorgraves
Showing : Robot Food's LAME changed the game. Come watch it on the big screen and enjoy a Q and A with Trevor Graves and some of the cast of riders and filmmakers involved in the groundbreaking project
Doors at 7pm. Masks Required.
10/19:
Film's and shorts curated by Jon Stark (Torment Magazine), @torment_mag
Showing : Titles to be added soon.
Doors at 7pm. Masks required.
10/26:
Curated by Jake Price, @jpminibike
Showing : The credits come to an end, there is a fake television static for 15 seconds then behold, your favorite snowboarder is back up on screen riding a dirt bike through a supermarket! ?This K2uesday Oregon's own filmmaker Jake Price (December, ir77, 9191, Landline.) ?is selectively curating hidden after-movies, DVD bonus features, and skits never to have been seen on the big screen. ?This is all in the Halloween spirit of course, dress as your favorite pro, bring an open mind to win some treats, and get ready to laugh your face off.
Doors at 7pm. Masks required.
Related Posts