Skateboarding Safety Guide: Protect Yourself & Keep Skating
Skate gear will come and go, but you only get one body, so take care of it with a skate helmet and pads! Skateboarding requires a lot of trial and error, especially for beginners, but ultimately throughout any skateboarder's time on a board. Falling down is part of the game, and protecting high-impact areas can help to give you more time skating and less time healing. If you are going to ride a skateboard or longboard, look into getting some protective gear.
What kind of protective gear are you looking for information on?
---
Skateboard helmets are the foundation of protective gear in skateboarding and longboarding because they protect the most important part of your body. Anyone who has taken a big slam knows that helmets are an essential piece of equipment for skaters. There are a variety of helmets to choose from in all sorts of shapes, sizes and prices.
---
How To Measure Helmet Size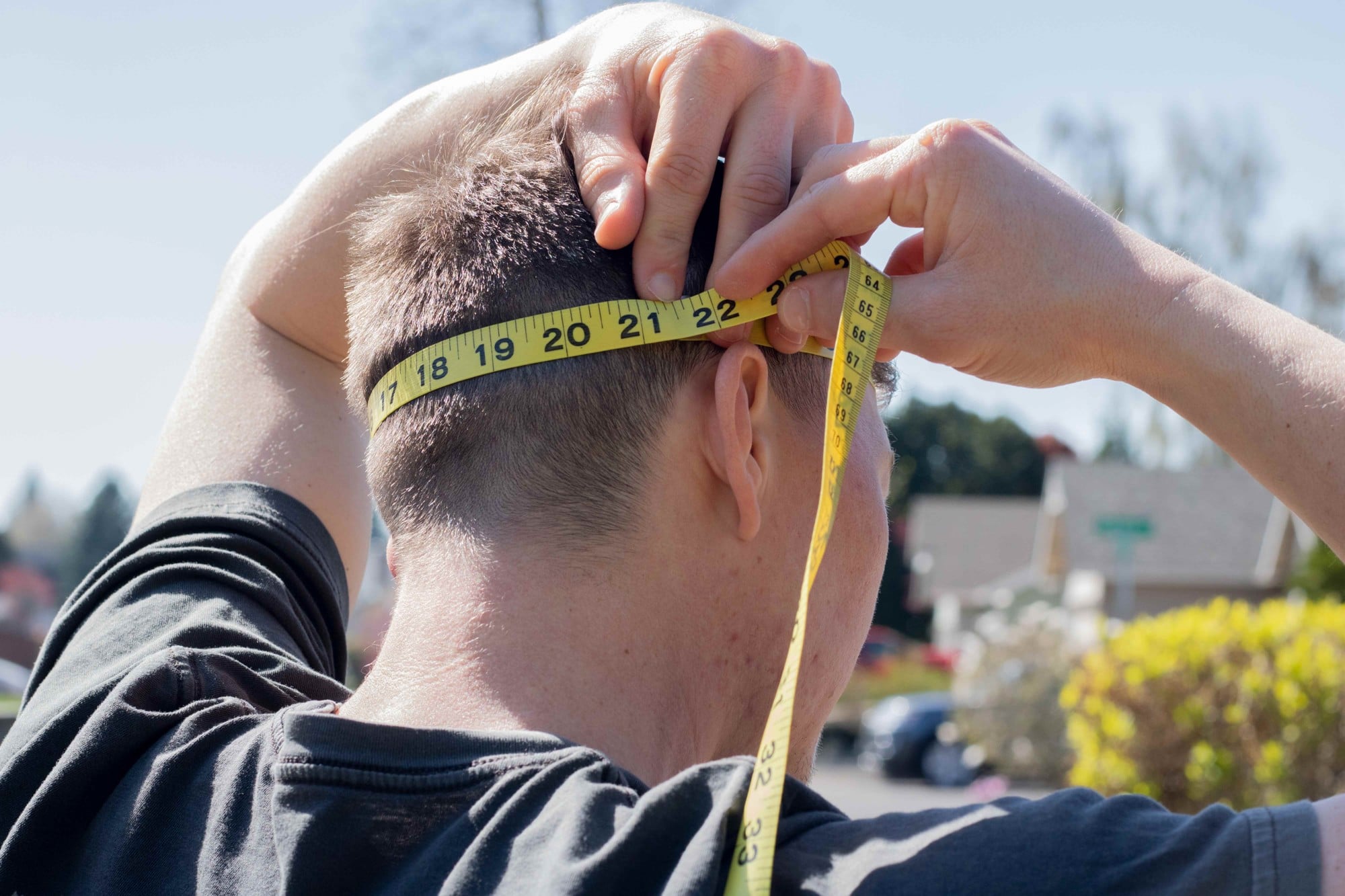 When choosing a skateboard helmet, the first step is to determine what size you need. Helmets need to have a snug fit without being uncomfortably tight. One way to find the correct size for yourself is to measure your head. Learn how to measure helmet size and cut out the guesswork!
First, you will need a flexible measuring tape such as a tailor's tape. If you don't have one, you can use a piece of string and measure the string with a ruler or a tape measure.
Start by wrapping the tape around your head. Make sure that it crosses the middle of your forehead and stays level while going around to the back of your head. Do not pull the tape too tight. It should be touching your head as it goes around without too much pressure. Mark where the tape meets the other end with your fingers and then check that point on the tape for the measurement. If you are using a string, do the same process and make sure that you do not let go of the measurement point before you can measure it with a ruler or tape measure.
HElMET SIZE CHART

| SIZE | HEAD CIRCUMFERENCE (CM) | HEAD CIRCUMFERENCE (IN) |
| --- | --- | --- |
| YOUTH SMALL | 47 - 51 | 18.5 - 20.0 |
| YOUTH MEDIUM | 52 - 56 | 20.5 - 22.0 |
| X-SMALL | 52 - 54 | 20.5 - 21.3 |
| SMALL | 54 - 56 | 21.3 - 22.0 |
| MEDIUM | 56 - 58 | 22.0 - 22.8 |
| LARGE | 58 - 60 | 22.8 - 23.6 |
| X-LARGE | 60 - 62 | 23.6 - 24.4 |
| XX-LARGE | 62 - 64 | 24.4 - 25.2 |
---
Helmet Styles
Classic Helmets
Classic helmets are what people typically think of when they begin looking for helmets. These will cover your head from the middle of your forehead to your neckline. Classic helmets are usually more light-weight and comfortable than other styles, but offer less coverage around your head. They have cutouts for your ears, as well as ventilation holes on the front, top and back. These helmets are best for general use.
Full Cut Helmets
Full Cut helmets will be very similar to classic helmets. The main difference is that they will weigh slightly more than classic helmets, fully cover your ears and cover further down your neck for added protection. These helmets are best suited for skating big vert ramps and bowls.
---
Safety Certifications
One factor to consider when buying a helmet is how much protection is needed. Many skateboard helmet manufacturers, such as ProTec, Triple 8 and 187 Killer Pads, produce both certified and uncertified helmets that include different safety technologies.
Uncertified Helmets
Uncertified helmets will offer your head protection, while having a lower price-point. The softer foam internal constriction will help to protect your head from most minor falls. These helmets primarily protect from skull fractures, but offer less protection from concussions or other related head trauma.
Certified Helmets
Certified helmets are made of a harder foam interior, which transfers impact energy away from the head much more effectively. These helmets are certified by multiple Federal and international safety agencies for their capabilities in protection. Single-impact means that a helmet is certified to protect your head from one impact before it requires replacement. Multi-impact helmets are certified to protect your head from multiple low impacts.
Certifications
CPSC 1203 Certified (USA - Skate/Bike) - Meets the skate and bicycle helmet certification standards of the Federal Consumer Product Safety Commission. Designed to withstand a single high impact or multiple low impacts.
ASTM F1492 Certified (USA - Skate/Roller) - Meets the certification standards of the American Society for Testing and Materials to withstand multiple impacts in non-motorized recreational sports such as skateboarding and roller skating.
CE EN 1078 Certified (Europe - Skate/Bike) - Meets the current European certification standards to withstand a single high impact and a variety of puncture impacts in non-motorized recreational sports such as skateboarding and biking.
AS/NZS 2063:2008 Certified (Australia - Bike) - Meets the current Australian Standards certification to withstand a single high impact in non-motorized recreational bicycling.
ASTM F1447 Certified (USA - Bike/Roller) - Meets the certification standards of the American Society for Testing and Materials to withstand multiple impacts in recreational bicycling and roller skating.
---
Helmet Construction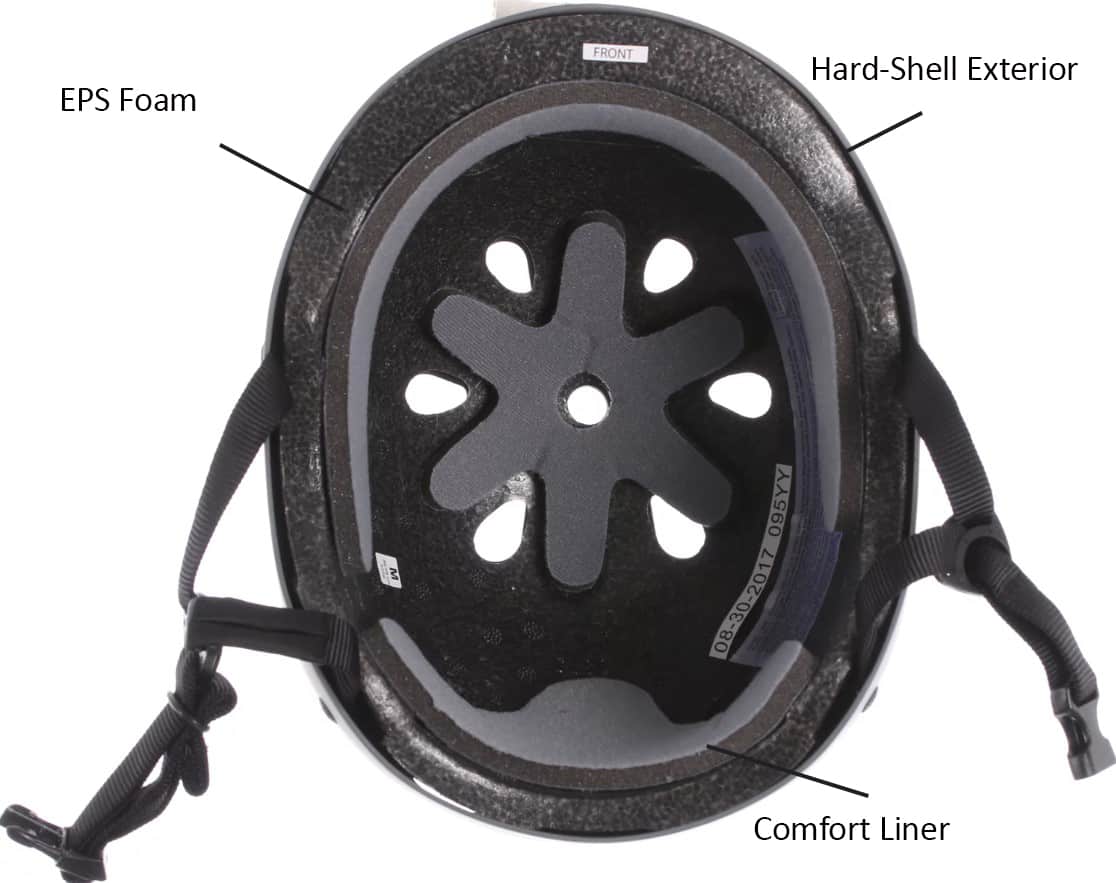 Hard-Shell Exterior construction sets the standard for what a tough, reliable helmet is meant to be and is characterized by bonding an injection molded ABS shell to a layer of impact absorbing foam. Surrounding the inner foam is the injection molded ABS Hard-Shell that protects the foam from scratches, dings and nicks.
EPS Foam liners are the industry standard for action sports. This lightweight foam creates the inner liner of the helmet, sitting inside of the hard-shell. The foam liner is the primary component that crushes during impact to absorb and dissipate energy. While EPS liners are not always multi-impact they do meet all required safety standards. EPS foam liners are featured in most certified helmets and are made from a very hard foam that offers more protection than the softer 2-Stage foam.
2-Stage foams are featured in uncertified helmets. While they will protect your head from soft spills, they will not disperse energy away from your head as well as EPS foam liners.
Comfort Liners are the soft padding inside of the EPS foam liner that compress to conform the helmet to your head for proper fit and comfort. Comfort liners often feature sweat-wicking technologies that are built in to most liners, from ProTec's Dri-Lex® to Triple 8's Sweatsaver™, you can bet that your helmet will have a liner that pushes sweat away from your face and eyes. Some liners are even washable so you can keep the stink at bay.
---
Wrist guards, elbow pads and knee pads will protect you more often than any other gear. Skateboarding slams often result in at least some kind of bruising or scrape, quite often around the palm, knee and elbow areas. Wrist guards and knee pads are great for learning new tricks or bombing a hill on your longboard because you can slide to a stop on your hands and knees, while elbow pads will help to prevent injuries when you go down awkwardly. Some skaters only choose to use select pads, while others opt for as much protection as possible. Companies, such as ProTec, Triple 8 and 187 Killer Pads, offer pad sets that include knee, elbow and wrist pads.
---
How to Measure Pad Size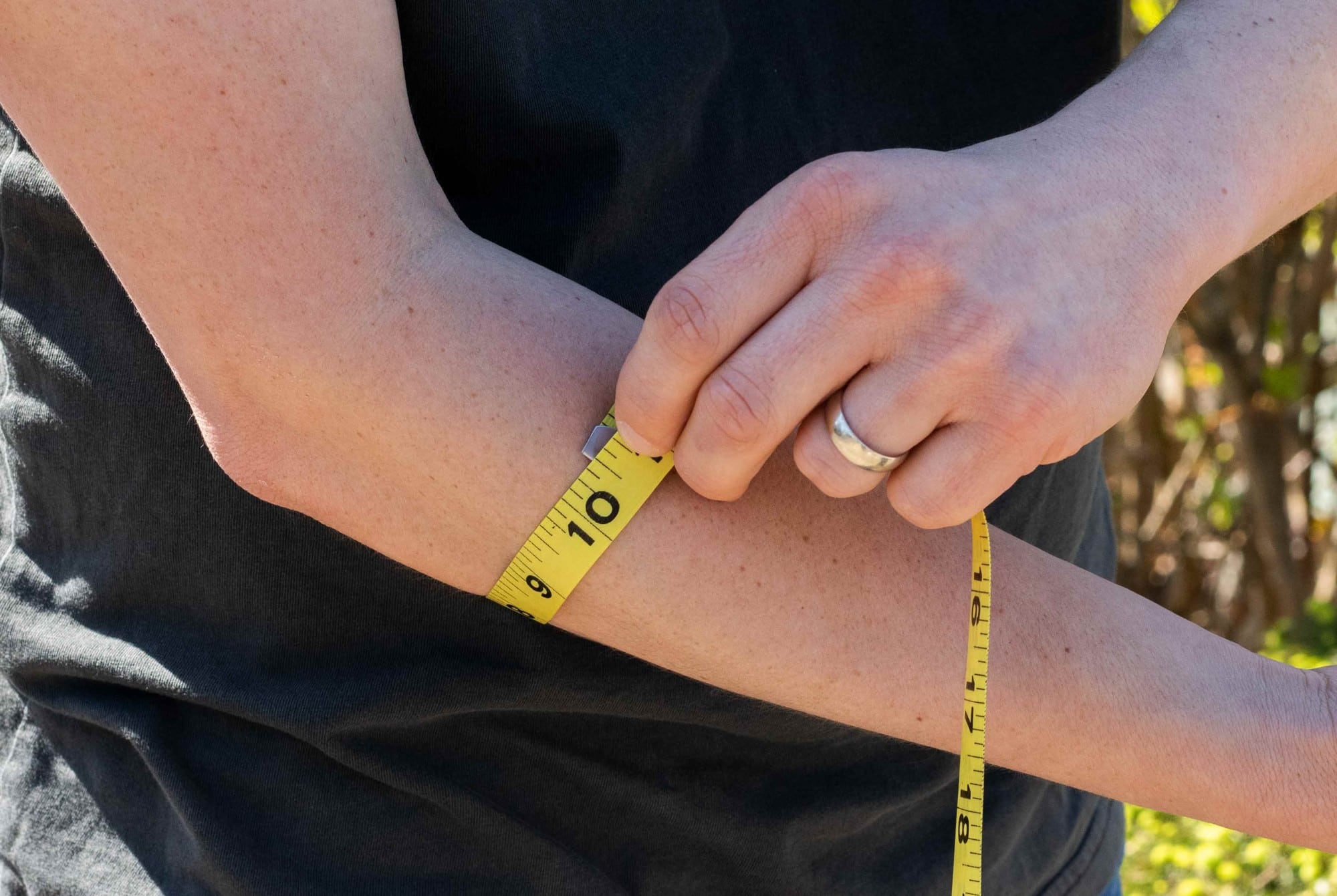 To find the correct size for your skateboard pads, you need to measure your arms and legs. Using a tailor's tape or string, measure around your arms and legs at about 4 inches above and below your knees and elbows.
For wrist guards, you will want to measure around your hand at your knuckles. Make sure to leave your thumb out of the measurement.
Tip: You should also keep in mind that the straps and padding will loosen up over time as you use them. If you are unsure of size, it is best to err on the smaller side so they fit better once broken in.
Skateboard Pad Size Chart

| PAD SIZE | ABOVE KNEE | BELOW KNEE | ELBOW PADS | Wrist Guards |
| --- | --- | --- | --- | --- |
| YOUTH/X-SMALL | 9 - 11" | 6.5 - 8" | 6.0 - 7.0" | 5.5 - 5.7" |
| SMALL | 12 - 14" | 9 - 11" | 8.0 - 9.0" | 5.7 - 6.5" |
| MEDIUM | 15 - 17" | 11 - 13" | 10.0 - 11.0" | 6.5 - 7.0" |
| LARGE | 18 - 20" | 14 - 16" | 11.0 - 12.0" | 7.0 - 8.5" |
| X-LARGE | 21 - 23" | 17 - 19" | 13.0 - 14.0" | N/A |
---
Pad Style & Safety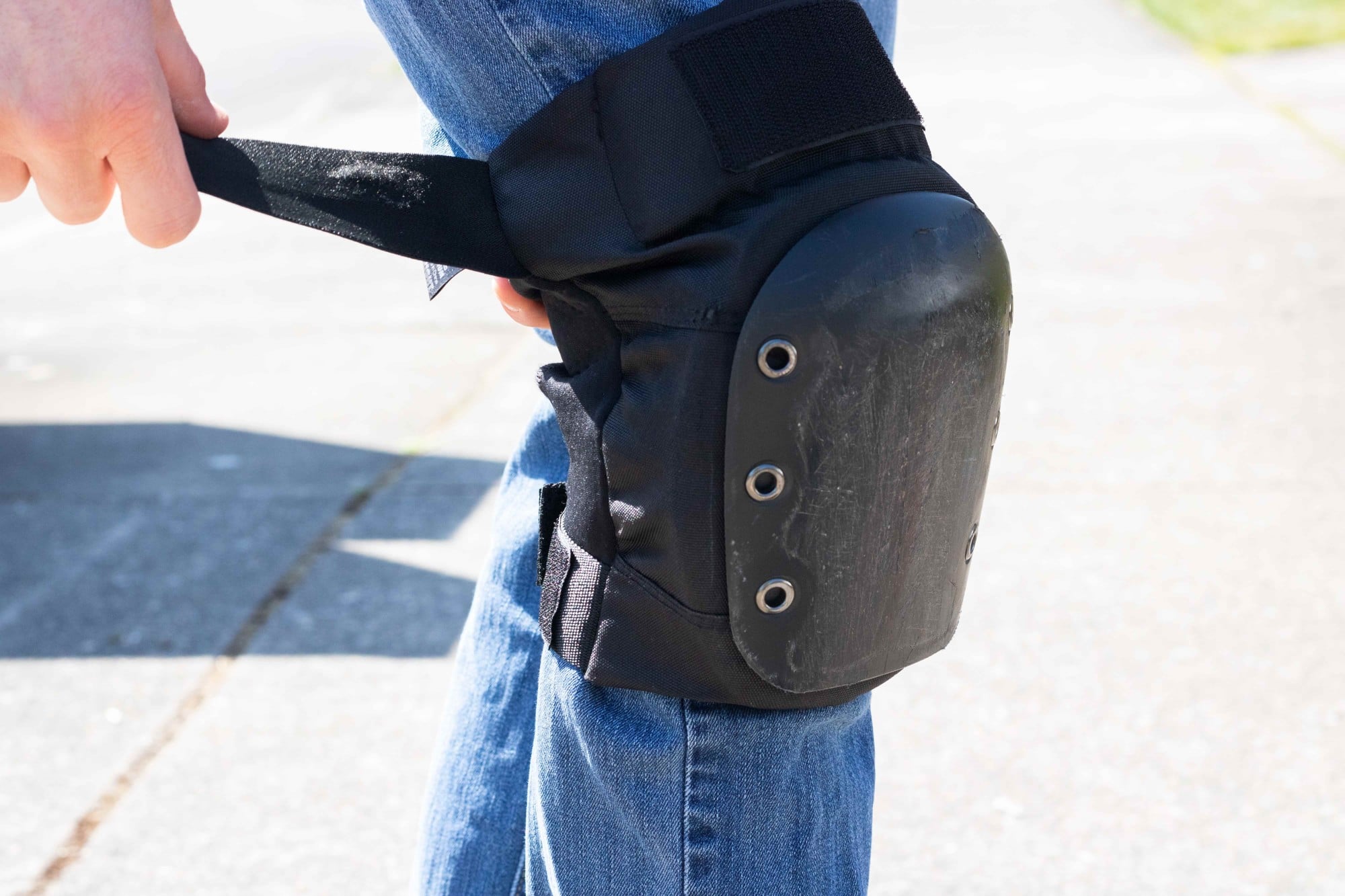 Skateboarders and longboarders know that there are risks involved in skating at high speeds or doing tricks. This is why many choose to use at least some amount of protective gear. We would recommend using as much protection as possible while learning how to ride a skateboard or longboard. Some skaters only choose to use padding on select high-impact areas, most commonly on their knees. While knee pads typically see the most use, additional padding like elbow pads and wrist guards can help to keep you protected and give you the confidence to learn new tricks or skate faster than you would without them. Most pads come with hard, stiff plastic caps, though some are made with more flexible and slimmer materials, though are generally not recommended for beginners.
Standard pads are your typical safety pads that are constructed out of foam, high-durability fabric liners and have a hard-outer shell. These pads utilize nylon fabric and Velcro to strap on to your arms and legs. They will provide the most protection for your knees and elbows when you wipe out.
Sleeve pads are made out of stretchy nylon materials that feature a smaller foam pad. These are made to be worn under your clothes for a low-profile feel. They will offer some impact protection, but no abrasion protection.
---
Next to a helmet, slide gloves are the most important item to have if you want to start riding aggressively on your longboard. They are built to stand up to concrete without being shredded to pieces. Learning to use your gloves properly will open up a whole new world of tricks and terrain to learn and conquer. Even if you are not planning to learn how to slide, slide gloves are valuable safety gear.
Plastic pucks attach to the palm and finger tips of slide gloves, providing protection while also allowing your hands to slide smoothly on the ground when you need to catch your balance.
Thick padding covers most of the slide glove. This padding helps to protect you from pain caused by slapping the ground.
Abrasion-Resistant materials such as Cordura®, Kevlar® or synthetic suede make up the gloves' exterior. These materials are strong enough to withstand sliding across pavement without shredding, keeping your skin safe.
---
How to Measure Longboard Gloves
To measure hand width, wrap a measuring tape around your dominant hand just below the knuckles, excluding your thumb, and make a fist. This measurement is your hand width glove size.
To measure hand length, measure from the bottom edge of the palm to the tip of your middle finger.
GLOVE SIZE CHART

| SIZE | HAND WIDTH | HAND LENGTH |
| --- | --- | --- |
| S/M | UP TO 8" | UP TO 8" |
| L/XL | 8.0 - 9.5" | >7.5" |
---
Keep Learning
---
---
Still Have Questions?
We're here to help. You can call, email, chat or IM during business hours seven days a week. Our customer service staff skates…a lot. They know their stuff and are happy to help you with all things skate.