Snake Run Rally 2022 | Hoodoo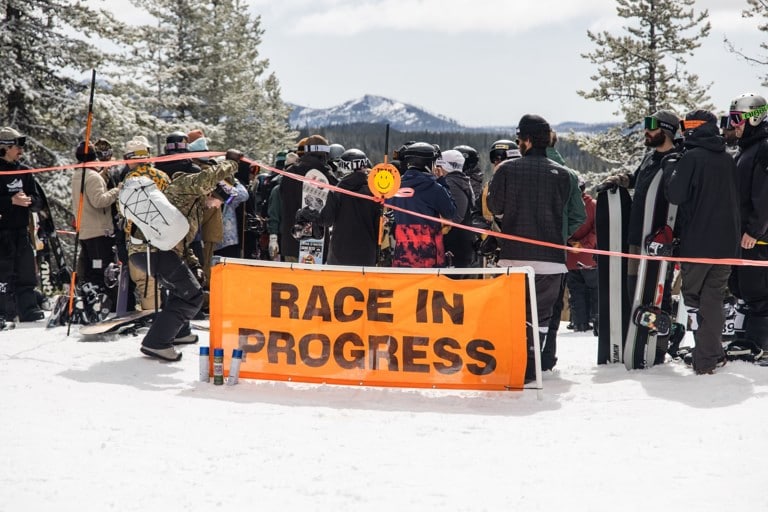 It was a chilly 28 degree morning on top of Santiam Pass. Eager racers were popping heads out of their elaborate camping rigs to complain about an inch of fresh new snow. Fancy campers, rugged toppers, vintage buses, and Subarus with the seats down littered the Hoodoo lot and Ray Benson Sno-park.
As the sun popped up over Black Butte, the parking lot began to fill up, and there was palpable energy in the air. Nervous, excited, competitive, and overjoyed to see old and new friends who migrated to Central Oregon for this grassroots event.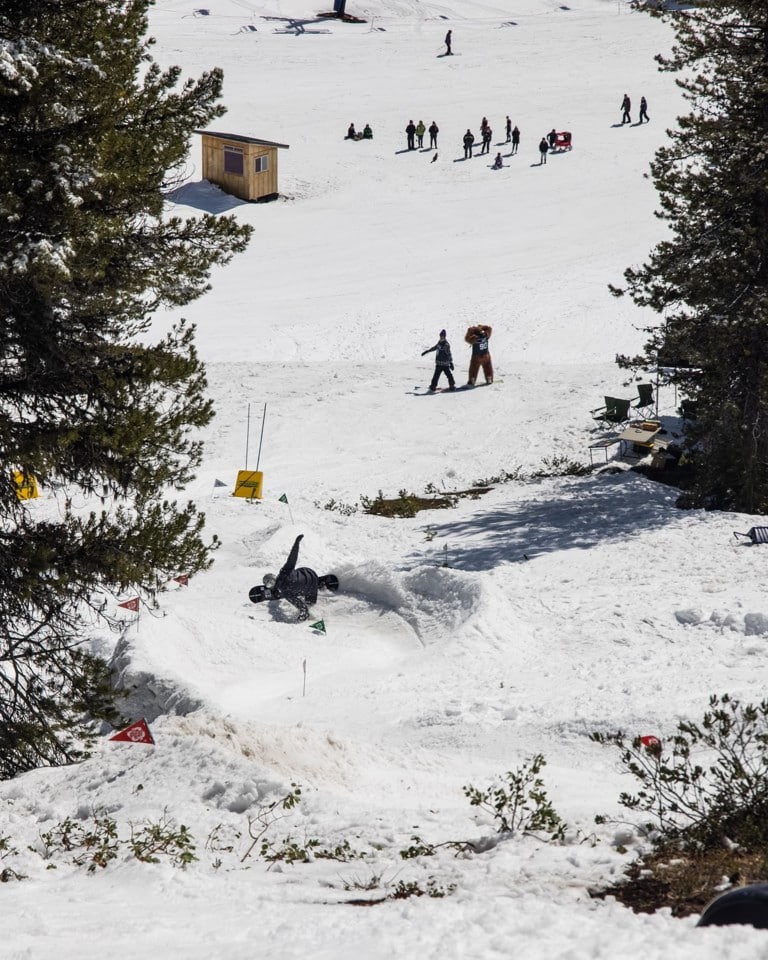 Team Rider Kai Huggin roosting some slush Photo: Blackstrap
In 2019, The Snake Run Rally was conceived by Bend boarders Brian Zager and Jonny Sischo in the woods below Tumalo Butte. Keeping a mostly stealth vibe to the planning, they were able to put together a death trap of a 14 turn course, and attract around 60 riders of all ability levels. The successful event cemented itself further in Central Oregon snowboard culture by becoming an official qualifier race for the Dirksen Derby.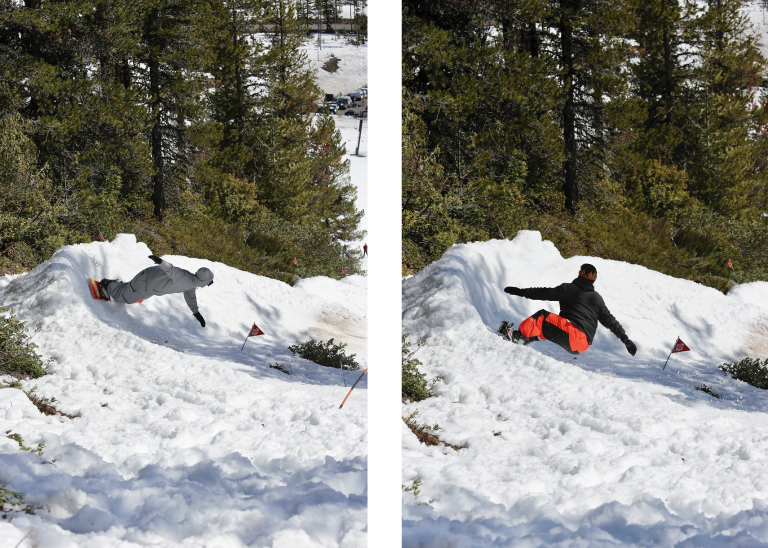 Gabe Ferguson & Demetri Bales battling turn one. Photos: Austin Dal Molin
Four years and one covid cancellation later, the Snake Run Rally was now the real deal. With lift access for the first time, a laundry list of sponsors, and a registration of nearly 200 snowboarders. As the day began, it was obvious that the grassroots feel had not changed a bit. Vibes at the top of the course included; High fives, side bets, trash talking, and finally, unconditional encouragement to those who were nervous to drop into the admittedly scary course.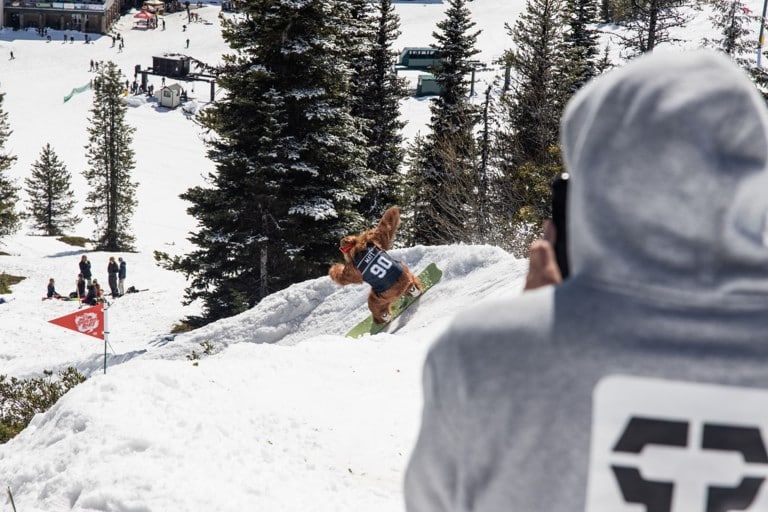 Big Hairy was on course. Photo: Blackstrap
The 2022 SRR course was made up of 16 tight turns that slithered down a wooded and cliffy face to the lookers right of the Manzanita Chair. The top section was technical and tighter, as racers were expected to pick their way through the gates without losing speed, but not too much juice to send them over the berms. The second half opened up some, lulling racers into a false sense of security.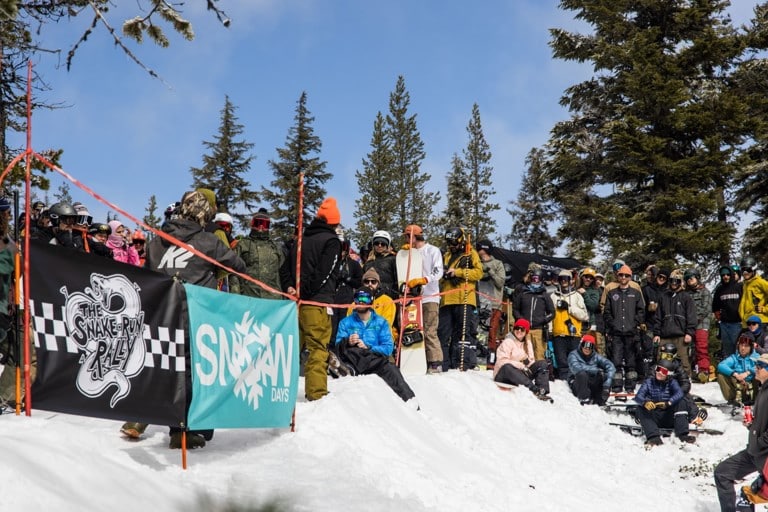 The crowd goes wild! Photo: Blackstrap
Some formidable boarders got bit by the snake, and others made it down without missing a gate. Tactics team riders Demetri Bales, Gabe Ferguson, and Max Warbington all took on the course without a practice run under their belt. They read each turn as it came, proving why they are in fact professional snowboarders. Team rider Kai Huggin effortlessly slid to victory in the Men's Open division, and the top three pros were Max, Gabe and Dimetri. The day concluded with a raffle to benefit the Snowdays foundation. Now if only they would post the rest of the results. See you next year!
Words by Sam Goldberg-Jaffe