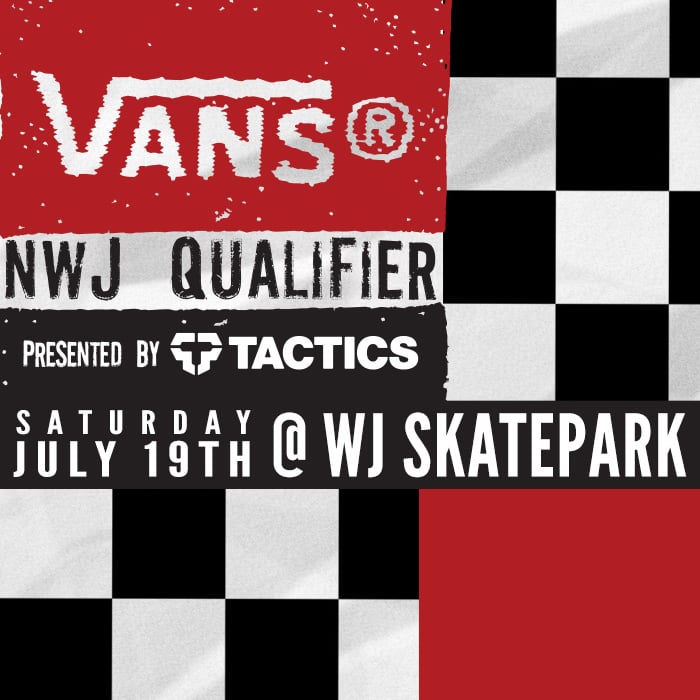 Brendan Garcia, Kyle Ward and Chris Holbrook took down the top three spots at CONScrete Carnage on June 28th. Each is now qualified to compete on Aug. 2, against some of the best pro-ams in the Northwest for a prize purse totaling $6,000. Will you be next to qualify for Northwest Jam? Here's what you need to know about the Vans Northwest Jam Qualifier presented by Tactics.
LOCATION AND TIME
Saturday, July 19 at WJ Skatepark + Urban Plaza
10 AM – Check In & Warm-Up
12 PM – Competition Starts
Pre-registration is open Thursday, July 3, at Tactics or by clicking the registration button here. Registration is free, open to all ages and limited to the first 60 entrants.
PRIZES
Top three finishers will be automatically qualified to compete in Northwest Jam, in Eugene on Aug. 2, going up against some of the best pro-am skaters in the Northwest for a total prize pool of $6,000.
1st = $100 Tactics Gift Card + your choice of Vans shoes from Tactics.
2nd = $50 Tactics Gift Card + your choice of Vans shoes from Tactics.
3rd = $25 Tactics Gift Card + your choice of Vans shoes from Tactics.
Free Raffle: various items will be raffled off to skaters and spectators throughout the day.
COMPETITION FORMAT
Vans NWJ Qualifier celebrates the versatility of WJ Skatepark. Skaters will be judged on their abilities in both the Bowl and the Street areas.
– Skaters will be split into groups of eight.
– Skaters get two 45-second runs in both street & bowl areas, with their top scores combined for a total score.
– Every skater is guaranteed four 45-second runs, taking two each in the bowl and street areas.
– Groupings and area assignments will be posted & announced prior to the start of the competition.
– 12 skaters will advance to finals.
ADDITIONAL RULES
All competitors must turn in a signed liability waiver. Skaters under 18 must have their waiver signed by a parent or guardian IN THE PRESENCE OF TACTICS STAFF or notarized by a legal notary public. Waiver forms are currently available at Tactics Boardshop or can be downloaded from the Vans NWJ Qualifier registration page.
Please note: if you are under 18 and your parent will not be with you at the park for the event, we recommend you bring them into the shop before close of business on Friday, July 18, to sign your waiver.
Helmets are required for skaters 15 and under, per Oregon state law. Helmets are optional for skaters 16 and older, though Tactics and Vans encourage all skaters to wear helmets and other appropriate protective gear.