Tensor
Mag Light Skateboard Trucks
Coming Soon
Success! We'll email you when it arrives.
Enter your email below and we'll hit you up when it arrives.
Skateboard Truck Size & Buying Guide
Overview
The Tensor Mag Light skateboard trucks feature a hollow kingpin and axle to shave weight. The magnesium hanger and baseplate further reduce weight while maintaining the same strength as steel. The result is a truck that's 29% lighter than a traditional steel truck, but just as strong. What this means for you is easier ollies and a much lighter skateboard. That's a plus. A big plus.
Features
Axle/Kingpin Style
Hollow Axle & Kingpin - Hollow axle trucks cut down on the materials used in the axle, so your trucks feel lighter. Hollow kingpins further reduce weight while still maintaining strength in this critical area.
Non-Compatible Risers
Risers from the following brands are not compatible with the baseplates of these trucks.
Dooks
,
Independent
,
Krooked
,
Loaded
,
Lucky
,
Paris
,
Thunder
Sizing Reference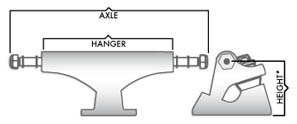 Note - Every skate truck brand represents their sizing a little differently, so it's easy to get confused. Take a look at this graphic and then reference the size chart.
Specs
| Size | 7.625 axle | 7.625 axle (low) | 8.0 axle | 8.0 axle (low) | 8.25 axle | 8.25 axle (low) | 8.5 axle |
| --- | --- | --- | --- | --- | --- | --- | --- |
| Hanger (mm): | 127.4 | 127.0 | 132.8 | 132.8 | 143.6 | 139.4 | 149.0 |
| Board Range (in): | 7.5 - 7.75 | 7.5 - 7.75 | 7.75 - 8.25 | 7.75 - 8.25 | 8.0 - 8.5 | 8.0 - 8.5 | 8.25 - 8.75 |
| Height (mm): | 53.5 | 46.0 | 45.5 | | 53.0 | 45.5 | 53.0 |
| Weight (g): | 257.0 | 247.6 | 233.6 | | 267.6 | 254.3 | 276.0 |
Reviews
by
Cody Waterman
in
Rome, NY
(Verified Buyer)
Posted on 8/30/2022
Tensor Mag Light Skateboard Trucks - silver (5.25)
Really light, great feel on manuals, dont use bones meds though, the bushings pop cause they cant sit tight enough.
Terrible bushings, good weight
by
AARON
in
PITTSBURGH, PA
(Verified Buyer)
Posted on 8/27/2022
Tensor Mag Light Skateboard Trucks - black (5.5)
The bushings of these trucks are terrible, they get jammed out of place. the bushing cup parts cut into the interior of the truck hangers. the lightweight feature is great. i would not recommend
by
Max Schearer
(Verified Buyer)
Posted on 7/30/2022
Tensor Mag Light Skateboard Trucks - black (5.5 lo)
I love how low and light they are! They make it easy for curb slides and tricks. They come really loose. And when I tighten them up to a comfortable amount, they get stuck. I don't know if just the bushings need to be broken in. But when I ride the trucks get stuck to the one side or to the other. And I have to push hard to balance them out so they stop pulling to the one side or the other. I've never had this problem with other trucks.
Tensor mag lights- Black 5.25
Posted on 3/29/2022
Tensor Mag Light Skateboard Trucks
Lightestttt truck everrrr by a long shot. Very much noticeable difference. Can no longer skate other trucks, as even other brands hollows feel heavy to me sometimes now. Could never Ollie, do flip/spin tricks, or maybe biggest pro, could never do that many high-energy tricks consecutively without needing to stop to give my legs a rest. Can skate a LOT longer, do wayyyy more tricks in same amount of time, all while still maintaining my highest/near highest level of energy/strength that's very much needed to keep all my trick-attempts as close to 100% effort as possible for as long as possible. Makes sessions more productive. N being an adult with a job and bills. I try 2 make the most out of my always 2 short skate time.
Best trucks ever (when paired with best suited deck/wheels for them ofcourse)
Posted on 3/29/2022
Tensor Mag Light Skateboard Trucks
Dif trucks can improve or hinder ur setup as a whole. Every piece works in harmony with every other. So when evaluating trucks, u can't just switch them all on same deck/wheels and judge them anywhere close to accurately. Not even a little bit.
by
Cody Stites
in
Middleburg, FL
(Verified Buyer)
Posted on 3/17/2022
Tensor Mag Light Skateboard Trucks - black (5.25)
Honestly, I have always skated with stage 11 Indy's. These tensor trucks literally are lighter, I was very shocked, but everything down to the kingpin is hollow so that's why their so light. I do have higher pop and I get faster rotations on the flicks for whichever trick I am going for. Now these trucks do take a lot of damage on rails and curbs. But if your just doing tricks and casually skating the streets your totally fine. If you are grinding and do a lot of stairs you will want heavy duty trucks that can withstand that kind of skating. But all in all, you will have no issues using these trucks for every day skating. You can grind rails and stuff with no issue but if your going hardcore then you will want stronger trucks. But i absolutely love these trucks. They don't do that well for turning. But all in all I give these trucks a 9 out of 10
Asked by
Michael
on 2/3/2020
Are you selling the original mag lights (as seen in the photo) or are you only selling the new ones with "all terrain geometry"?
Answered by
Hunter H
(Tactics Employee) on 2/4/2020
These Tensor Trucks will feature the updated All Terrain Geometry.
Asked by
Dean P
on 6/20/2019
Is each truck sold separately?
Answered by
Cody W
(Tactics Employee) on 6/20/2019
All of our trucks are sold in pairs!
Asked by
Plaid Retina
on 6/10/2017
Hey guys can I get a height and weight for the 8.625? Thanx so much for your time!!
Answered by
James D
(Tactics Employee) on 6/16/2017
These trucks are 48mm tall from the ground to the bottom of the axle. Together as a pair, they weigh 1.2 lbs
---
More from Tensor