Be the first to write a review
Overview
Made with 6061 aluminum, the B-2 EXT from BCA features an extremely high strength to weight ratio, which makes it ideal for trips into the backcountry. The end cap on the shaft prevents snow build up on the inside, reducing weight that can slow you down in a rescue situation. Finally, the extendable shaft prevents hunching over when you scoop away snow.
Features
Details
Oval Shaft with End Cap
Ferrule-Less Blade
Ergonomic Grip
T6 Heat Treatment
Key Details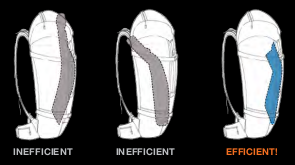 Shovel Packability - The crux behind shovel "packability" is blade design. A blade that stays assembled to the shaft can be too long for your shovel pocket. A long, angled ferrule (or neck) will suck up valuable space in your pack. A two-piece, ferrule-less design with flat blade is the most efficient.
---

More from Backcountry Access