Bear
Grizzly Gen 5 52 Degree Longboard Trucks
16 Reviews
(16)
Write a Review
Overview
The Grizzly 852 Gen 5 longboard trucks from Bear have been revamped and redesigned to focus on strength, versatility and weight reduction. Improvements include a stronger heat treated axle with a revised and less restrictive bushing seat. The baseplate now features an 8-hole mounting system to accommodate both old and new-school drill patterns.
This pattern can also be used to adjust wheel bases by the inch. Strength tested and engineered for performance, the 852 Gen 5 is an improvement on an industry standard.
Features
Ride Style
Freeride
Carving/Cruising
Specialized Casting Formula
Completely new aluminum alloy formula, specifically mixed for this truck and not pulled from some generic melted down block.
Widened Rear Baseplate Legs
Added thickness to eliminate baseplate warping and help withstand heavy impacts.
Effective Bushing Seat
Fully-wrapped leaning system with bushing base lock-in. This allows you to get extra lean and no turning restrictions. Compatible with most bushings.
Flippable Hanger
The positive (standard) and negative (flipped) leverage axle placement helps you change your setup from general carving to a stable hill bombing machine in seconds.
Ride Style
Freeride - You need responsive trucks with charged rebound and a large turning radius to lock in stand up slides and pre-drifts like a boss. Freeride trucks generally have a higher degree between the base plate and axle. This gives the rider a steeper slope of motion for the hanger making it easier to get in and out of a slide with control. You will often find a barrel/cone or cone/cone bushing assembly in these trucks for the same reason. The higher the quality the truck is, the less you think about it as you ride. A good truck will give you more board feel and more stability. Don't forget to look at customizing the bushings to rider weight and skate style.
Carving/Cruising - Big California style carves, epic summertime adventures around the neighborhood, and everyday shenanigans are supported with trucks flexible enough to handle a bit of everything. You'll find these trucks often have a higher truck angle because this is what controls the amount of energy required to turn your board. Bigger angles equal big carves and a quick response to your movement. Stock bushings tend to be on the softer side for cruising making these trucks great for everyday use and for beginners alike. Make sure to go with the recommended truck width for your board to give you the best match and the most fun.
Hanger Style
Raked Hanger (Offset) - Raked hangers change the way you approach a corner. With a raked hanger, you can lean a lot further into a turn without the truck responding, but once you lean in far enough you'll get a lot of turn, fast. Because your wheels will be going straight for longer you will go faster so if you can handle it, go for it!
Baseplate Angle
52° - Good for more effortless turning and carving, or for handling boards with longer wheel bases.
The truck angle you select will switch up how your board handles. A lower angle truck will require more lean for your turn, where as a higher angle will give you more turn for your lean. Generally speaking, higher angle trucks will be more suited for turning and carving and lower angle trucks will be more stable and better suited for speed.
Bushing Shape
Barrel/Barrel - The Barrel/Barrel bushing combination is designed for speed. This setup offers stability for technical downhill, allowing the rider to dive into corners. Remember to check compatibility with your truck choice.
Non-Compatible Risers
Risers from the following brands are not compatible with the baseplates of these trucks.
Sizing Reference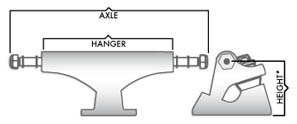 Note - Every skate truck brand represents their sizing a little differently, so it's easy to get confused. Take a look at this graphic and then reference the size chart.
Details
Reverse Kingpin - Reverse kingpins offer increased stability at high speeds and generally provide more strength when compared to traditionally mounted trucks. The reverse nature of the kingpin makes the truck higher and usually heavier, giving you the best controlled turns for downhill bombing.
Specs
| Size | 9.75 axle |
| --- | --- |
| Hanger (mm): | 181.0 |
| Board Range (in): | 9.5 + |
| Height (mm): | 66.0 |
| Weight (g): | 454.0 |
Reviews
by
Trent Harms
in
Sumas, WA
(Verified Buyer)
Posted on 7/24/2018
Bear Grizzly Gen 5 52 Degree Longboard Trucks - black/black 181mm
huge range of motion and built sturdy
New board trucks and wheels.
Posted on 6/9/2018
Bear Grizzly Gen 5 52 Degree Longboard Trucks
Great new gear. Awesome trucks wheels board all from the tactics team.
Thank you.
by
JC
in
Summerville, SC
(Verified Buyer)
Posted on 5/17/2018
Bear Grizzly Gen 5 52 Degree Longboard Trucks - black/black 181mm
Good versatile longboard trucks. Stock double barrel bushings were too soft for me (165#) upgraded to Blood Orange 89a bushings work great now!
Extremely maneuverable, yet stable.
Posted on 7/8/2017
Bear Grizzly Gen 5 52 Degree Longboard Trucks
I picked a set of these up at my local Skate shop and I have to say they can turn quite a bit when you need to. They are so controllable that I had them completely loose and I didn't really notice how broken in they were until I shook the hanger slightly and the moved with very little resistance. I haven't tried flipping the hangers yet because I don't find it necessary for my needs. Harder bushings should help make these trucks stable for moderate downhill speeds. I would totally buy these again if I ever need to.
Great for my double drop board
Posted on 1/27/2017
Bear Grizzly Gen 5 52 Degree Longboard Trucks
These trucks are perfect for my board and I. My double drop did not make turns well before I got these. The trucks are very responsive and the stock bushings are perfect for my lack of weight (115).
by
Kimberly Smith
in
Aurora, CO
(Verified Buyer)
Posted on 1/23/2017
Bear Grizzly Gen 5 52 Degree Longboard Trucks - black 181mm
My son it's great and it was an awesome price
Asked by
Michael
on 9/7/2019
Do these take 10mm bearings or 8mm bearings?
Answered by
Graig A
(Tactics Employee) on 9/9/2019
All skateboard trucks we carry with use an 8mm bearing!
Asked by
Clifton
on 5/22/2018
Do these trucks work with the tall venom hpf barrel bushings?
Answered by
Graig A
(Tactics Employee) on 5/23/2018
Yes those bushing would work in these trucks!
Asked by
Agustín
on 7/18/2017
The trucks deliver the corresponding hardware?
Answered by
Graig A
(Tactics Employee) on 7/20/2017
These do not come with hardware and they will need to be purchased separately
Asked by
Eric
on 4/26/2017
If I order a quantity of 1, will a set of trucks will be sent or will it be individual per quantity?
Answered by
Danny M
(Tactics Employee) on 4/27/2017
Trucks will come in a set with two.
Asked by
Alexander
on 2/13/2017
Will these trucks fit on My drop-through Deck? I currently have Parris Trucks on, that came with my deck! Does any pair of trucks fit on any deck?
Answered by
Danny M
(Tactics Employee) on 2/13/2017
Yes, these will work on a drop through and will be compatible with most all boards.
---

More products from Bear