Overview
The Footprint Kingfoam Flat Ultra Low insoles keep you low to the ground and stable, while still giving you that Kingfoam impact protection. The thin insole will allow to to keep all of your boardfeel, and two 1mm adhesive Kingfoam pads are included for some added support to place where you need it.
For a custom fit, place your stock insole onto the Kingfoam insole and trim around the outside.
Features
Key Features
Arch Support
Kingfoam
Kingfoam Insole Cross-Section
Fully Stitched Shell
Kingfoam Heel Pads
Determining Your Foot Type
Details
Trims to fit shoe sizes 5 - 14
Key Features
Arch Support - These orthotics help prevent over-pronation, which assists the body in proper alignment. This relieves daily fatigue, sore joints and allows longer performance.
Kingfoam - All Footprint soles are covered from heel to toe with Kingfoam, a military grade urethane that converts the force of impacts into heat. Absorbs 90% of impact energy and protects against bruises and joint damage.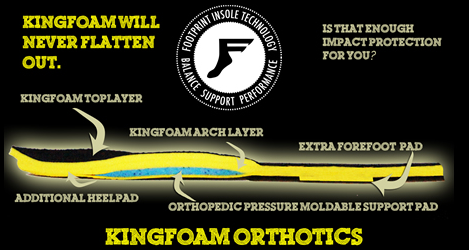 Kingfoam Insole Cross-Section
Fully Stitched Shell - Reinforced shell is blowout-proof thanks to full exterior stitching.
Kingfoam Heel Pads - These 1mm Kingfoam adhesive heel pads offer more protection if you need it. Just peel and stick.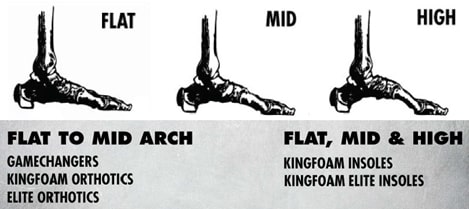 Determining Your Foot Type
Reviews
by
Mark Adani
in
new baltimore, MI
(Verified Buyer)
Posted on 10/17/2019
Footprint Kingfoam Flat Ultra Low 3.5mm Insoles - green camo
by
Jonathan S
in
SAn Jose, CA
(Verified Buyer)
Posted on 4/4/2019
Footprint Kingfoam Flat Ultra Low 3.5mm Insoles - green camo