Gnu

Money C2E Snowboard (Closeout) 2023

Be the first to write a review

Pay in 4 interest-free payments of $78.75 with
.
Learn more
Out of stock
But there's another version of this product: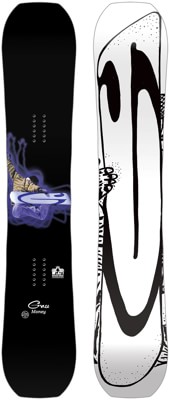 Gnu
Money C2E Snowboard 2024
$449.99
More from Gnu
---
Overview
Show me the loot! The Money C2E is a twin, park board with a medium flex that is best for intermediate riders. This park rat features a C2E profile, and a sustainable wood core providing massive amounts of pop, and Magne-Traction® edges to make for a controlled ride no matter the conditions.
Key Features
C2E Rocker/Elliptical Camber Profile
Magne-Traction Serrated Edges
Core
Aspen/Paulownia Core
UHMW External Sidewalls
Base
Eco Sublimated Co-Ex Base
Features
Key Features
C2E Rocker/Elliptical Camber Profile - Blending Banana and C2, Mervin's easy to ride C2E profile utilizes rocker between your feet with a mellow elliptical camber towards the tip and tail. This strategic blend ensures unmatched stability and pop while maintaining great float in powder and a catch-free feel that is great for beginners.
Control / Precision / Float
Magne-Traction Serrated Edges - Strategically placed bumps that create added contact points along each edge for increased grip and control in all conditions.
Core
Aspen/Paulownia Core - Gnu builds boards with fast growing farmed eco woods selected specifically for their long fibers, light weight, strength, long lasting pop and great feel. This particular board uses the following woods:
Aspen: Light, strong and lively long fibers.
Paulownia: Light, strong and poppy.
UHMW External Sidewalls - Ultra High Molecular Weight exterior sidewalls made from soy-based elastomer are laminated to five internal wood layers for totally bombproof sidewalls. Fast, rugged, hard, waterproof.
Topsheet
Eco-Sub Poly Topsheet - This Polyester topsheet is tough, sheds snow and adds traction.
Base
Eco Sublimated Co-Ex Base - Perfect for beginners and park riders, this base keeps you moving fast and is easy to repair. All those dings your board gets over the season are like battle scars, but they also slow you down so repair your board to help your setup feel like it's new again, and again, and again.
Warranty
1 Year Warranty - Covered under manufacturer warranty for 1 year from the time of purchase. Warranty includes structural defects only and DOES NOT cover impact damage, abuse, misuse or normal wear and tear expected from aggressive riding.
About Gnu
Handbuilt in the USA - Every Gnu snowboard is handmade by snowboarders with jobs in the USA.
Mervin Made: EcoUNREAL Manufacturing - Core materials are sources from fast-growing, renewable forest products. Water-based solvents used for cleansing instead of petrochemical-based solvents. All wood sawdust is recycled as a soil additive, plus scrap wood is donated to a local Mood Wood company that packages it as kindling and resells it.
Specs
| Size | 148 | 152 | 154W | 156 | 158W |
| --- | --- | --- | --- | --- | --- |
| Width: | Standard | Standard | Wide | Mid-Wide | Wide |
| Suggested Boot Size (US): | 9.5 & under | 10.5 & under | 12 & under | 11 & under | 13 & under |
| Waist Width (cm): | 24.7 | 25.3 | 26.2 | 25.5 | 26.6 |
| Stance Set Back (in): | 0 | 0 | 0 | 0 | 0 |
| Sidecut Radius (m): | 8.0 | 8.1 | 8.1 | 8.2 | 8.2 |
| Effective Edge (cm): | 113.0 | 115.0 | 116.0 | 117.0 | 119.0 |
| Tip Width (cm): | 28.6 | 29.3 | 30.3 | 29.6 | 30.9 |
| Tail Width (cm): | 28.6 | 29.3 | 30.3 | 29.6 | 30.9 |