Lurpiv
Lurpiv 1 Skateboard Trucks
Be the first to write a review
Pay in 4 interest-free payments of $22.68 with
.
Learn more
Overview
Developed by the iconic Swedish professional skateboarder Oskar Rozenberg, these new high-tech skateboard trucks are sure to impress beginners and advanced skateboarders alike. Utilizing an aerospace technological casting process called Rheocasting, these trucks have a solid aluminum body with a new two-axle system to provide better grinds, durability, and minimal weight.
Features
Aerospace Rheocasting
T7 heat-treated solid body design through a casting process of cooling and heat-adjustment of the AlSi7 (Aluminum Silicon).
Details
Pivot bushing offers sharper response, maximum stability and turning performance.
Built-in wheel washers on the hanger and nuts to provide minimum bearing friction and long lasting speed.
Axle/Kingpin Style
Inverted Kingpin - An inverted kingpin means the threads are in the trucks, meaning that even after prolonged grinding, you will always be able to tighten or loosen your trucks.
Sizing Reference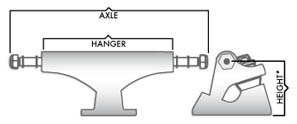 Note - Every skate truck brand represents their sizing a little differently, so it's easy to get confused. Take a look at this graphic and then reference the size chart.
Specs
| Size | 8.0 axle | 8.25 axle | 8.5 axle | 8.75 axle |
| --- | --- | --- | --- | --- |
| Hanger (mm): | 139.0 | 144.0 | 149.0 | 159.0 |
| Board Range (in): | 7.75 - 8.125 | 8.0 - 8.5 | 8.25 - 8.75 | 8.5 - 9.0 |
| Height (mm): | 55.0 | 55.0 | 55.0 | 55.0 |
| Weight (g): | 355.0 | 362.0 | 367.0 | 371.0 |