Ride

Zero Snowboard (Closeout) 2023

Be the first to write a review

Pay in 4 interest-free payments of $74.99 with
.
Learn more
Out of stock
But there's another version of this product: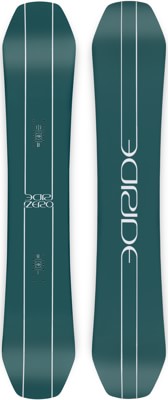 Ride
Zero Snowboard 2024
$529.95
More from Ride
---
Overview
The all-new Zero is a unisex board with no boundaries built to be ridden anywhere anytime. It features a Twin Hybrid Rocker profile and Asymmetrical Quadratic Sidecut that help you float through pow and trees and give you epic edge hold on hardpack. The Flat Kick Tips and Performance™ Core enhance your park and freestyle riding with extra stability and pop. It's no wonder this board is a favorite of team riders like Jill Perkins and Reid Smith.
Key Features
Asymmetrical Quadratic Sidecut
Slim Walls®
Core
Performance™ Core
Thin Construction Tapered Tips
Laminates
Biaxial Fiberglass
Carbon Array 3 Carbon Stringers
Double Impact Plates
Details
Cleave Edge™
3 Year Warranty
Flat Kick Tips
Features
Key Features
Asymmetrical Quadratic Sidecut - Asymmetrical shaping improves heelside turn initiation and control with different radii for the toe and heelside edge.
Slim Walls® - Ride's Slim Wall® technology is the evolution of their Roll-In Construction to its extreme limit. By creating a fully 3D composite structure over Slimewall® material, this revolutionary technology results in more efficient energy transfer, lighter weight construction, and even better damping.
Core
Performance™ Core - High strength Aspen is combined with Bamboo and lightweight Paulownia wood to decrease weight while increasing strength.
Thin Construction Tapered Tips - ALL Ride boards feature tapered tips and tails to reduce swing weight and enhance tip flex.
Laminates
Biaxial Fiberglass - A layer of stitched fiberglass on the top and bottom of the board provides a fun and forgiving feel. Ride takes stitched glass to new levels and tailors it to each board's needs. Their unique glass designs are flatter and more consistent, which increases strength and prevents gaps or stretching that can be found in woven glass.
Carbon Array 3 Carbon Stringers - 3 widespread carbon stringers are placed at the binding zone to gather input from any stance width and all pressure angles. Rider input is then channeled to the opposing contact point for maximum board control.
Double Impact Plates - Added underneath each binding area to improve compressive strength and prevent board breaks where it matters most. Offered in two levels, single and double.
Base
Sintered Base - This high end sintered 4000 Ptex base material is more durable, harder and faster than extruded.
Details
Cleave Edge™ - Nearly 50% more steel, delivers unmatched resistance to edge cracking and can be de-tuned to larger radii for extra smooth delivery.
3 Year Warranty - Covered under manufacturer warranty for 3 years from the time of purchase. Warranty includes structural defects only and DOES NOT cover impact damage, abuse, misuse or normal wear and tear expected from aggressive riding.
Sorry folks, but bashing your board on a rock or rail does not qualify as a "manufacturer's defect" and will not be honored.
Specs
| Size | 151 | 154W | 155 |
| --- | --- | --- | --- |
| Width: | Standard | Mid-Wide | Standard |
| Suggested Boot Size (US): | 9.5 & under | 11.5 & under | 10.5 & under |
| Waist Width (cm): | 24.8 | 25.8 | 25.2 |
| Weight Range (lbs): | 100 - 180 | 125 - 205 | 130 - 205 |
| Stance Set Back (in): | 0 | 0 | 0 |
| Sidecut Radius (m): | 8.2 / 7.1 / 7.2 / 6.1 / 8.2 / 7.1 | 8.4 / 7.2 / 7.4 / 6.2 / 8.4 / 7.2 | 8.4 / 7.2 / 7.4 / 6.2 / 8.4 / 7.2 |
| Tip Width (cm): | 29.7 | 30.8 | 30.2 |
| Tail Width (cm): | 29.7 | 30.8 | 30.2 |
| Stance Width (mm): | 533.0 | 559.0 | 559.0 |