Bones Bearings
Ceramic Super Reds Skateboard Bearings
$89.95
12 Reviews
(12)
Write a Review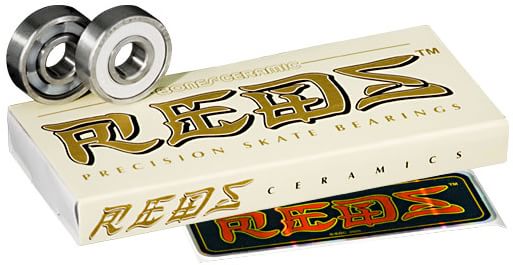 Overview
Bones Ceramic Super REDS are lighter, and provide faster acceleration, because the balls weigh much less. They create less friction and are thus faster than Super REDS, with or without lubricant! When you get dirt into your ceramic Super REDS, the ceramic balls will help to re-polish the steel races flat again, providing a self-healing benefit because ceramic balls are so much harder than steel. Finally, ceramic balls won't rust, further lengthening their life.
Features
Includes
Pre-lubed with Speed Cream
Instructions
Sticker
Type
Skate Rated™ - Skate Rated bearings are engineered and tested by Bones Wheels to withstand the high impacts of hard landings and the high side loads of turning. These bearings roll faster and last longer than bearings that use the ABEC rating system. To give Skate Rated bearings an ABEC rating would ignore all the improvements Bones has made over the industry standard. Skate Rated bearings are specifically designed for skateboarding, not electric motors.
Ceramic - Ceramic bearings are lighter than steel bearings and roll smoother with less friction. Ceramic bearings also resist dirt and moisture better than steel, but aren't completely waterproof.
Reviews
The best bearings on the market
Posted on 9/13/2019
Bones Bearings Ceramic Super Reds Skateboard Bearings
First of all, if your reading this review you're probably considering purchasing these bearings. Stop thinking, just buy them. I'm a huge stickler for quality bearings. Look no further you have found the best. I've literally purchased every set of bones bearings, from the least expensive to the most expensive these take the cake. These bearings have zero "break in" time. They're amazing from day 1 to day 300. You'll go through more sets of Swiss or reds before these give out on you. It's a little bit more money up front but a huge savings in the long term and a much more enjoyable, smoother, faster ride.

On a side note, if your comparing these to the $150 Swiss ceramic these are better. The Swiss ceramics take forever to break in. They're super slow out the box and they feel like your riding on sand. Maybe I got a defective set? But other friends agree that Reds ceramics are far superior.
by
James Knacksted
in
Scottsdale, AZ
(Verified Buyer)
Posted on 8/14/2019
Bones Bearings Ceramic Super Reds Skateboard Bearings - white
by
Jim Retter
in
Cincinnati, OH
(Verified Buyer)
Posted on 9/27/2017
Bones Bearings Ceramic Super Reds Skateboard Bearings - white
Posted on 5/18/2017
Bones Bearings Ceramic Super Reds Skateboard Bearings
Bones Super ceramics are the only bearings i use on any of my boards. They are fast, quiet, and reliable
Posted on 4/23/2017
Bones Bearings Ceramic Super Reds Skateboard Bearings
Only giving 4 stars b/c they were dry when they arrived and didn't come w/ a set of spacers.

Other than that they are exceptional. I'm definitely a stickler when it comes to the performance of my bearings. I've skated every bearing produced by Bones (exception for the swiss ceramics). Initially, I was a little worried with this purchase since I didn't want to pay the extra 30$ for these when I could just buy another set of swiss. Needless to say, I was pleasantly surprised. These bearings are on par with the standard swiss bearings that I've come to love, with the added benefits of minimal maintenance, reduced noise and smoother roll. The only downside, in terms of their performance, is that they do take a while to break in and they do need to be re-lubricated more often than standard bearings.
by
Keanan Turmenne
in
Monte Vista, CO
(Verified Buyer)
Posted on 2/5/2017
Bones Bearings Ceramic Super Reds Skateboard Bearings - white
Love the roll time, my ankle thanks you for every time I do NOT have to kick push a few more times to hit a spot or particular trick! Not sure if this particular item comes with the speed cream like the other Bones I have ordered but I did not receive it with the set which was a bummer but non the less these are the best!
Asked by
loki
on 5/2/2013
do they come with bearing spacers?
Answered by
Chris B
(Tactics Employee) on 5/3/2013
---

More products from Bones Bearings