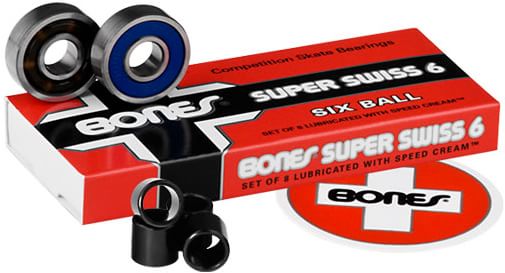 Overview
Bones Super Swiss 6 bearings (SS6) are fundamentally different from their famous Bones Swiss. Super Swiss have 6, 3/16 inch balls instead of 7, 5/32 inch balls. Thus, the SS6 balls are 20% larger and roll fewer times to go the same distance. Like bigger wheels on a car, they create less rolling friction and have a higher top speed.
SS6's special design and Swiss quality materials enable it to accelerate quicker, roll faster, and resist the impact of skate trick landings better than standard designs.
Features
Includes
Pre-lubed with Speed Cream
4 bearing spacers
Instructions
Sticker
Details
Six Ball Design is Stronger
Faster Roll, Quicker Acceleration
Pre-Lubricated with Speed Cream
Easy Cleaning & Relubricating
Removable High Speed Nylon Ball Cage
Non-contact Removable Rubber Shield
Bones Skate Rated Design & Quality
Type
Skate Rated™ - Skate Rated bearings are engineered and tested by Bones Wheels to withstand the high impacts of hard landings and the high side loads of turning. These bearings roll faster and last longer than bearings that use the ABEC rating system. To give Skate Rated bearings an ABEC rating would ignore all the improvements Bones has made over the industry standard. Skate Rated bearings are specifically designed for skateboarding, not electric motors.
Swiss - Swiss bearings accelerate faster, roll smoother and last longer than traditional steel bearings.
Details
Made in Switzerland - All Bones Swiss bearings are made in their factory located in Switzerland.
Reviews
by
Kevin Meehan
in
Hypoluxo, FL
(Verified Buyer)
Posted on 4/9/2022
Bones Bearings Super Swiss 6 Skateboard Bearings - blue
They don't feel much faster than the original Swiss. I ride 2 setups, both are the same in speed. Looking to go faster!!!!!!!
by
Joe Lambert
in
Austin, TX
(Verified Buyer)
Posted on 2/14/2022
Bones Bearings Super Swiss 6 Skateboard Bearings - blue
I have been riding big balls for a couple years and decided to spend the extra money on these Super Swiss 6, they just keep rolling and rolling! Great bearings.
Fast smoth quiet as good as my long boards.
by
Matthew Isbell
in
Greenville, SC
(Verified Buyer)
Posted on 1/12/2022
Bones Bearings Super Swiss 6 Skateboard Bearings - blue
Says I have to type something here
by
Ernest Odom
in
jacksonville, FL
(Verified Buyer)
Posted on 1/11/2022
Bones Bearings Super Swiss 6 Skateboard Bearings - blue
by
Danear
in
LA
(Verified Buyer)
Posted on 8/27/2021
Bones Bearings Super Swiss 6 Skateboard Bearings - blue
This is the best bearing I ever tried, so smooth
by
Peej
in
Hood River, OR
(Verified Buyer)
Posted on 6/4/2021
Bones Bearings Super Swiss 6 Skateboard Bearings - blue
It's like a knife over a hot biscuit
---
More from Bones Bearings