Crab Grab
Punch Mitts (Closeout)
Pay in 4 interest-free payments of $11.99 with
.
Learn more
Out of stock
But there's another version of this product: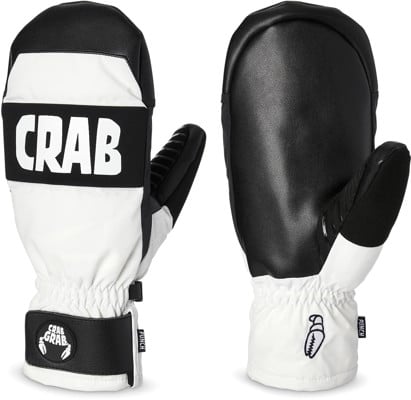 Crab Grab
Punch Mitts
$68.95
More from Crab Grab
---
Overview
The 5th anniversary edition of Scott Steven's pro mitt, these premium insulated mitts will keep your hands warm, dry, and protected. Using Crab Grab's Hand Sandwich Construction™ with PrimaLoft® insulation and a Dry Claw® membrane insert, your hands will thank you. Crunch Grip™ thumbs give you some extra dexterity, and the Snug Cuff™ easily slips into the cuffs of your jacket or hoodie.
Features
Details
2-Layer Nylon Ripstop Shell
DWR Coating
PrimaLoft® Grip-Control Palm Insulation
Hand Sandwich Contruction™
Bulletproof Palms™
Crunch Grip™
Micro Fuzz™ Liner
Soft Wipe Thumb Panels
Adjustable Snug Cuff™ Velcro Wrists
Insulation
PrimaLoft™ - Originally developed for the military, Primaloft's extremely lightweight core structure suspends millions of air particles in a microfiber mesh. These microscopic air particles repel water while trapping heat to keep you warm in the nastiest conditions, even after repeated washings. Primaloft is compressible, breathable and offers superior water repellency so you remain dry, warm and comfortable even under the most extreme conditions.
Insert
Dry Claw™ Insert - Waterproof and breathable insert used in gloves and mitts to provide extra waterproofing.
Details
2-Layer Nylon Ripstop Shell - Crab Grab's rugged, hydrophobic yet breathable shells provide a double layer first line of defense from the elements.
DWR Coating - Crab Grab's shell fabrics have a durable water repellent coating which prevents moisture from passing through the mitten's exterior.
PrimaLoft® Grip-Control Palm Insulation - This special blend of Primaloft® was originally developed for footwear applications. The fibers are structured to minimize lateral shearing, providing an anti-slip, super stable surface, which works wonders for increasing your grip power.
Hand Sandwich Contruction™ - Crab Grab uses thicker insulation and liner materials in their hand backs where your hands lose the most heat, and slightly thinner materials on the palm side for increased grip and dexterity.
Bulletproof Palms™ - Crab Grab's all new, incredibly durable, waterproof, closed cell composite microfiber.
Crunch Grip™ - Incredibly grippy silicone injected microfiber. Found on most of Crab Grab's mitten thumbs for added grip.
Micro Fuzz™ Liner - Soft and fuzzy brushed polyester tricot liners.
Soft Wipe Thumb Panels - Almost all Crab Grab mitts come with runny nose, goggle lens friendly flocked suede thumb backs.
Reviews
by
Socrates Sanchez
in
San Marcos, CA
(Verified Buyer)
Posted on 1/8/2022
Crab Grab Punch Mitts - (scott stevens) baby violet
Super warm, comfortable and break in fast asf !