Electric
Knoxville Polarized Sunglasses
Pay in 4 interest-free payments of $39.99 with
.
Learn more
Overview
Few things are truly classic. That being said, the Knoxville polarized sunglasses from Electric weren't born classic, they were raised. Made with hard lines, timeless design traits and Italian quality, you can't get more original that this.
Features
Frame Features
Grilamid Frame
3 Barrel Stainless Steel Optical Hinge
Lens Tech
Melanin Infused Polycarbonate Lenses
100% UV Protection
98% HEV Protection
Polarized Level III
Size Category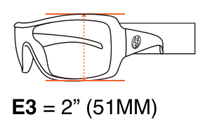 E3 - Category sizes are measured from the widest point on the vertical axis of the sunglass frame.
Frame Features
Grilamid Frame - Grilamid is a nylon compound that when heated and mold injected becomes the lightest, strongest plastic material available. Once Grilamid is formed it has the amazing attribute of being extremely flexible, but is able to maintain its original shape under all temperatures.
Lens Tech
Melanin Infused Polycarbonate Lenses - Melanin protects your eyes with equivalent to SPF 140, while polycarbonate provides the most impact and scratch resistant lens material available today. Polycarbonate can be produced much thinner and lighter than CR39 or glass.
Electric's injected polycarbonate lenses block 100% of the suns damaging UV, UVA, UVB and UVC rays. Polycarbonate lenses are extremely lightweight, provide high impact resistant, and have excellent optical clarity.
100% UV Protection - UV rays can be extremely harmful to your eyes. These damaging rays can accelerate your eyes aging process and these negative effects can be enhanced by surfaces like water and snow. Safeguard your eyes with 100% UV protection.
98% HEV Protection - High Energy Visible (HEV) light, or "blue light", is connected to brain signals for being awake/alert. These sunglasses are made with special "Blue Blocker" lenses that filter out HEV light. For nighttime screentime, this helps your brain prepare for restful sleep by mimicking nature and letting your brain send the proper signals for falling asleep quickly and enjoying a deep, restful sleep.
Polarized Level III - • Blocks 100% UVA / UVB / UVC and filters harmful blue light up to 400nm
• Excellent clarity
• Ultra lightweight
• Impact and scratch resistant
• Lenses comply with ANSI Z80.3, EN1836, AS/NZS 1067
• 99.99% glare elimination efficiency
Curvature
6 Base Curvature - The base curvature corresponds to the curve of the lens. The higher the number, the higher the curve. 6 base styles have a "flatter" look. 8-9 base curves hug closer to the face.
Frame Measurements (mm)
These measurements include the height of the frame, the width of the frame and the length of the arms in that order.
Extra Info
Pro Tip - Are polarized sunglasses better? Are they worth the price?
In many cases, yes. All sunglasses reduce brightness and block some amount of harmful UV rays. However, only polarized sunglasses are scientifically constructed to eliminate glare. Not just reduce it, but eliminate it. Fully polarized sunglasses reduce eye strain and help you see better around water, snow, sand or any other reflective surroundings.
VLT Rating
5 - 10% - A low VLT (Visual Light Transmitted) rating like this is perfect for sunny and bright lighting conditions.
VLT ratings range from 0 to about 90 percent with a lower number meaning less light passes through (darker tint); where as with a higher number - more light passes through (lighter tint).
Reviews
very comfy and super strong
by
Caleb Hayes
in
Fredericksburg, VA
(Verified Buyer)
Posted on 7/13/2017
Electric Knoxville Polarized Sunglasses - gloss black/ohm polar grey lens
by
Ran the man
in
Lone Tree, CO
(Verified Buyer)
Posted on 4/26/2012
Electric Knoxville Polarized Sunglasses (Closeout) - gloss black/ve bronze polar lens
Awesome and want to by another pair.
---
More from Electric