Flux Bindings
XF Snowboard Bindings 2019
Sale: $205.95
(30% off, was $294.95)
Be the first to write a review
Overview
From hard-pack to powder, these medium-soft flex bindings dig into deep carves at resorts yet remain playful to accommodate the urban skate-style of Atsushi Hasegawa. Whether carving-out a wave on the slopes or smashing stairsets, you'll appreciate new UU Fit™ technology connecting your binding straps to your boots with the precision of shrink-wrap for the most responsive setup from Flux yet. Lightweight and shock absorbing, the FooTon footbed works to reduce chatter and snow buildup for the ideal all-mountain no-fuss in/out setup.
Features
Key Features
FooTon Footbed
Transfer Base
Axis Highback
Beer Buckles
Waffle Strap
Strap to Boot Fit
Highback
Super Tough Nylon
Forward Lean Adjuster
Micro Adjuster
Straps
L-Guide Ladders
F.T.M. Versa™
UU Fit™
Baseplate
Performance Blend
Adjustable Toe & Heel
Toolless Lever
Key Features

FooTon Footbed - Designed with a special material to prevent snow buildup and to provide more direct board feel with all the cushion you need.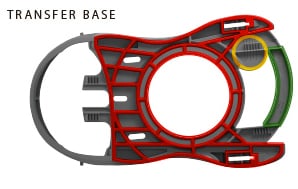 Transfer Base - Lightweight and focused on direct power transfer. The specific benefits are highlighted in color:
Red: Featuring 4 contact points that extend out toward the toes and heel to allow for maximum power transfer.
Green: The rail along the toe edge maximizes full leverage what transitioning from toe to heel turns.
Orange: Precise edging is realized by strengthening the base area under the ball of the foot.
Axis Highback - The spine running through the forward lean adjuster allows for maximum heelside support while the center slit provides lateral flexibility. The highback is also wider at the top to increase contact area and provide improved power transfer.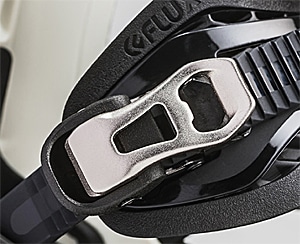 Beer Buckles - Engineered buckles give you more leverage when cranking down on the straps allowing you to get to the last click with minimal effort. Features a bottle opener in case of any emergencies.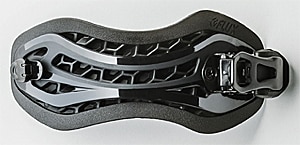 Waffle Strap - Flux's Waffle Strap is built to achieve next level response with two layer construction focused on direct power transfer and a seamless fit.
Strap to Boot Fit - All Flux baseplates are designed for better strap-to-boot fit. Rather than connecting to the outside of the chassis like other bindings, their ladders feed into an inner channel within the chassis to bring the ladder closer to the boot for more natural curved wrap and hold.
Highback
Super Tough Nylon - A fiber mix with a medium flex that is perfect for all-mountain riding.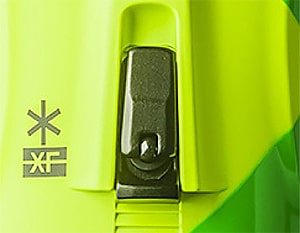 Forward Lean Adjuster - Highback Adjuster that offers precision adjustments when used in unison with their Micro Adjuster.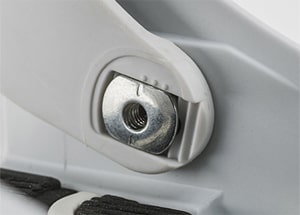 Micro Adjuster - 2.5° adjustment increments for the forward lean adjustments.
Straps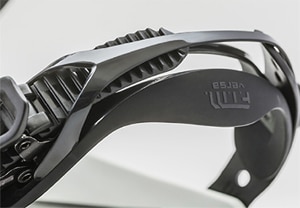 L-Guide Ladders - For a smooth in and out. Holds ratchet ladders down.
F.T.M. Versa™ - Softer material and a better holding top or toe strap option. Designed to fit any boot on the market.
UU Fit™ - A 360° wrap evens out pressure for natural feel and hold.
Baseplate
Performance Blend - A nylon and fiberglass mix for all-around performance.
Adjustable Toe & Heel - Change to fit foot size to avoid the loss of leverage.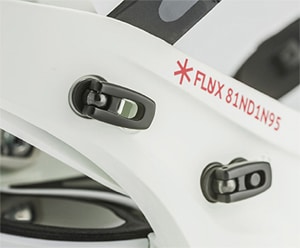 Toolless Lever - Make adjustments on the fly with no tools.
Specs
| Size | L |
| --- | --- |
| Men's Boot Sizes (US): | 9+ |
---

More products from Flux Bindings