Footprint
Gamechangers Custom Orthotics 6mm Insoles
Pay in 4 interest-free payments of $11.99 with
.
Learn more
Overview
These updated Footprint Gamechanger Custom Orthotics insoles come with a more durable base layer to make them more stable. These insoles are recommended for people with low arches, flat feet or preexisting joint pain. This is the ultimate joint support insole with 100% satisfaction guaranteed. Gamechangers have a firm arch that fully supports your foot to improve knee alignment.
Thanks to the custom arch support, you will never feel pain from primo again. As a bonus, these insoles also work in snowboard boots.
Features
Key Features
Arch Support
Fully Stitched Shell
Gamechangers Custom Mold Instructions
Determining Your Foot Type
Details
More Durable Base Layer than the OG Gamechangers
Key Features
Arch Support - These orthotics help prevent over-pronation, which assists the body in proper alignment. This relieves daily fatigue, sore joints and allows longer performance.
Fully Stitched Shell - Reinforced shell is blowout-proof thanks to full exterior stitching.
Gamechangers Custom Mold Instructions - Preheat oven to 225°F or 110°C
Insert insole for 5-8 minutes or until arch is soft
Wear socks
Remove insole and place into shoe. Walk for 5-10 minutes or until arch becomes firm.
Use caution, insole will be hot. If insole feels too hot, allow it to cool to tolerable temperature before molding.
Do not attempt to mold without adult supervision. If using a toaster oven, keep insole away from heating elements as toaster ovens do not accurately control even temperature throughout oven.
Do not attempt to mold if insole has been punctured or damaged. Do not use microwave. Use common sense.
Customer assumes all liability. Footprint Insole Technology is not liable for any injury as a result of using this product, negligent or otherwise.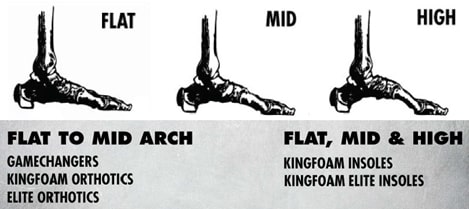 Determining Your Foot Type
Reviews
by
Blair Seymour
in
WEST JORDAN, UT
(Verified Buyer)
Posted on 6/13/2022
Footprint Gamechangers Custom Orthotics 6mm Insoles - dark grey camo
My husband asked me to purchase these for him on a recommendation from a friend/coworker. He's a firefighter and his station boots and his fire boots were not very comfortable for all day wear so we ordered two pairs and he has absolutely loved them. Highly recommend. He has a pretty flat foot for reference
Posted on 1/1/2022
Footprint Gamechangers Custom Orthotics 6mm Insoles
Was t sure just what to expect as I've never had custom fit insoles before but after a days work and a light jog I can definitely say these are worth the money and replacing and normal insoles you have.
by
Aric Sumner
in
White City, OR
(Verified Buyer)
Posted on 6/1/2021
Footprint Gamechangers Custom Orthotics 6mm Insoles - colours collectiv kelvin hoefler
The colorway is even better then the pic. Also they are super comfortable
by
Raul Rosas
in
CA
(Verified Buyer)
Posted on 1/18/2021
Footprint Gamechangers Custom Orthotics 6mm Insoles - robot legacy
2nd pair of these insoles and tactics has fast shipping
by
Robert Gohr
in
Lomita, CA
(Verified Buyer)
Posted on 1/17/2021
Footprint Gamechangers Custom Orthotics 6mm Insoles - dark grey camo
Can't skate without these
by
Robert Wild
in
Portland, OR
(Verified Buyer)
Posted on 11/15/2020
Footprint Gamechangers Custom Orthotics 6mm Insoles - will barras
---
More from Footprint