Overview
These updated Footprint Gamechanger Custom Orthotics insoles come with a more durable base layer to make them more stable. These insoles are recommended for people with low arches, flat feet or preexisting joint pain. This is the ultimate joint support insole with 100% satisfaction guaranteed. Gamechangers have a firm arch that fully supports your foot to improve knee alignment.
Thanks to the custom arch support, you will never feel pain from primo again. As a bonus, these insoles also work in snowboard boots.
Features
Key Features
Arch Support
Kingfoam Insole Cross-Section
Fully Stitched Shell
Determining Your Foot Type
Details
More Durable Base Layer than the OG Gamechangers
Key Features
Arch Support - These orthotics help prevent over-pronation, which assists the body in proper alignment. This relieves daily fatigue, sore joints and allows longer performance.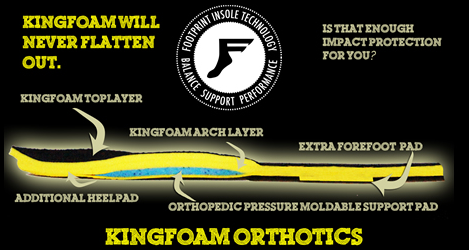 Kingfoam Insole Cross-Section
Fully Stitched Shell - Reinforced shell is blowout-proof thanks to full exterior stitching.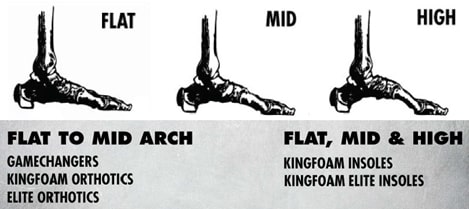 Determining Your Foot Type
Reviews
by
generiq
in
TX
(Verified Buyer)
Posted on 3/2/2020
Footprint Gamechangers Low Profile Custom Orthotics 3.5mm Insoles - light grey camo
The first thing that you will probably notice about these is that they are likely much harder than the insoles that came with your shoes and when you first slide your feet in, they honestly don't feel very comfortable. But because they are custom molded to the shape of your feet, they provide much more support than anything else I have found. Also, they get softer when they warm up, so once you get moving they seem to become a bit more flexible. These are a great alternative to the standard Gamechangers if you have shoes that are a little more snug in the forefoot, but the heel section is not much thinner in the Low Profile version. I still found them too thick for my running shoes, but they work great in my Vans. For comparison, the standard Gamechangers work well in my Gilbert Crocket Pro 2's but the Low Profile Gamechangers are better for my Slip On Pro's (both pairs are the same size, but the Slip On's are more snug in the forefoot). I do recommend these as they do offer great custom support and fit better in snug shoes than the standard ones, but they are not as comfortable as they are supportive.