Footprint
Kingfoam Elite Hi Moldable Insoles
Pay in 4 interest-free payments of $11.24 with
.
Learn more
Overview
Used to do the biggest ollie in the history of skateboarding the Footprint Kingfoam Elite Hi Moldable Insoles are built for impact. With a thickness of 10mm in the heel to 5mm in the toe these insole will absorb more impact than the average shoe insole. Featuring a heel cup that wraps around the entire ball of the heel, heel bruises will be a thing of the past.
Features
Key Features
Kingfoam
Determining Your Foot Type
Details
5mm Toe to 10mm Heel
Blunt Trauma Protection
Updated Stability
Custom Heel cup Cradles the Heel and Disperses Energy Away From the Center of the Heel Further Reducing Heel Bruise
Absorbs Over 90% of Shock Energy in astim f1614 lab Test
Key Features
Kingfoam - All Footprint soles are covered from heel to toe with Kingfoam, a military grade urethane that converts the force of impacts into heat. Absorbs 90% of impact energy and protects against bruises and joint damage.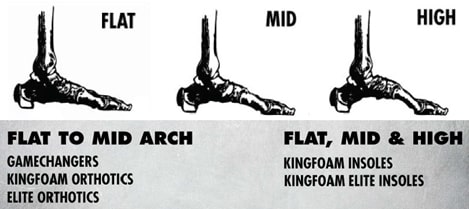 Determining Your Foot Type
Reviews
by
Laura Lazo
in
Woodstock, CT
(Verified Buyer)
Posted on 1/24/2022
Footprint Kingfoam Elite Hi Moldable Insoles - lizard king
Thought I'd give these a try after retiring the old boots with the Doc Marten insoles.
I will never wear anything else! These are incredible!
I wear them with my Danners on concrete and steel floors for my 72 to 80 hr work weeks. I have no pain!
Thank you for creating a product that works!
Amazing quality , my brother is a skater and he absolutely loves them!
by
Selena Nelson
in
Coxs Creek, KY
(Verified Buyer)
Posted on 1/22/2021
Footprint Kingfoam Elite Hi Moldable Insoles - jaws feet
High quality, durable, long lasting , feet saver for hard falls