Overview
These Kingfoam orthotics insoles are recommended for people with a mid-to-high arched foot. They adapt to each step and ease pressure points by evenly dispersing impact force, which in turn helps to prevent injuries. These low-profile insoles also have open cell foam which prevents fungal and bacteria growth from forming by allowing the moisture to evaporate, so even after months of impactful use, these insoles will still feel like new.
Features
Key Features
Arch Support
Kingfoam
Determining Your Foot Type
Details
Custom Mold to Your Foot Shape and Help Prevent Over Pronation.
The Nano Technology in ARTi-LAGE Artificial Cartilage Foam Absorbs up to 90% of Impact Energy Before it Can Reach your Body.
Can be Trimmed to fit, Includes Adjustable Heel Risers.
Dual Weave Fabric for Longer and Harder use.
The Material Eases in to Every Pressure Point Relieving Stressed Areas and Evenly Dispersing Impact.
Recommended for mid to High Arch Foot.
Key Features
Arch Support - These orthotics help prevent over-pronation, which assists the body in proper alignment. This relieves daily fatigue, sore joints and allows longer performance.
Kingfoam - All Footprint soles are covered from heel to toe with Kingfoam, a military grade urethane that converts the force of impacts into heat. Absorbs 90% of impact energy and protects against bruises and joint damage.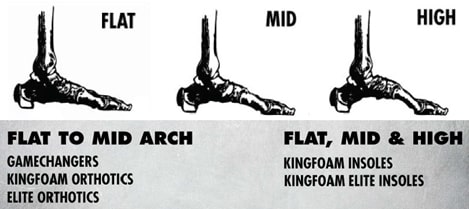 Determining Your Foot Type