Art-Lab: Brian Zager
Greetings and welcome to the Zager Art Lab, a place where we've meticulously curated a delightful assortment of artworks, all inspired by Brian's deep connections to the mid-Atlantic region and his cherished experiences at historic Jewish delicatessens. Brian's culinary creativity draws from a captivating fusion of uncomplicated visuals and hand-painted signage, seamlessly harmonizing with his current passions for painting, illustration, and custom motorcycles. We recently had the pleasure of sitting down with Brian to delve deeper into his influences and the journey that led to the creation of this delectable art laboratory.
---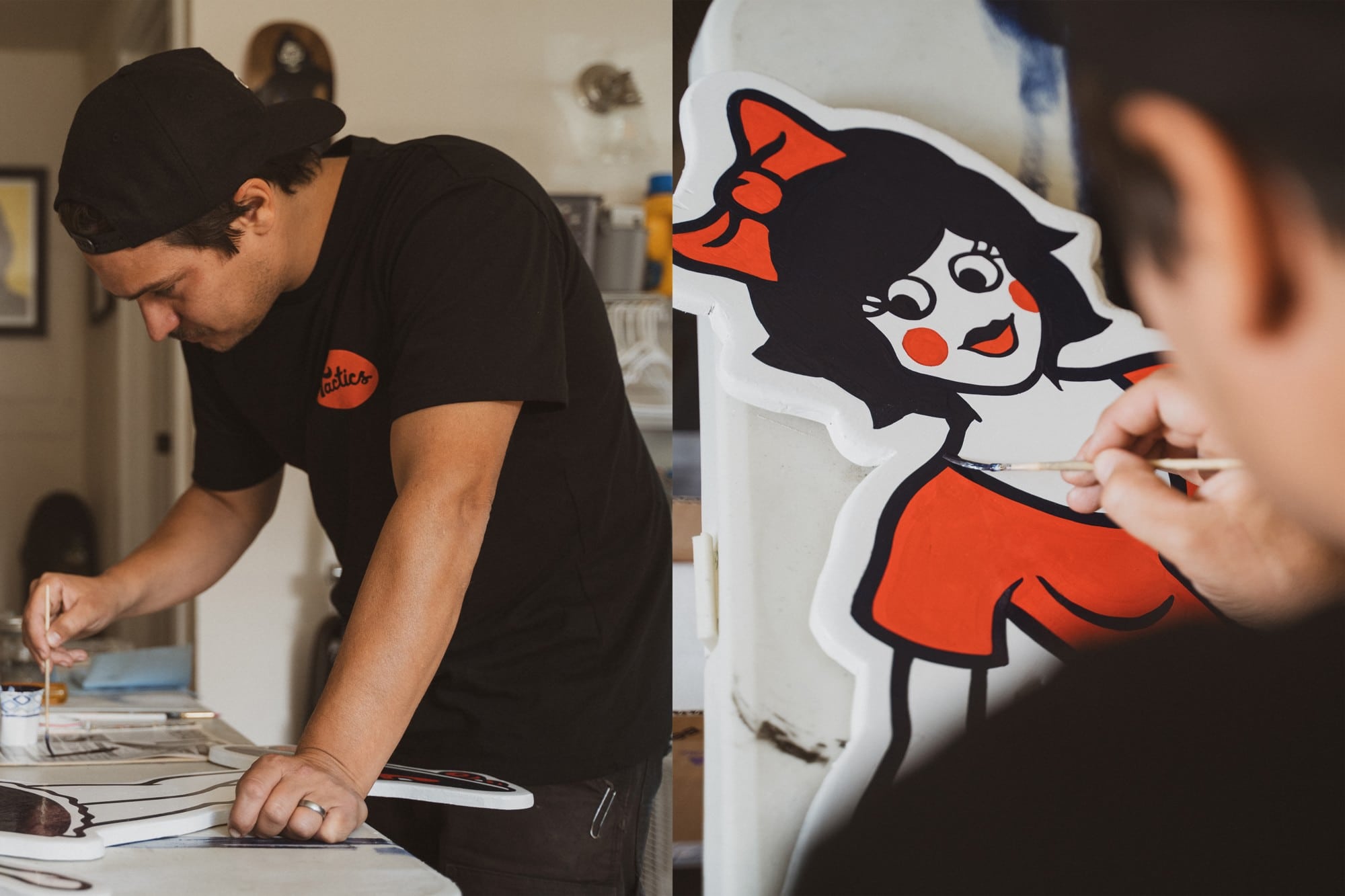 Brian tell us, how did the idea for this Art Lab come about?
It wasn't easy, since the main constraint behind an Art Lab is that there really aren't any constraints. I didn't want to be too on the nose with my interests and wanted something we could build a whole theme around. I think digging into some of my lesser-known roots and mixing that with my more apparent interest in custom bikes and skateboarding made the most sense.
Where did you grow up and how did that inspire this collection?
I grew up in Baltimore, Maryland but have been in Bend, Oregon for about 10 years. I think the inspiration for the collection comes from growing up in a bigger more historical city with lots of different historically ethnic neighborhoods.
Being Jewish, we spent a lot of time in those old Jewish neighborhoods that can be found in pretty much any city on the East Coast...or really anywhere Jewish immigrants settled. There's an old deli called Attman's we used to go to that has the best-corned beef sandwich. Of course, it was really just the Baltimore version of more famous NYC delis like the Carnegie and Katz's.
I think one day I realized this type of establishment was missing from my life and therefore I chose to base my collection on this aesthetic. There's a timeless quality to places like these with passed-down recipes for pastrami and matzoh ball soup and chaotic but beautifully hand-painted menus on the windows. There's also never a shortage of Utz chips!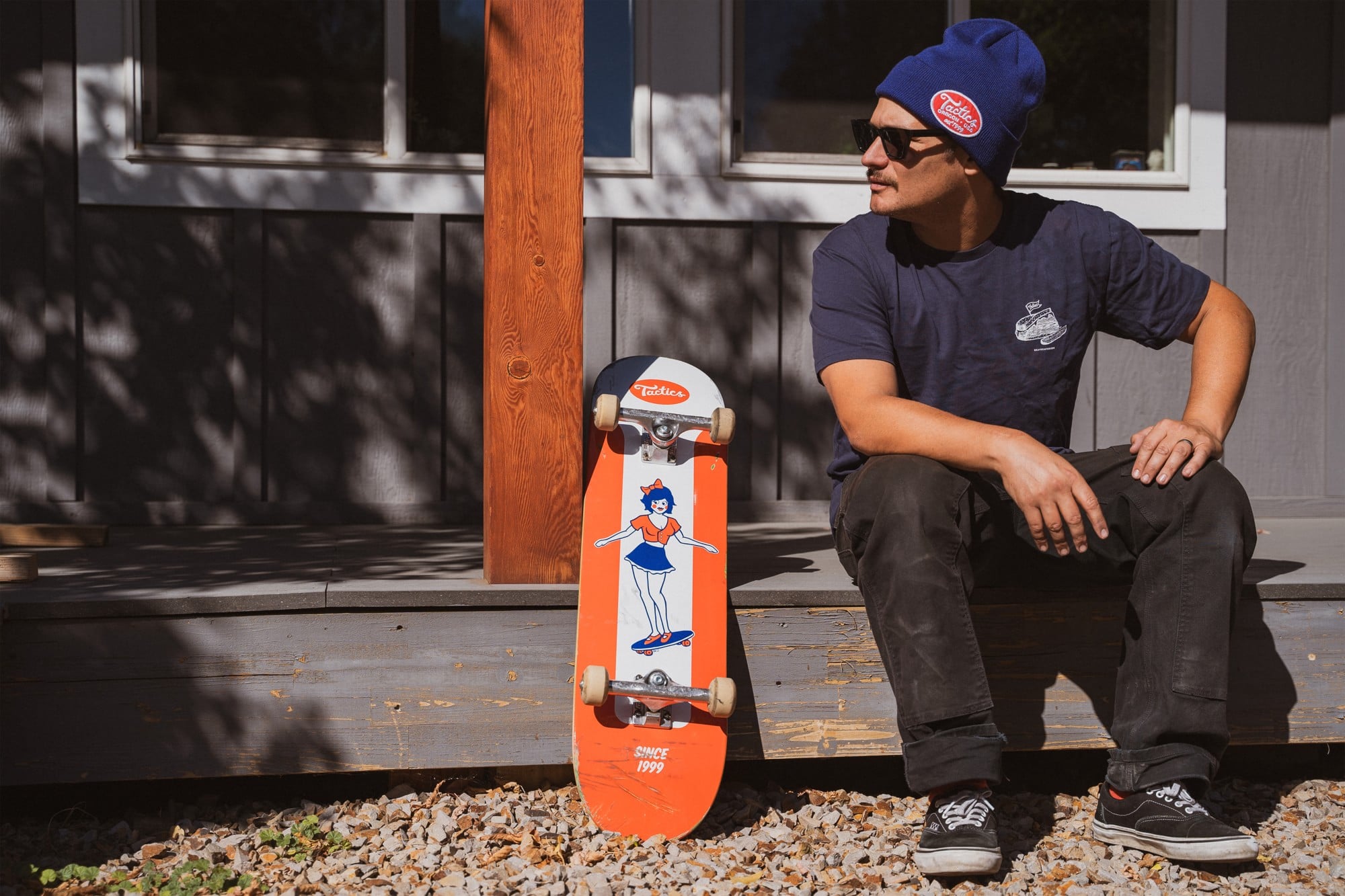 Can you tell us about the inspiration for you're pin-up skater girl mascot?
Yeah, this one is kind of a mish-mash of a lot of different interests. The pin-up girl in particular comes from a love of WWII nose art. You know those risqué paintings on the sides of American planes in WWII. Those also made their way into American Traditional Tattoo Flash which also has such a timeless aesthetic. A lot of my previous work centers around pin-up girls including a series of 3 boards I did with Tactics prior to this Art Lab. In this case, I took the Utz logo which is the lovable Utz girl, and reimagined her as a classic pin-up. I put her on a skateboard for obvious reasons and she might be my favorite pin-up I've drawn yet. Please don't come after me, Utz!
How did your other interests influence this collection?
It's centered around clothes I like to wear myself like the cuff beanie and T-shirts's with simple back graphic and front chest logo. I'm also a huge fan of custom motorcycles and wanted to create a fit that would work well when I'm out riding my bike around town. I love throwing on an insulated vest, but this was rad since I was able to add my own touch to a classic style. I've always been annoyed with never having a good place for my sunglasses on any vest I own so this vest had to have a hidden chest pocket.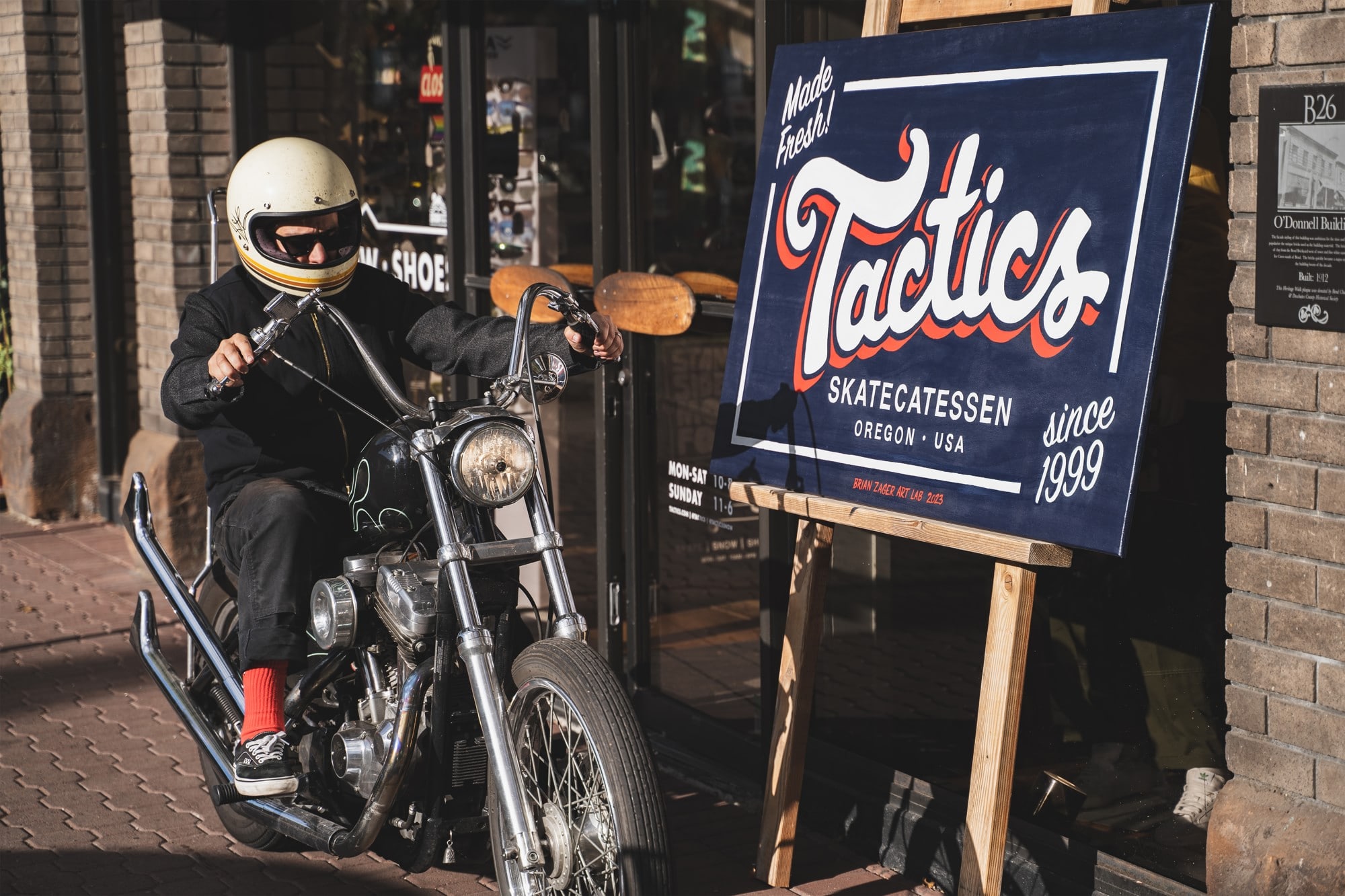 What makes a good corned beef on rye?
Simplicity. It's really 3 ingredients and comes down to more assembly. Obviously, a house-made quality corned beef is the real star. But it needs to be piled high on a good Jewish Rye, and nothing else on there except spicy deli mustard. It can be hot or cold but when done right, there's a real melt-in-your-mouth quality to this that can't be beat.
Final, loaded question... Original UTZ or flavored?
I think the Utz Original is hands down the best regular chip of all so that's the base. From there I love the BBQ and Honey BBQ, but no self-respecting Marylander would go without mentioning the Utz Crab Chip. There are many imitators but only the Utz Crab Chip IS the real crab chip! Umm....so back to your question; both.
---
Shop The Gear