Kelsea H.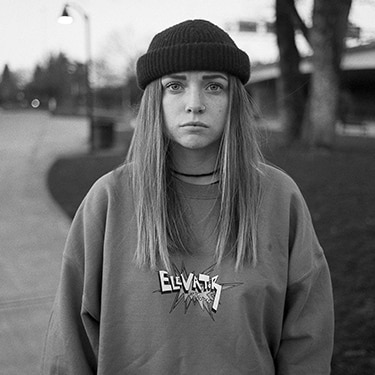 Position: Eugene Shop Staff
Skate, snow or surf?
I just somewhat recently started skateboarding as of the summer of 2018! Unfortunately, I've only been snowboarding and surfing once, but have been planning on doing more of those soon!
Any other hobbies?
I really enjoy listening to music and writing in my journal, nothing too exciting. Also, not sure if it counts as a hobby, but I love camping and car camping along the Oregon coast
Where are you from? Any other pre-Tactics expereinces you'd like to share?
I grew up in Grants Pass, Oregon, a small redneck town about 2 1/2 hours south of Eugene. It only has a population of about 36,000 and about 90% of those people own a truck that needs a step ladder to get into with a confederate flag strapped to the back... I moved to The Dirty Eug for school in September of 2017 and it's been the best decision of my life so far. I've worked in retail for about 2 years prior to Tactics.
Do you have any nicknames?
I don't have any random nicknames, just the plain old shortened version of my name, "Kels".
Favorite song/ band right now?
My favorite song right now that I just started listening to again is Paul Simon's "50 Ways To Leave Your Lover". I have a pretty wide range when it comes to my taste in music. I enjoy classic rock like Led Zeppelin and Pink Floyd all the way to Simon and Garfunkel, pretty much any music from the 60's and 80's. My all time favorite band is The Beatles.
Best thing about the Pacific NW? Worst thing?
The best thing about the Pacific Northwest is absolutely the fresh air and the trees. Unfortunately to keep the greenery in the trees there's a lot of rain in fall through spring which is nice for a little, but I find myself getting tired of it.
What would you do if you won the lottery and retired from Tactics?
If I had won the lottery and retired from Tactics I would absolutely travel. Everywhere. I would van around the U.S in a Westflaia and then explore other countries.