River Mountain
---
It can be easy to take your local area for granted. Caught in the rat race of life, grinding at work, sitting in traffic, staring at a monitor for eight hours a day, and eating the same old tuna sandwich while you daydream about skateboarding. Sometimes we forget that our backyard here in Oregon has all the natural resources we need to sleep outside, hike around, and snake our way through some of the most creative skateparks in the world. Don't forget to ice those ankles in a frigid glacial river at the end of a long day. All it takes is hopping in the 93' Chevy van and hitting the road with your friends. Sometimes what you're looking for is right in the backyard.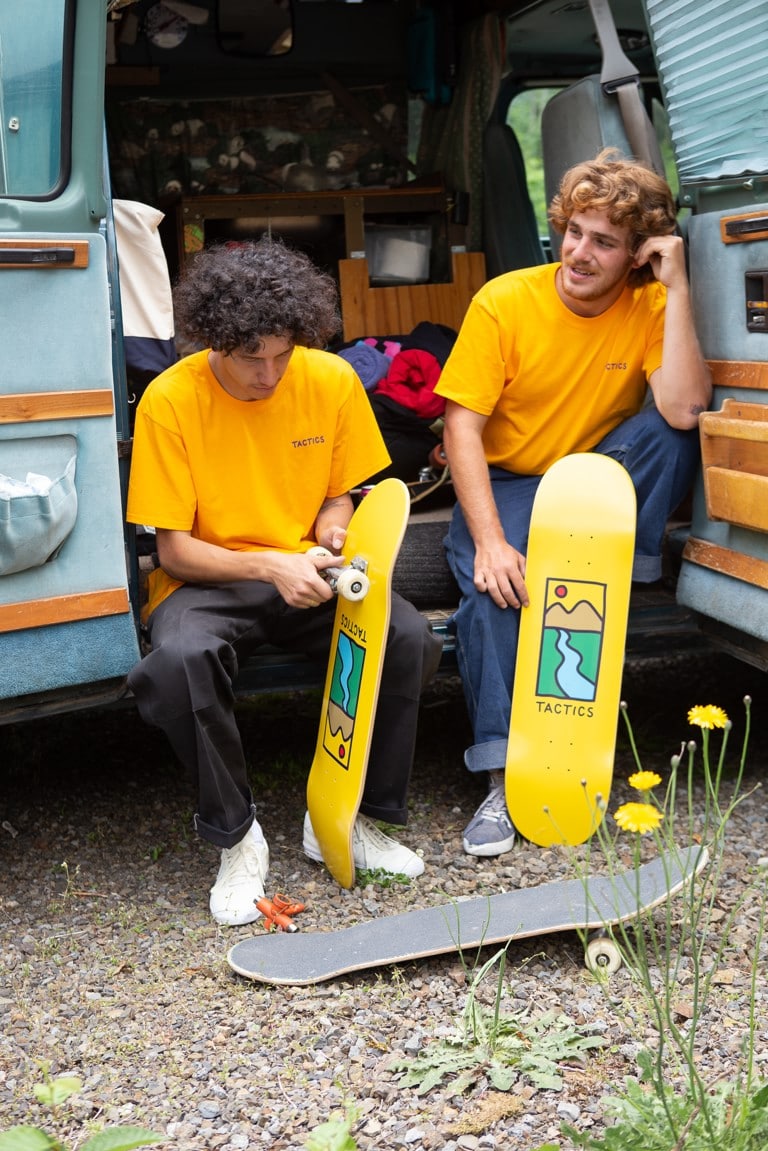 After a long winter, the Tactics team didn't need an excuse to caravan out to Seek Skateboarding camp. Nestled in the dense and lush forests that make up the western base of Mt. Hood, this place is a skateboarder's paradise. A quick downpour didn't dampen the spirits of Romel, Nacho, David, and Noah as they "warmed up" for the day in BOB (Building Out Back), the largest indoor skatepark in the Pacific Northwest. I guess dragging a 4 foot tall ledge onto the top of the euro gap and backside noseblunting it in 3 tries is how Romel warms up.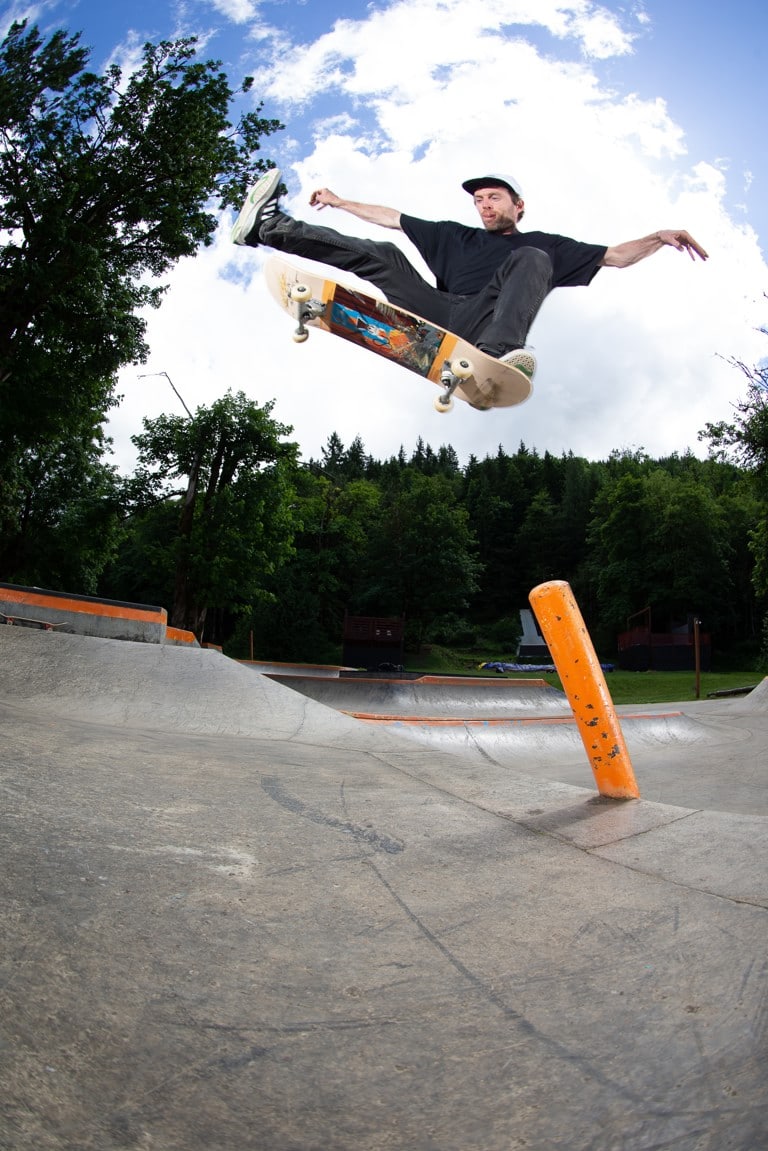 As the sun started to poke through the one large garage door into the park, everyone was eager to get outside. After some sweeping and a little help from the sun, the team began to destroy the massive skatepark. Local pro, former SOTY, and all around inspirational guy Silas Baxter-Neal showed up. The young dudes know their history, and they always turn it up to eleven when they get to skate with Silas. His power, grace, and technicality on a skateboard is always a pleasure to witness. Combine that with former pro and legendary skate photographer Bryce Kanights shooting photos and you are bound to make some magic.
The rest of the day was spent at a crusty backwoods DIY. There were lots of laughs, a couple brewskis, skating logs, and some jaw droppers from the team. As it began to rain, we decided to make the drive over Mt. Hood to the often dry North East side of the Cascades. We are so lucky to be able to quickly change climates here in Oregon. If you don't like the weather, just drive 30 minutes and find some sun.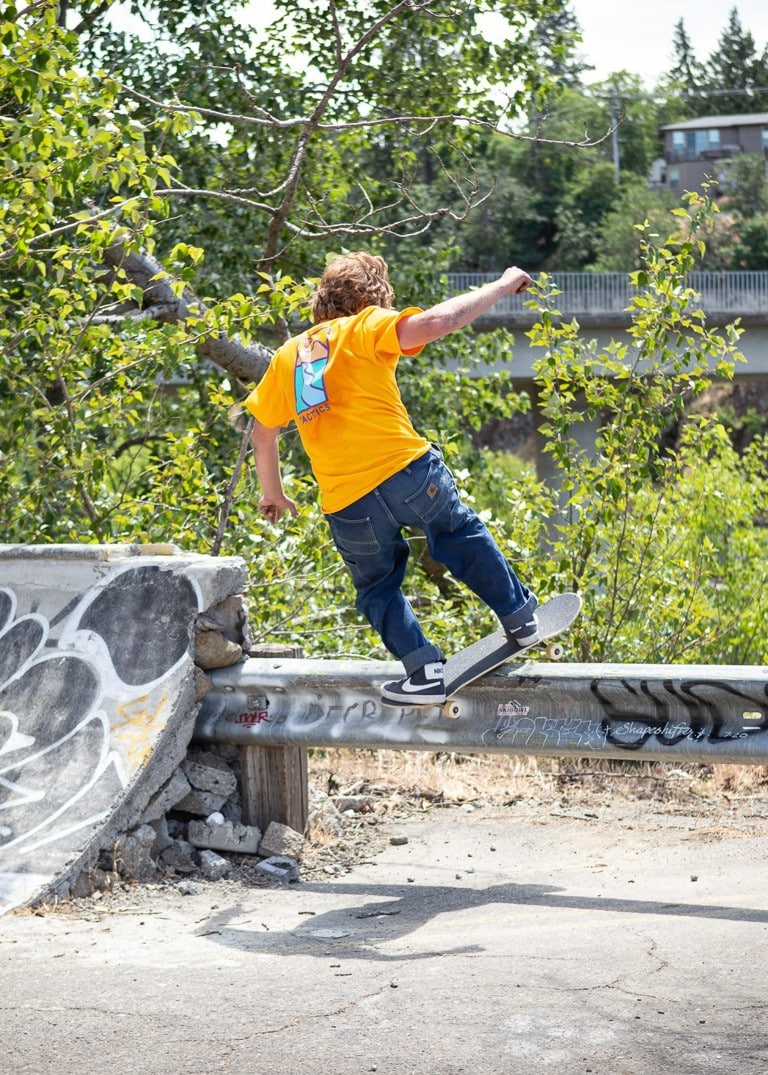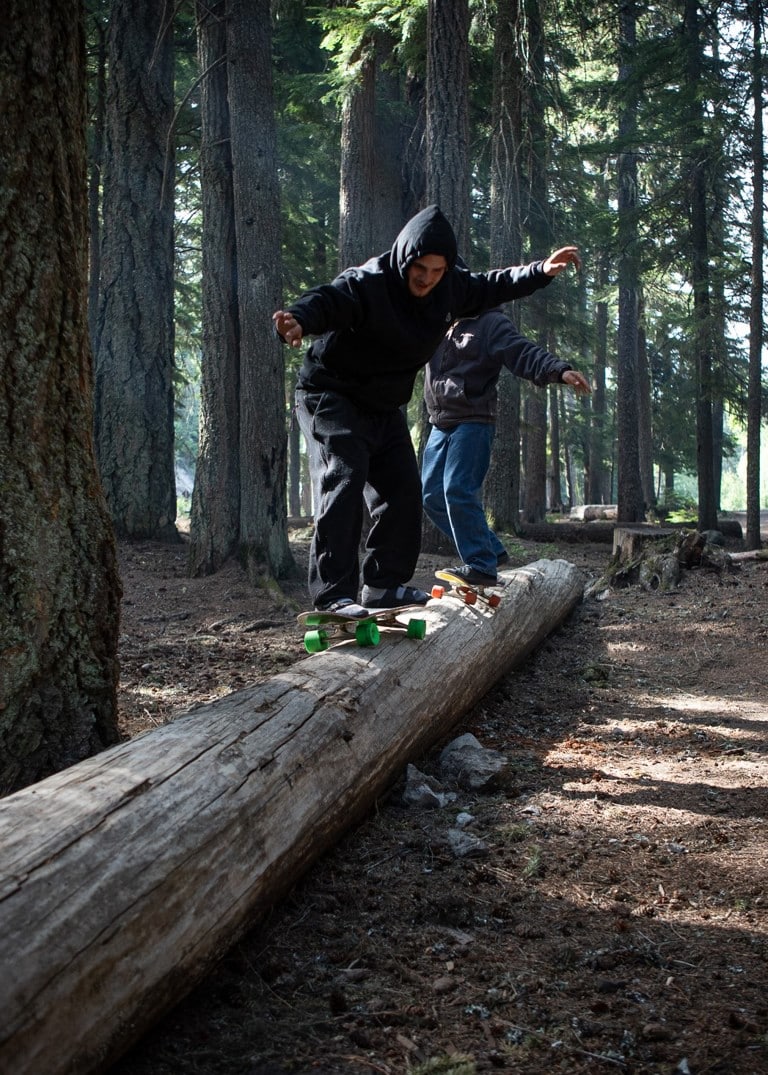 The crew settled on a nice campsite on the banks of the East Fork Hood River. Our rag-tag group consisted of experienced campers to ill prepared cold boys. We chopped it up around the campfire, searched for firewood, burned some hot dogs and I'd say we bonded. We found out that Noah is a budding entrepreneur, Nacho can sew a mean rug, David doesn't mind eating dirt, and Bryce is health conscious but draws the line at fake cheese. As one of only two photographers permitted to travel to Tokyo to shoot skateboarding at the 2020 (2021) Olympics later this month, he imparted some knowledge on the team in a humble and reserved manner. A true skateboarder, honored that he was included, but slightly skeptical of this next competitive evolution of skating. The crew quietly shrank as people irish goodbye'd themselves to sleep in their respective tents. The loud river provided the optimal sleeping soundtrack.