Skateboarding Brands You Should Know

We all know that person who is wearing the newest skate gear from some of the coolest skate brands you haven't heard about. Do you know the difference between you and them? They read this article, and you didn't!
These are the Skate Brands You Should Know.
---
1. Last Resort AB – Skater Owned Skate Shoes.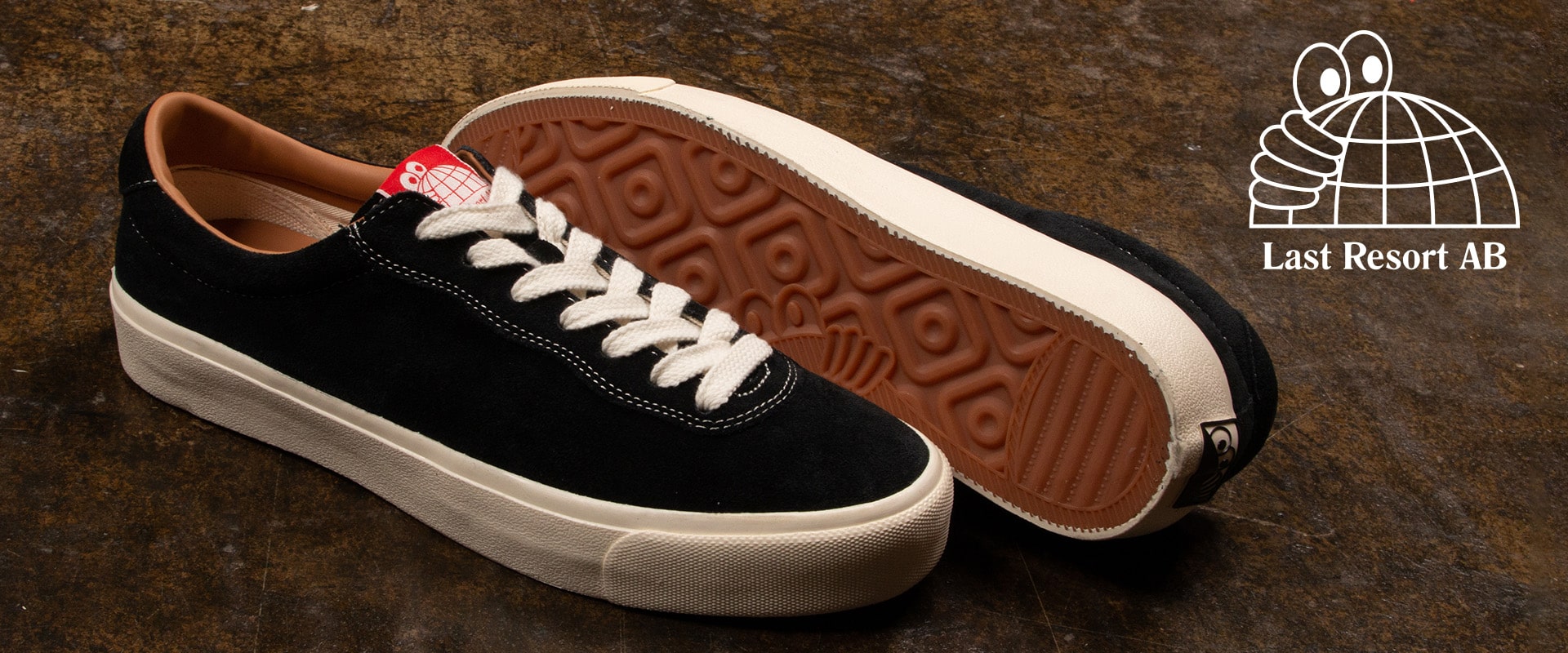 By now, I'm sure you have noticed the footwear industry has been dominated by the larger corporate brand that we will not name, Last Resort AB was founded in protest of that by Pontus Alv of Sweden. Pontus built this skate shoe brand in response to the commercialization of skateboarding and the lack of input that skaters had in the design and production of their own footwear. Alv's approach to creating skate shoes and skate products relies heavily on listening and working closely with skaters to develop shoes that are both functional and stylish, with a focus on quality materials, construction, and skateability.
Last Resort AB's commitment to sustainability and responsible production is also a key part of its ethos. Made in Portugal, the factories create these shoes using traditional shoemaking techniques. Pontus' dedication to creating high-quality, functional skate shoes that are designed with the input of skaters themselves sets Last Resort apart from the other skate shoe brands.
The brand's focus on sustainability and responsible production also suggests a commitment to long-term viability and durability. Last Resort AB is a brand that is deeply connected to the skateboarding community and culture and is one of the few skater-owned shoe brands. They support skaters, in turn, you should support them.
---
2. Slappy - The newest skateboard trucks on the street.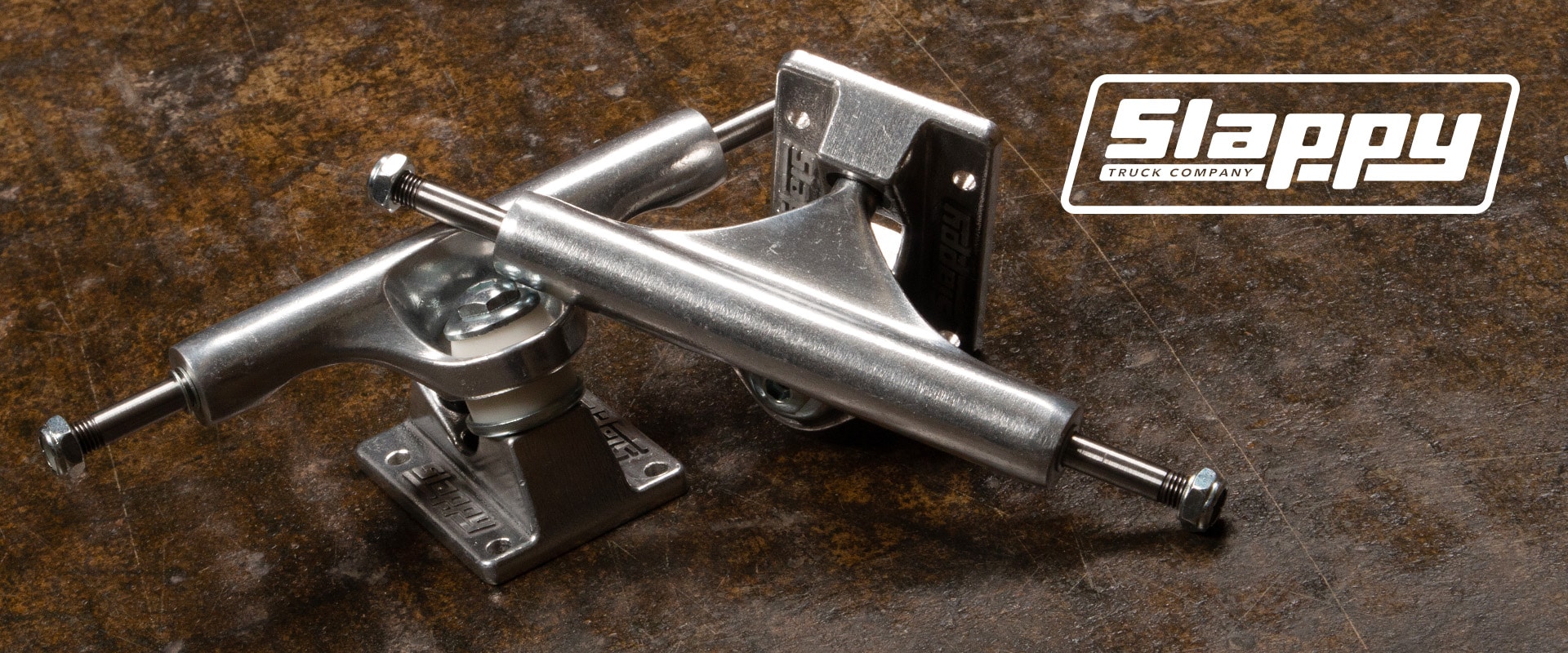 Birthed from the mind of skateboard icon Mike Sinclair, Slappy Trucks has arrived. Dissatisfied with the trucks produced by other major brands, Sinclair set out to create a new skateboard truck design. After three-plus years of research and development, Slappy Trucks were born. The brand's unique focus on increasing grind clearance around the kingpin and altering the trucks' turning capabilities sets them apart from other skateboard truck brands. The result is a high-quality product that caters to skaters seeking a fresh and innovative option for their skateboard trucks.
Slappy trucks are a versatile option for skateboarders that blend the stability of Independent trucks with the smooth grind of Ace trucks. They handle well during high speeds and manual tricks, making them suitable for various skating styles. They are also compatible with larger wheels and less wheel bite, making them a good choice for skaters who prefer this setup. Overall, Slappy Trucks offer a unique and innovative option for those looking for a new grind.
---
3. GX1000 - Hills and walls.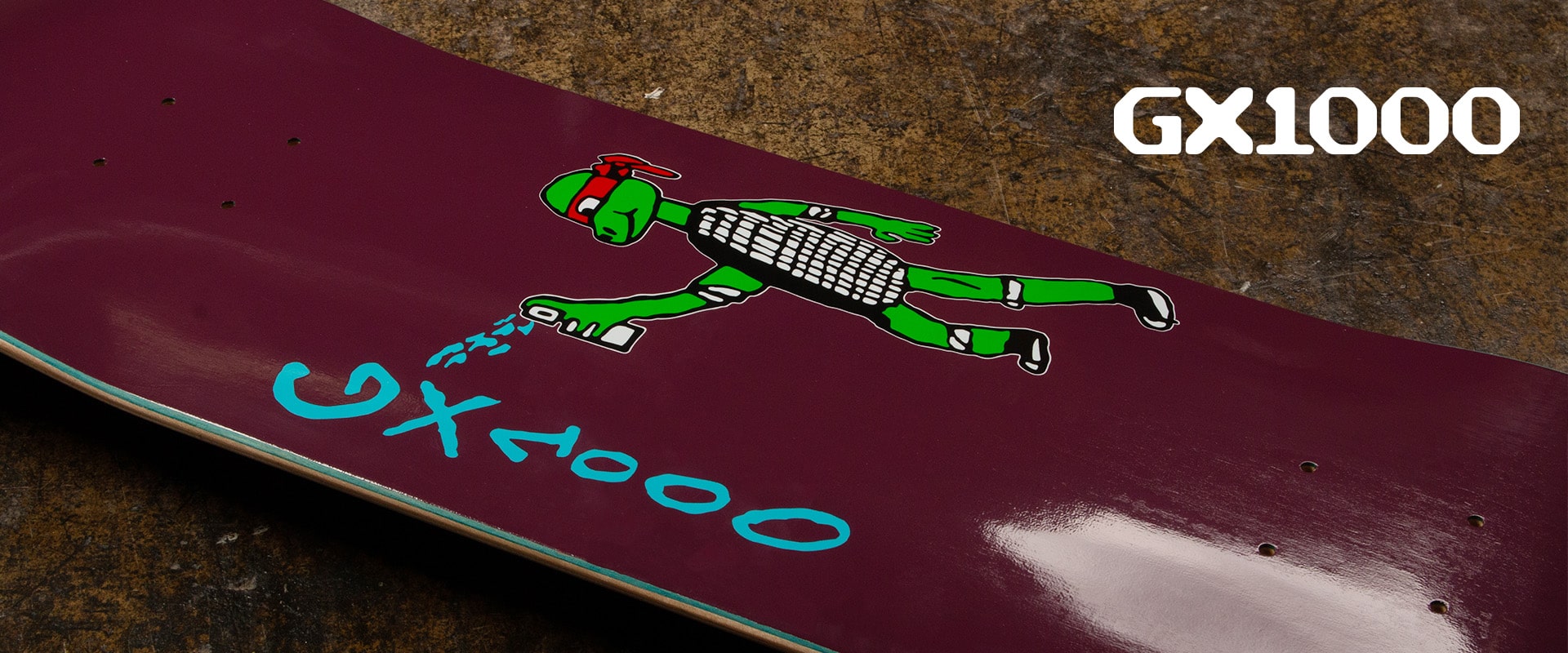 GX1000 is a skateboarding crew and brand originally founded by San Francisco-based skater and filmer Ryan Garshell. Known for producing skate videos featuring their crew performing what could only be called death-defying hill bombs, wallrides, and heavy tricks at spots across SF and beyond. Hosting a reputation for its raw approach and mentality, GX1000's no-frills approach to skateboarding has put them at the top of the food chain in the skate community.
Some of GX1000's videos have been controversial due to the risks taken by the skaters and have been criticized by some for promoting dangerous and illegal behavior. However, supporters argue that the crew's focus on individual skill and pushing boundaries is part of what makes skateboarding exciting and creative. Overall, GX1000 is a skateboarding crew and brand that emphasizes raw, street-style skating and has gained a reputation for pushing boundaries and taking risks because that's what skating means to them. We back that.
---
4. Carpet Company - Skate clothing made by people way smarter than you.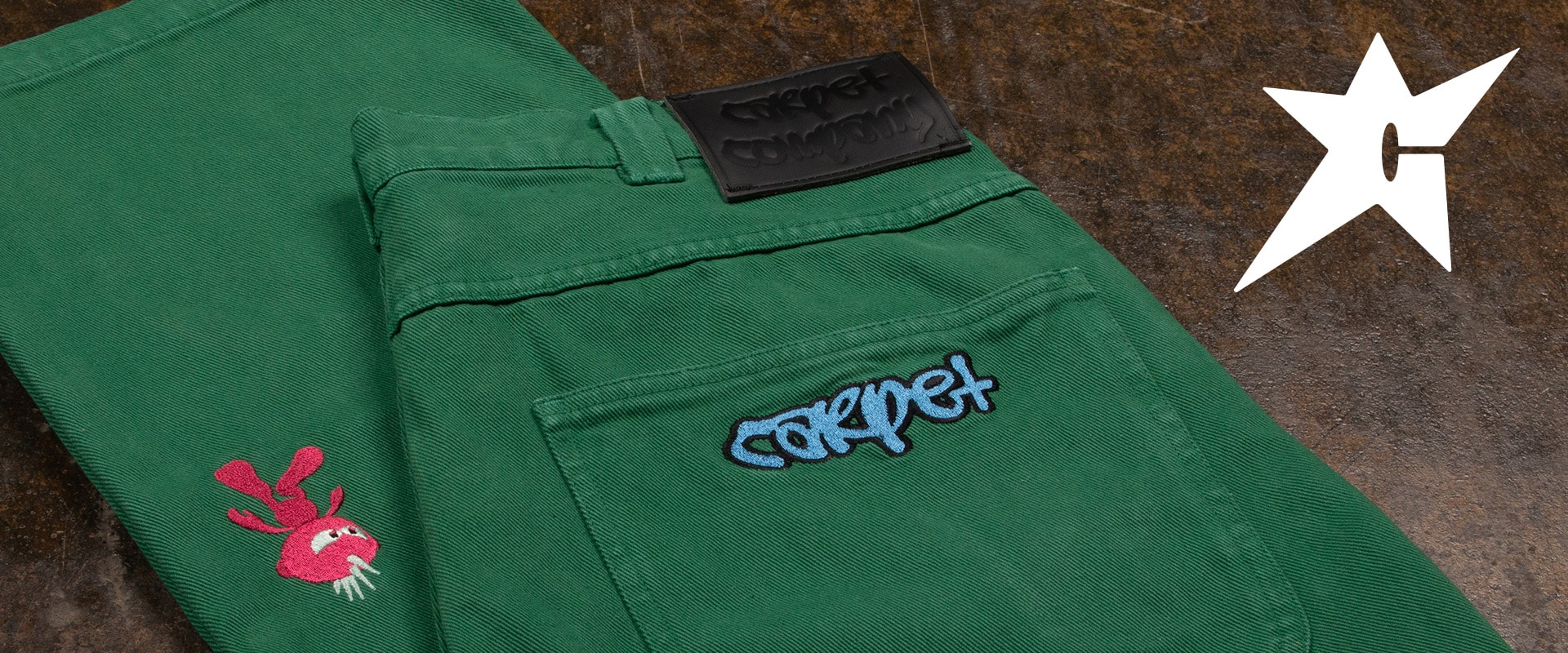 Carpet Company was founded by two Maryland brothers Ayman and Osama Abdeldayem in their parents' basement. The two found time between their "real jobs" as an engineer and an employee at NASA to start a small, independent skateboard and apparel manufacturing company. We can barely manage writing this article and deciding what's for lunch, so this is mind-blowing.
The guys at Carpet specialize in screen-printed skateboards and clothing, adding a personal touch to every item through custom designs and messages, resulting in high-quality and unique products. The brand's focus on creativity, authenticity, and individuality is reflected in every aspect of the business. They prioritize quality over quantity and take pride in their hands-on approach to production, resulting in unique one-of-a-kind quirks that make their products stand out. Their passion for skateboarding is evident, and they are committed to their craft.
Carpet Company's commitment to its values and aesthetics has made them a standout in the ever-growing skate market. Dedication to creativity, authenticity, and individuality is a reflection of their passion for skateboarding, making Carpet Company a brand that embodies the spirit of the skateboarding community.
---
5. Theories – The Theories Of Atlantis.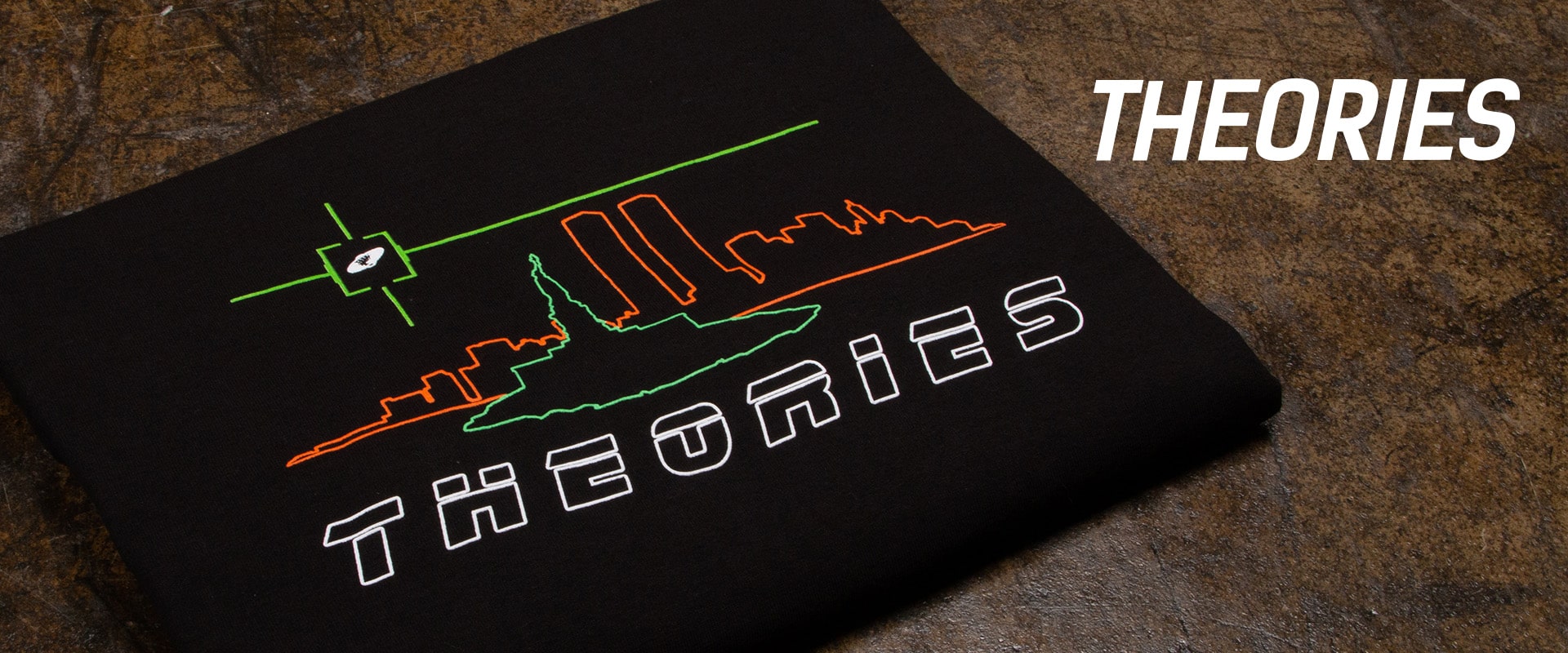 Theories has a unique and distinct identity that sets it apart from other skateboarding brands. Its founder, Josh Stewart, created the brand with the goal of highlighting the underground skateboarding scene and culture that was often overlooked by mainstream skate media. The brand's name itself is a nod to the mysterious and obscure, reflecting the brand's affinity for conspiracy theories and other cultural oddities.
The brand's focus on durability and functionality stems from its roots in skateboarding culture, where clothing and gear need to hold up to the needs of skaters. However, Theories also places a strong emphasis on style, with a range of clothing and accessories that are well-suited for both skateboarding and everyday wear. This combination of practicality and style has made Theories a popular brand among both skaters and fashion enthusiasts.
Over the years, Theories of Atlantis has become a recognized leader in East Coast skateboarding culture. The brand has cultivated a global community of skaters, with a website that serves as a platform for videos, articles, and other content related to skateboarding culture. The brand's influence extends beyond just skateboarding, with collaborations and partnerships with other brands and artists in various creative fields.
Overall, Theories of Atlantis has established itself as a brand with a unique identity and a loyal following. Its focus on quality, durability, and style, combined with its affinity for underground culture, has made it a brand that is both distinctive and highly respected within the skateboarding community and beyond.
---
6. There skateboards- Breaking Barriers In Skate.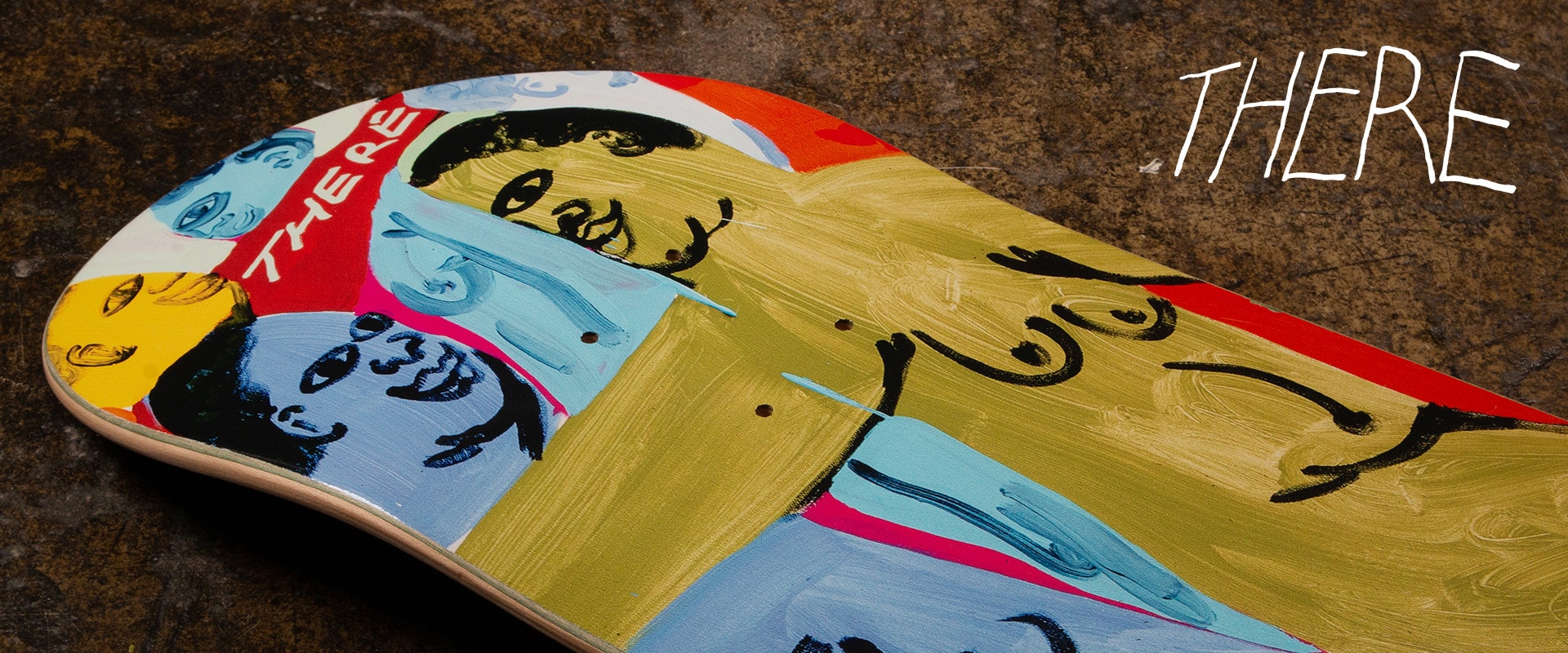 There Skateboards is a collective dedicated to supporting queer and trans skateboarders of color (QTPOC). The company was founded by artist and skateboarder Jeffrey Cheung and his partner. The collective works to fight for marginalized voices and expand diversity within the historically white and male-dominated world of skateboarding. There Skateboards sponsors several pro queer skateboarders and hosts skate sessions and art shows with different communities.
The company offers an assortment of tees, hoodies, prints, and skateboards that feature Cheung's colorful and dynamic artwork of androgynous figures promoting self-love and community. There Skateboards is part of a DIY and "underground" movement that seeks to challenge the mainstream skateboarding industry and create a space for underrepresented skaters.
---
7. Limosine - Not The Luxury Vehicle, But Close.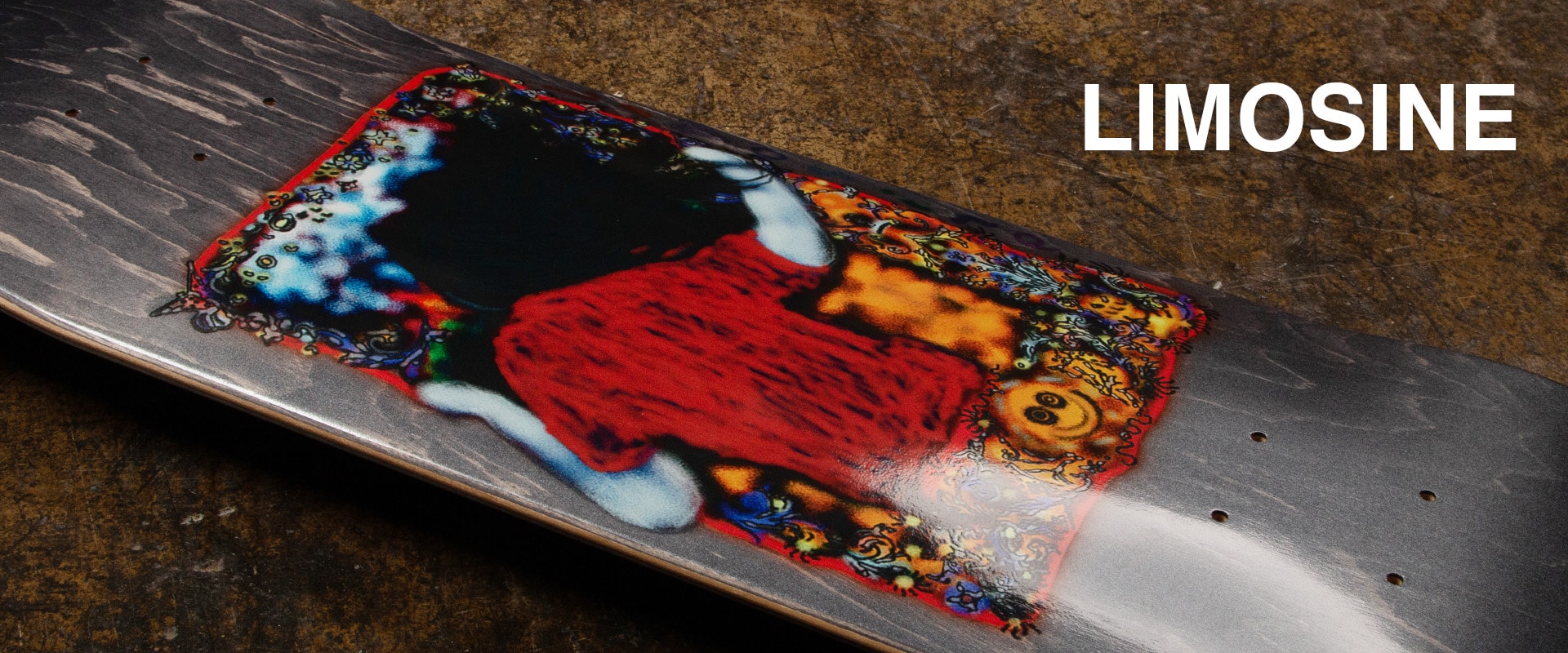 Jump in, the Limosine has arrived! This new skateboarding brand sprung onto the scene in a puzzling way, the name "Limosine" first appeared on a Call Me 917 deck that had been sprayed over with the brand's logo, sparking speculation that former 917 team members were planning to start their own company. In December 2021, Limosine launched its first skateboard decks and clothing alongside its new 20-minute video, "Paymaster," featuring talented skateboarders and showcasing incredible skateboarding.
In the moments since, Limosine has gained popularity among skateboarders thanks to its team, unique graphics, and edgy vibe, showcasing a more cohesive and daring vibe. With that sort of combination, that's a type of Limo we want to ride with. Check them out.
---
8. Frog Skateboards - It's more than a joke.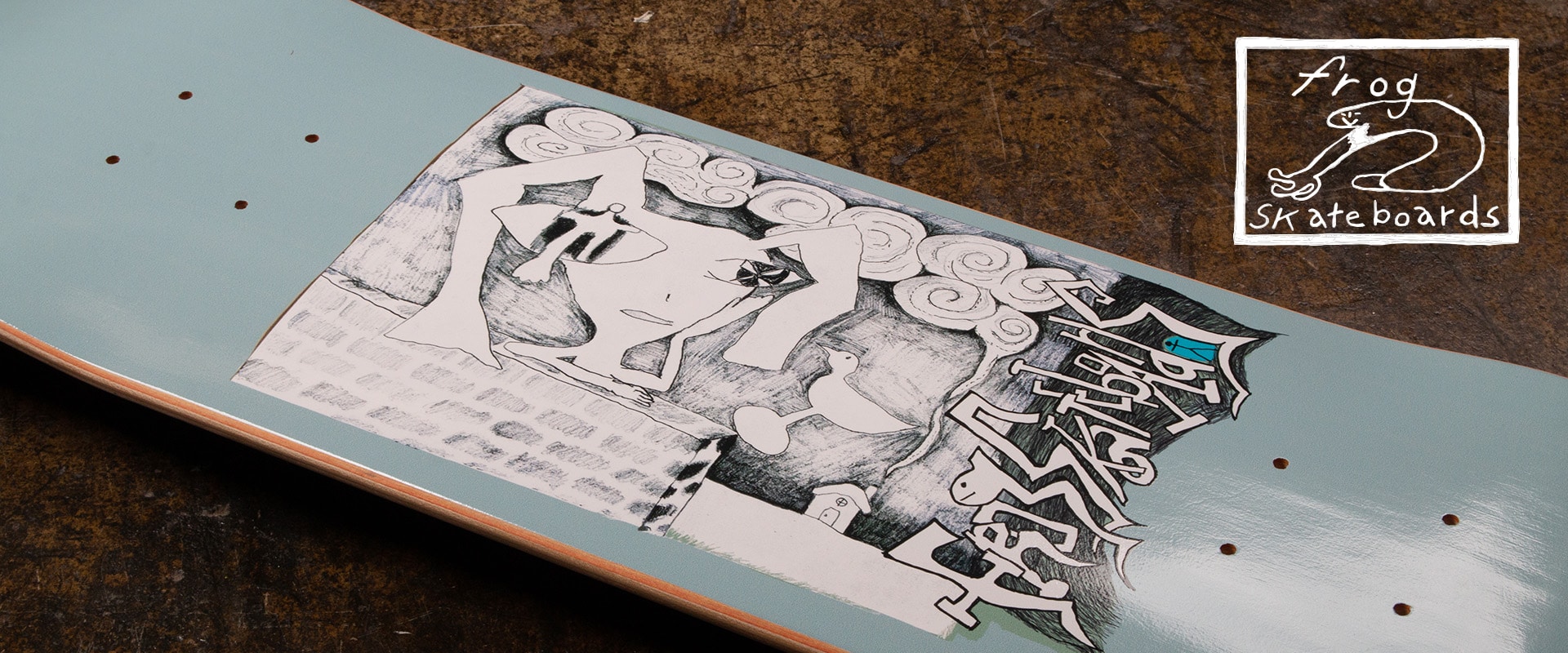 Growing from a tadpole of an idea between friends and skaters Chris Millic and Jesse Alba, FROG Skateboards hopped onto the scene in 2015. Starting with a few doodles of frogs, the first skateboards, hoodies, and tees arrived and there was no turning back.
For FROG, Chris and Jesse maintain the emphasis of the brand is focused on fun by embracing the use of bright colors, whimsical graphics, and playful imagery. The skateboard decks feature graphics of cartoon frogs, rainbows, and smiling faces, while the clothing includes t-shirts, sweatshirts, and hats with similar designs. FROG Skateboards seeks to create a positive, inclusive community of skaters who are passionate about skateboarding and enjoy expressing themselves. That's something we support, you should too.
---
9. Cleaver Skateboards - Straight from The Butcher.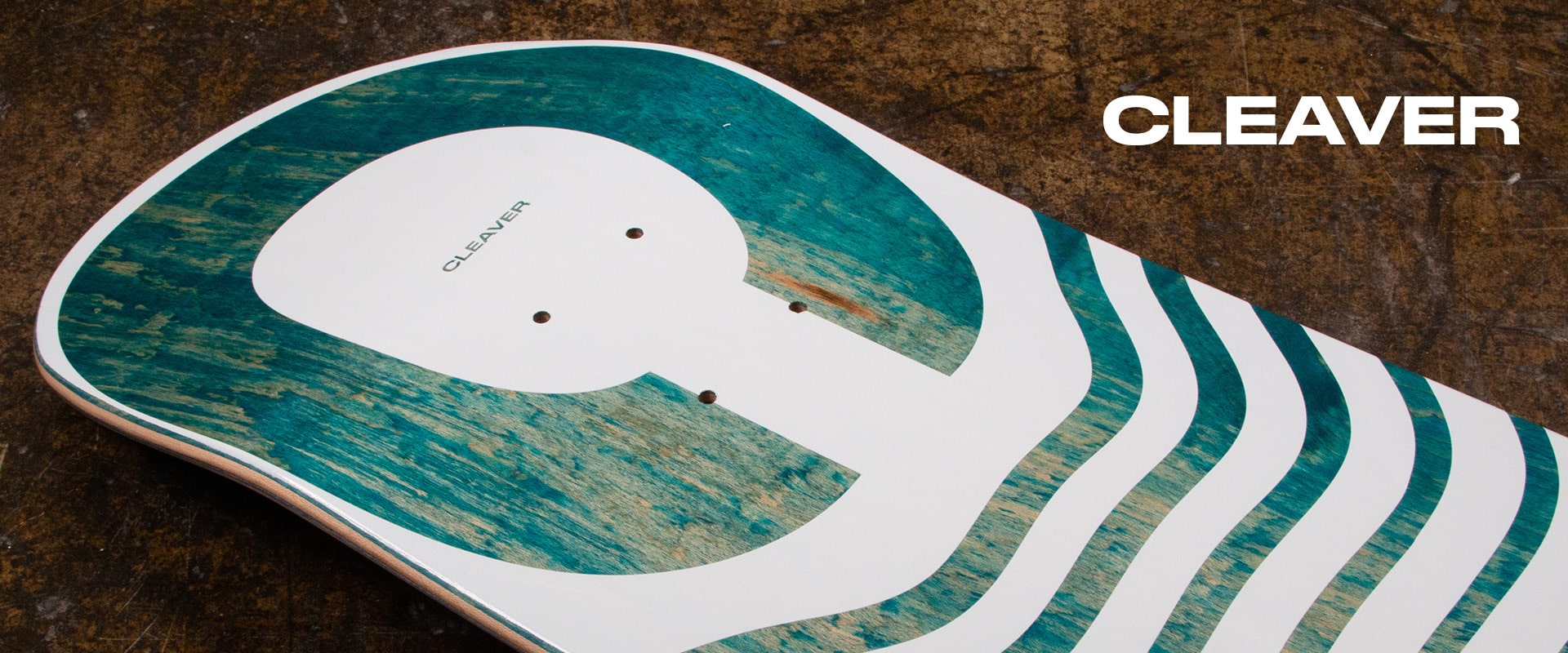 In 2013, Diego Bucchieri, known as 'The Butcher,' founded Cleaver Skateboards. Diego, a legendary professional skateboarder from Argentina, made a name for himself in the skateboarding world for his aggressive and technical style, showcasing it in remarkable video parts while riding for Toy Machine in the mid-2000s. The brand has become well-liked, offering high-quality skateboards with elegant graphics, all under the ever-watchful eye of The Butcher himself. Now you know.
---
Shop All The Skate Brands You Should Know