Q/A: Sebastian Lopez of Space Program Skateboards
Sitting at the helm of the Space Program is Sebastian Lopez; owner, designer, team manager, creative director, team babysitter, and the list goes on. Flanked by his trusty Frenchies Pierre and Beignet, Mission Control now operates out of his quaint SE Portland home, but the Space Program story starts over a decade ago in Spokane, WA. We recently caught up with Seb on the heels of wrapping up filming and shooting this latest Space Program x Tactics collection and video.
With our shared team riders Nathan Vitale, Faith Doudna, and Maya Volpacchio it was only natural that we put our heads together to bring the world our first collaboration with Space Program. The fully gender-neutral collection includes a Double Knee Utility Wave Pant and a Chore Shirt that come with four iron-on patches so you can customize yourself. The capsule is rounded out with SP x Tactics T-shirts and Nathan Vitale pro model boards in sizes 8.25 and 8.5.
Follow along below to learn more about Sebastian & Space Program
---
Hey Sebastian, how's your day going?
Hey, doing good. It's a Monday so you know the drill…
Another day in paradise. Where/when did you first pick up a skateboard?
I grew up in Colombia, South America. I started skating around 2002 and at the time skateboarding was such an underground thing in my city.
My very first board was a Walmart-type board that lasted about 2 weeks, my friend broke it trying to skate up a curb in the rain. My next board was a planet earth deck that my old trucks didn't fit into. So I drilled some new holes in there.
I also didn't know that you have to buy skateboarding-specific grip tape, so I just went to the hardware store and bought sandpaper, and glued it onto the board...
"Gotta work with what you got!"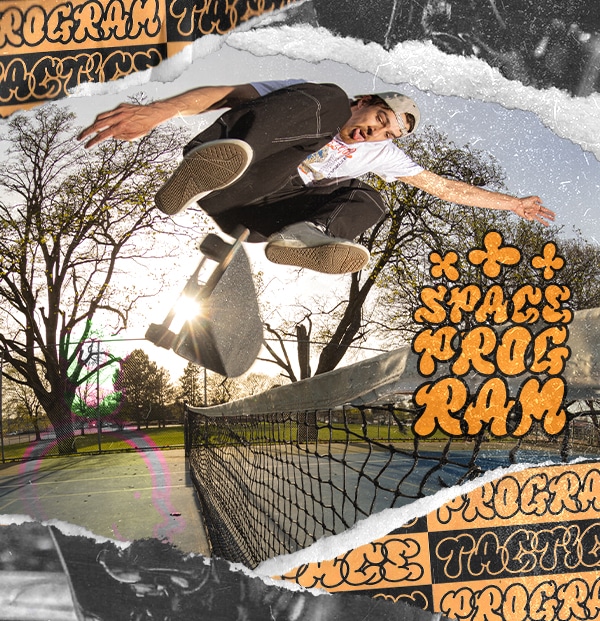 You made it happen! What were some of the brands and videos that inspired you as a kid growing up in Columbia?
At the time there was a big hype in our scene around Emerica, Girl, Habitat and Alien Workshop. "Yeah right!", This is Skateboarding, and Mosaic played on repeat every day before we'd go out and skate.
Ahh those are the best. What brought you to Spokane WA?
My mother moved to the states for work and brought me along. Spokane was a bit unexpected for me.

Tell us about the skate scene in Spokane. Any favorite local legends or stories?
Spokane has a pretty rich history. From the fabled UTF (under the freeway skatepark) to local shops with epic teams. These days the city has invested in better parks and locals have opened shops creating a pretty awesome scene in the city people are getting so good. The scene has changed a lot for the better too. Lot more female and non-binary people are part of it, which makes it pretty cool in my opinion.
When did the Space Program start?
The brand started in the summer of 2016.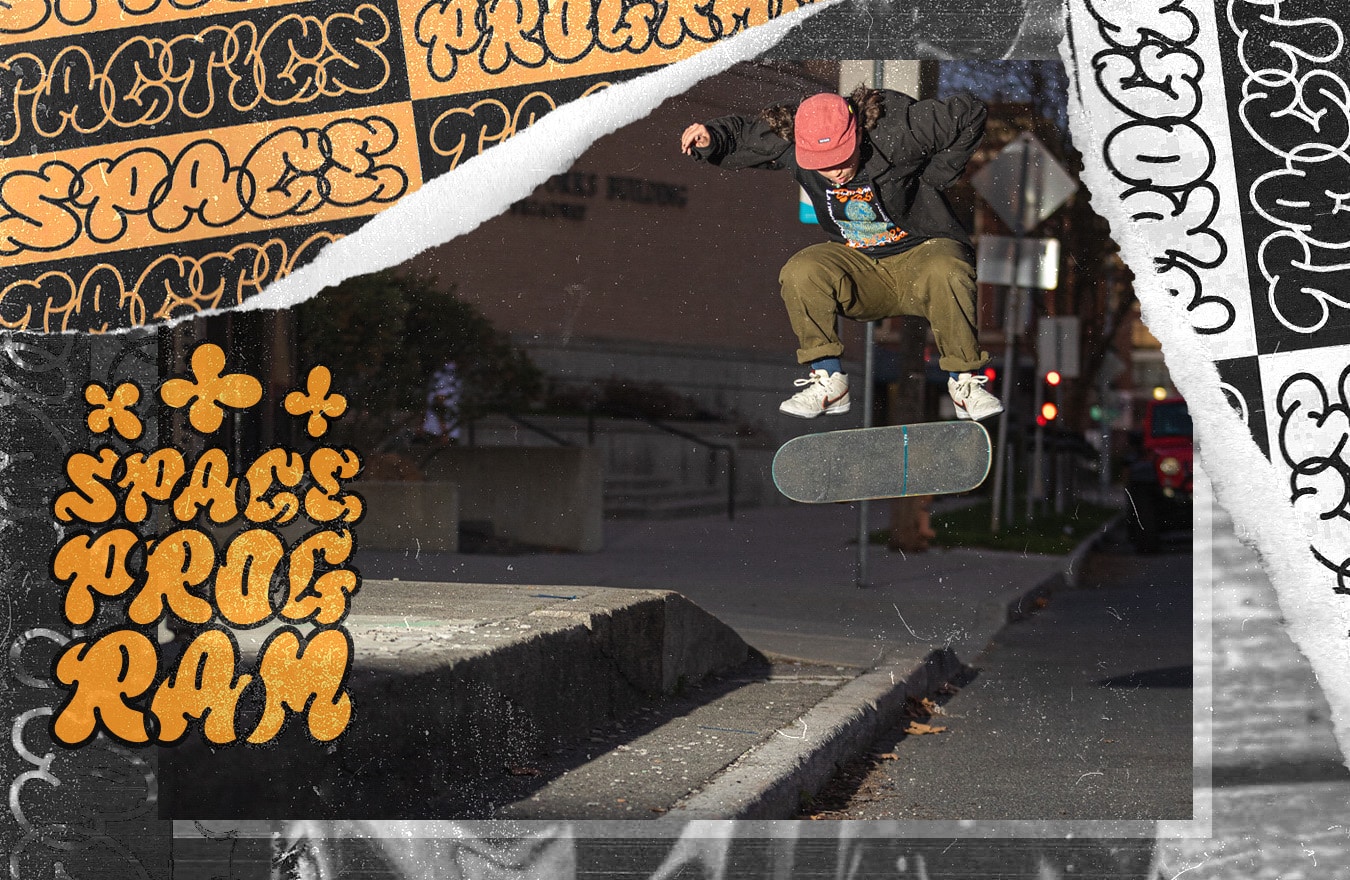 You design all the boards, film and edit the videos, build the team etc. What is the most rewarding part of running a skate brand?
I design most of the graphics, but whenever I want to pursue a specific art style I tend to work with artists and make something cool together. As far as filming goes; I can't take all the credit, Justin Marko also films a huge amount and has helped define our aesthetic, he's out there all the time with the team. he's incredible with a camera.
I'd say the most rewarding part of running a skate brand has been believing in something from the start and seeing it grow organically, it wouldn't have happened without people's support. My local shop owner helped me figure out the logistics of getting connected with wood shops and pushed our brand from the very beginning. I'd say networking and good team rider choices have gotten us that credibility.
It is a lot of work, all the business, logistics, and team managing side of things. It is so cool to see people get behind it, buy a board, and show up to our events. I'm forever grateful to everyone who has contributed in any way, From every team rider who has been and is part of it, to anyone who chooses our stuff over anyone else's.
We love Natey. He's been such a great addition to the Tactics team. Tell us about Natey's role in the Space Program?
I mean, what can you not love about Nathan?
Nathan has been part of the brand pretty much since the beginning. I remember the first trip he came on, I instantly knew he was going to be part of this thing. He's such a hard worker and it really shows with how much his skateboarding has progressed over the last handful of years. It is so cool to watch him carve his own path in skateboarding, I don't think there are many people out there with the skate intellect to think differently, be creative, and he's got that. It's pretty wild to watch him figure out a trick, he's out there constantly working away on his video parts and making it happen. In a way, he's one of our most visible riders out there, but that is to his own merit and work ethic. His pro board was overdue and I think his pro part is going to blow people away.
Progressing women's skateboarding is a priority for you. Faith Doudna and Maya Volpaccio are another two of our shared team riders. What's it like watching them push each other in the streets?
Representation matters. Faith and Maya have been progressing so much, they're so gifted and it has been so great to see them connect on skate trips and push one another to get tricks and also push Maddie, our other female rider to progress. It's a good vibe they have going on.
What have been some of your favorite team trips?
Every trip has something special. I'd say our Eastcoast trip for the EASTBOUND edit was one of my favorites. The whole team was there and everyone had an awesome time. We went out there for 11 days. This latest SF trip we did was also awesome. The same vibe, we got some of our newer riders out there as well. Super productive trip
Is there a Space Program video in the works?
There's a full length in the works.
We cant wait for that... Thanks for the words Seb! Anything else you would like to mention?
Thanks to anyone who has supported us, we're forever grateful.
---