Slappy Trucks - Test Ride, Review & Size Chart
The term "Slappy" isn't reserved just for curb skating. Introducing the newest skateboard trucks on the block – Slappy Trucks.
The brainchild of skate industry icon Mike Sinclair was born when Mike started exploring the idea of what a new skateboard truck could be during the COVID pandemic by searching for solutions to the issues he found with the trucks produced by the other major brands. Slappy focuses on increasing grind clearance around the kingpin and altering how the trucks turn, adding in three-plus years of research and development. Slappy Trucks are here.
The developments to these trucks are a hit thus far with the community. We get a shipment in, and they fly out the door shortly after. We decided it would be prudent of us to try these new skateboarding trucks for ourselves and tell you what we found.
"We should try out these trucks" by that, we mean Tactics team rider Chris Ryan will be taking this test ride. If you haven't already, click play on the video above and watch Chris take Slappy's ST1 Classic skateboard trucks out for a test drive at Washington Jefferson and street skating in Eugene, Oregon. Tune back to this article if you want a bit more in-depth analysis and breakdown of this truck from Chris's perspective.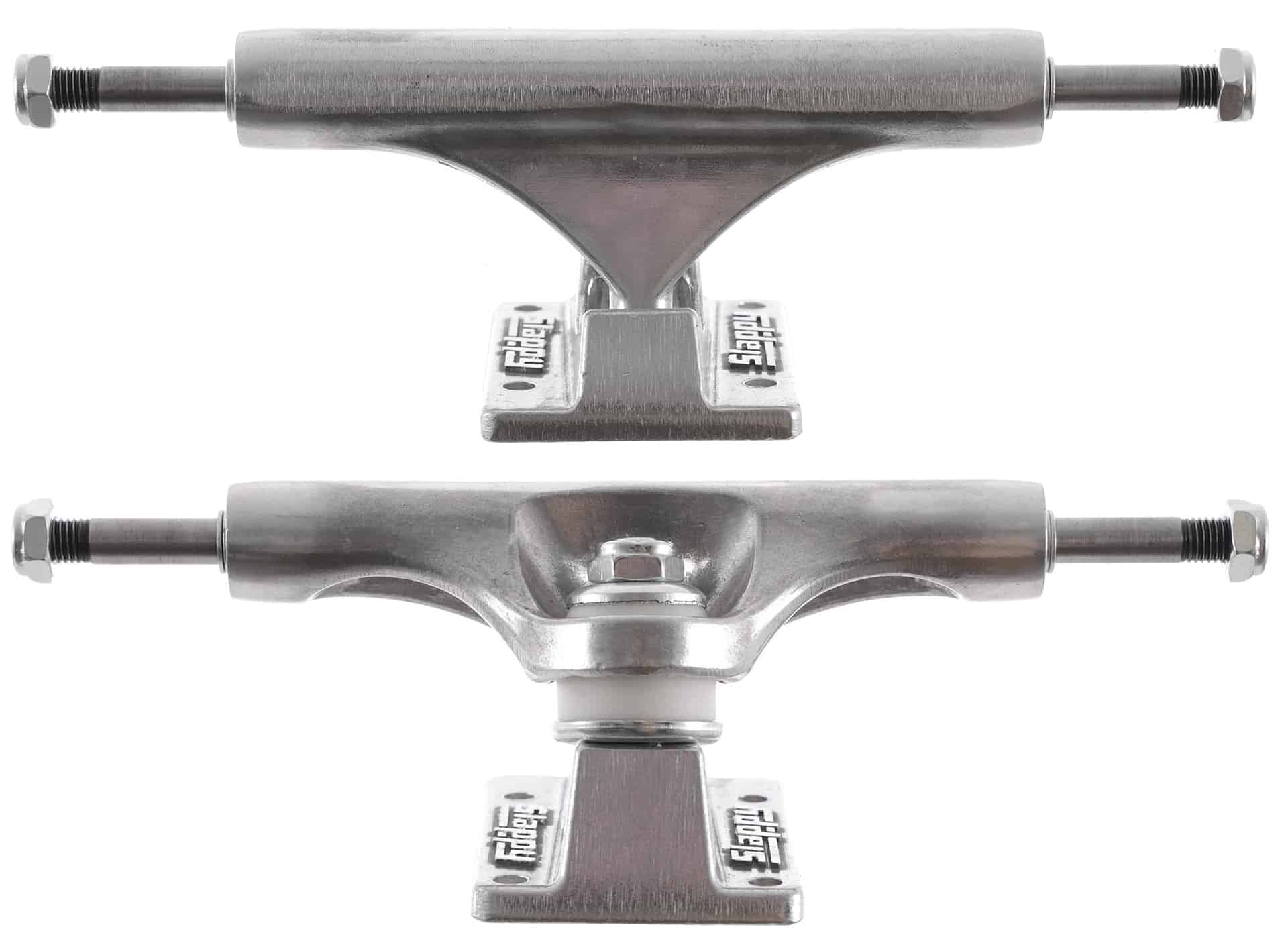 So, what's the review on the trucks?
Chris described Slappy trucks as a metaphorical mix between Independent and Ace trucks, with a light hanger and a smooth grind. They are stable in manuals and at high speeds, making them versatile for a variety of skating styles.
However, he did run into a slight issue with the trucks/bushings. Both sets of Slappy's we test rode did the same thing, the top washer made the bushing peel off the top corner, but it wasn't anything that affected the way that they skated. It could be a total fluke, but it is also something to be aware of.
While we are still on the topic of bushings, our filmer Tim noted that he felt that the bushings are susceptible to temperature changes and is quoted as saying, "Even just a 10-degree difference would make the trucks feel extra tight/loose, and I would have to adjust them"
Despite this issue, the durability of Slappy Trucks is impressive. The hanger takes longer than other truck companies to develop grooves, which shows that they can withstand the wear and tear of skating. We also wanted to note that Chris was riding 60 mm wheels and only required a 1/8-inch riser added to his board, making these trucks a great option for skateboarders who prefer larger wheels and less wheel bite.
Overall, Slappy Trucks offer a unique and innovative option for skateboarders who are looking for a new skateboard truck option. While they may not be perfect for everyone, they are worth considering for anyone serious about skating.
---

Slappy Trucks Size Chart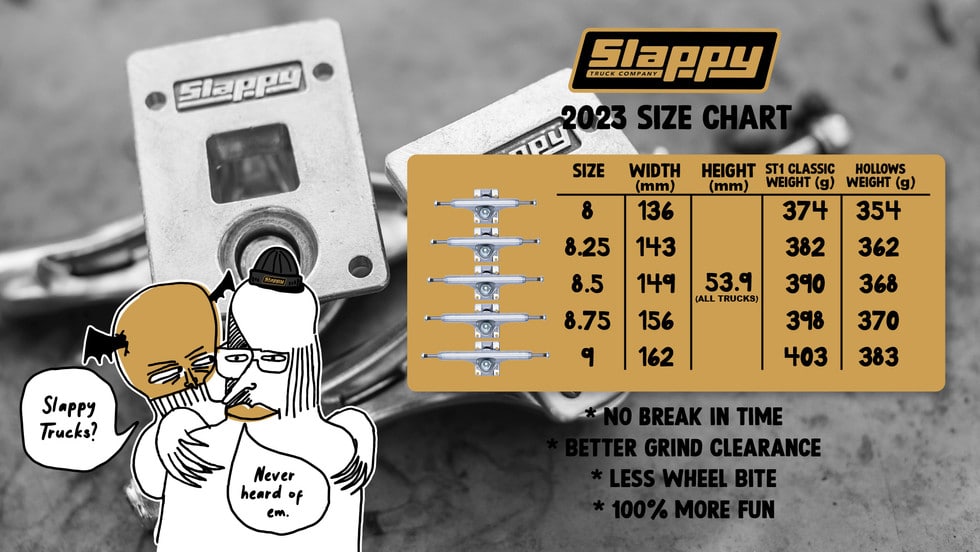 ---
STILL HAVE QUESTIONS?
If you're still curious about Slappy Trucks or need more information, rest assured that we have the resources to help you out. Our customer service team is highly knowledgeable and can answer any questions you may have about these trucks or other skateboard equipment. You can easily reach out to them by phone or message.
Additionally, if you are in Portland, Eugene, or Bend, feel free to visit one of our local shops and speak to one of our friendly and helpful retail employees. They'll be more than happy to assist you and provide any information or guidance you need. Don't hesitate to reach out to us - we're here to help!
Customer Service:
Call us toll-free at 888.450.5060
Text us at 888.450.5060
Monday - Friday, 8 a.m. - 6 p.m. Pacific Time
Saturday - Sunday, 9 a.m. - 5 p.m. Pacific Time
help@tactics.com