Welcome to the Team | Nora Vasconcellos & Alana Smith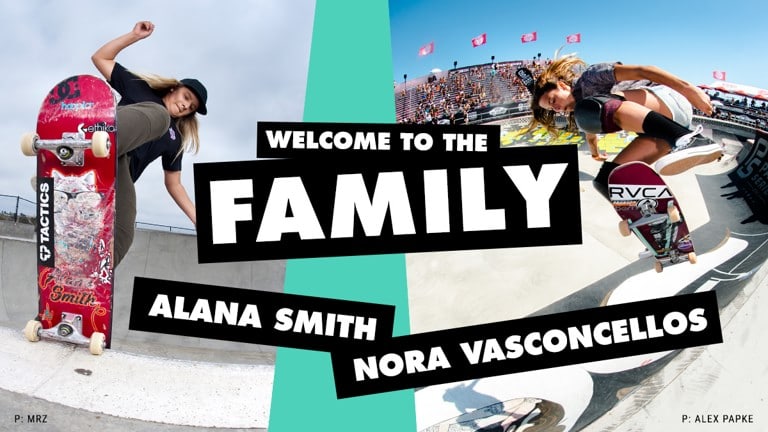 FOR IMMEDIATE RELEASE Contact: Women's Skateboarding Alliance
Thursday, Aug. 11, 2016 Mimi Knoop [email protected]
TACTICS EXPANDS TEAM TO INCLUDE PRO FEMALE SKATERS
Tactics Welcomes Alana Smith and Nora Vasconcellos
EUGENE, OR – Oregon-based boardshop Tactics and global management agency Women's Skateboarding Alliance are proud to announce the expansion of Tactics' skate team to welcome female professional skaters Alana Smith, age 15, and Nora Vasconcellos, age 23, as new ambassadors. The announcement culminates a partnership between one of the skate industry's top retailers and the WSA, which serves as the industry voice of women's skateboarding.
Rider owned and operated since 1999 in Eugene, OR, Tactics specializes in skate and snowboard gear, has served over a million customers globally and will soon expand its retail operation to Bend, OR. Until now, the Tactics pro roster included Silas Baxter-Neal, Josh Matthews, and Cody Lockwood.
"We're proud to now add two of the top pro women to our team. It feels right for who we are…it's inclusive. Skateboarding is for everyone," says Jeremy Conant, marketing director at Tactics. "There is a growing group of influential female pros with huge followings. Mimi Knoop and the WSA staff were vital in helping us connect with Alana and Nora. The hard part was choosing only two women to work with. There are many others who deserve a boost."

Tactics Team Manager Kyle Richner says reaction from current team members has been hugely supportive and they are excited to get the new team together for future skate missions.
"Both Alana and Nora are an inspiration. Not just to girls, but to everyone who skateboards," says Richner. "Whether it's Alana landing a McTwist when she was 12 years old or Nora blasting backside air so tweaked it will make any skater jealous, both of them are pushing the boundaries of style and skateboarding in unique ways."
Alana Smith, hailing from Mesa, AZ has had top finishes at the world's biggest contests in all disciplines (vert, park and street) over the last few years including a 3rd place finish at the first Women's Division at Street League World Championship in October 2015. She's currently backed by DC Shoes, Hoopla Skateboards, Bones, KTR, Glassy Eyewear, Ethika and Stance. In 2014, Alana was the first female skater to land a backflip on mini mega and the previous year earned her spot in the record books as the youngest medalist in X Games history at age 12 in Barcelona, Spain.
Originally from Massachusetts, Nora Vasconcellos, is currently living in Laguna Niguel, CA. Earlier this month she posted a strong 5th place finish at the first ever women's event at the Vans Parks Series in Huntington Beach, CA. Nora's sponsors include Welcome Skateboards, Adidas, Krux, Spitfire, Bronson and MovieTickets.com. She's been busy filming a full part for Welcome Skateboards and will be competing in Malmo, Sweden next week during the Vans Park Series World Championships.
"The fact that Tactics has been rider owned and operated for almost 20 years speaks volumes to their commitment to skateboarding. They are the real deal. Adding female skaters to their team adds further authenticity to their brand, and the timing is right. It's another win for women skaters to have equal compensation for their talents," says Knoop, WSA founder and president.
Vasconcellos signed on with Tactics in early July and had a chance to meet the staff in Eugene while on a Welcome road trip. "I'm stoked to be able to ride for a homegrown shop that contributes so much to its community," she says. "Between the mini ramp and the crew, Tactics is the kind of shop you could spend all day in...Oh, and the gnarly team!"
Smith is also looking forward to connecting with the Tactics team. "I'm hyped to be able to skate for Tactics and to go adventuring with an awesome crew. I am also excited to hit up some of those sick Oregon spots."
With growing momentum for women's pro skateboarding globally and recent confirmation from the International Olympic Committee (IOC) to officially include skateboarding in the 2020 Summer Games in Tokyo for men and women, it's an exciting time for action sports.
Based on Facebook Insights from 2013 to 2015, females listing "skateboarding" as a profile interest saw an impressive 41 percent growth rate, while men's growth was just 4 percent. More girls are interested in learning to skate, and they're doing it. "It is the fastest growing demographic in action sports," as recently reported by Forbes. Females now make up 32 percent of people who participate in skateboarding according to IASC's 2016 State of Skate Report.
WSA recently expanded its management and consulting services and launched a new website. The agency provides consulting and marketing services to corporate sponsors and event organizers, acts as the premiere female skateboarding sport organizers in the world, and operates in conjunction with its nonprofit division, Action Sports Alliance. In its first year, WSA co-produced the first ever Women's Contest at Street League in Fall 2015, as well as helped facilitate and produce the first ever X Games Women's Street qualifier held in May 2016.
About Women's Skateboarding Alliance
Women's Skateboarding Alliance (WSA) is a global management and consulting agency dedicated to authentically representing the industry voice of women's skateboarding.
WSA educates, improves and delivers the most current trends and information for women's skateboarding worldwide. The executive leadership collective is comprised of top women in Action Sports: Mimi Knoop, Lisa Whitaker, Kim Woozy and Yulin Olliver. As a for-profit entity, WSA operates in conjunction with its nonprofit division, Action Sports Alliance.
Womensskateboardingalliance.com
About Tactics
Founded in 1999, Tactics is one of the premier board shops in the United States. Tactics is rooted in skateboarding, snowboarding, shoes and apparel, with Oregon store locations in Eugene and Bend, and online at Tactics.com.
Tactics.com