Krux
Hollow DLK Skateboard Trucks
1 Review
(1)
Write a Review
Overview
These awesome Down Low Kingpin (DLK) trucks have inverted kingpins so they don't stick out quite so much giving you extra grind clearance. With these trucks, you'll never snag your kingpin on a smith or a feeble on a ledge, and you'll have a smooth grind every time.
Features
Axle/Kingpin Style
Hollow Axle & Kingpin
Inverted Kingpin
NOTE
This truck uses a 5.5 mm (7/32" or a 3/16") Allen wrench to tighten or loosen the kingpin
Axle/Kingpin Style
Hollow Axle & Kingpin - Hollow axle trucks cut down on the materials used in the axle, so your trucks feel lighter. Hollow kingpins further reduce weight while still maintaining strength in this critical area.
Inverted Kingpin - An inverted kingpin means the threads are in the trucks, meaning that even after prolonged grinding, you will always be able to tighten or loosen your trucks.
Non-Compatible Risers
Risers from the following brands are not compatible with the baseplates of these trucks.
Arbor
,
Diamond
,
Dooks
,
Girl
,
Independent
,
Loaded
,
Paris
,
Rayne
,
Sector 9
Sizing Reference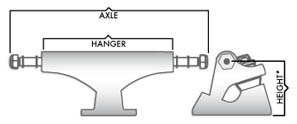 Note - Every skate truck brand represents their sizing a little differently, so it's easy to get confused. Take a look at this graphic and then reference the size chart.
Specs
| Size | 8.0 axle | 8.5 axle |
| --- | --- | --- |
| Hanger (mm): | 135.9 | 147.3 |
| Board Range (in): | 7.75 - 8.25 | 8.25 - 8.75 |
| Height (mm): | 55.0 | 55.0 |
| Weight (g): | 340.0 | 348.0 |
Reviews
Good for Smith's and feebles
by
Andres Forero
in
Raleigh, NC
(Verified Buyer)
Posted on 1/23/2020
Krux Hollow DLK Skateboard Trucks - polished silver (low)
Liking these a lot. First Smith grind on a box was smooth with the DL kingpin. These feel similar to my Thunders 148 titanium's in terms of height and weight. Pinch is similar too
Asked by
Ruben
on 1/19/2020
Are these trucks 34.95 a pair or a piece.
Answered by
Graig A
(Tactics Employee) on 1/20/2020
That is the price for a pair! All trucks on our site are sold as pairs.
---

More products from Krux