Krux
SpongeBob SquarePants Standard Skateboard Trucks
Be the first to write a review
Overview
Are you ready kids? (Aye aye captain!) These trucks feature Krux's signature cushions that feel broken in straight from the start! Good for beginners and advanced shredders, just reference the chart below for board-width compatibility.
Features
Collab
Krux x SpongeBob SquarePants
Non-Compatible Risers
Risers from the following brands are not compatible with the baseplates of these trucks.
Arbor
,
Diamond
,
Dooks
,
Girl
,
Independent
,
Loaded
,
Paris
,
Rayne
,
Sector 9
Sizing Reference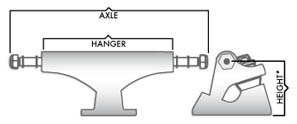 Note - Every skate truck brand represents their sizing a little differently, so it's easy to get confused. Take a look at this graphic and then reference the size chart.
Specs
| Size | 7.6 axle | 8.0 axle |
| --- | --- | --- |
| Hanger (mm): | 127.0 | 136.0 |
| Board Range (in): | 7.35 - 7.85 | 7.75 - 8.25 |
| Height (mm): | 52.0 | 55.0 |