Mini Logo
MiniLogo 7.13" Skateboard Trucks
Be the first to write a review
Overview
As a core idea behind Mini Logo trucks, you can get out and shred these without the awkward break-in process. They shape their trucks to give you a great feel from the first grind. The softer stock bushings offer smooth, controlled turns that are really great for beginners, but fine for seasoned riders as well. New trucks don't have to be a hassle, enjoy these from the first lap at the park.
Features
Truck Features
No Break-In Period
Precision Axles
Ultra High Rebound Bushings
Lightweight Hanger/Baseplate
Lifetime Warranty
Truck Features
No Break-In Period - No break in needed. Turn and grin smoothly right out of the package.
Precision Axles - 8mm axles with a slightly curved hanger designed to lock you into grinds.
Ultra High Rebound Bushings - Offers a smooth ride with precise control.
Lightweight Hanger/Baseplate - The last thing you want is a pair of trucks that unnecessarily weigh you down, Mini Logo has ensured that is never their case with their trucks.
Lifetime Warranty - A warranty against manufacturer's defects.
Non-Compatible Risers
Risers from the following brands are not compatible with the baseplates of these trucks.
Sizing Reference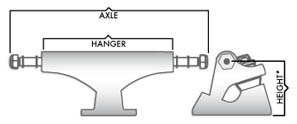 Note - Every skate truck brand represents their sizing a little differently, so it's easy to get confused. Take a look at this graphic and then reference the size chart.
Specs
| Size | 7.13 axle |
| --- | --- |
| Hanger (mm): | 116.0 |
| Board Range (in): | 7.0 - 7.5 |
| Height (mm): | 48.0 |
| Weight (g): | 310.6 |
---
More from Mini Logo