Overview
The 8.38in Mini Logo high-performance trucks combine strength, stability and smooth turning all in a lightweight design through the use of premium alloys, high-rebound bushings and precision axles. The MID riding height combines all the best performance aspects of a LOW (best for technical street skating) and HIGH height truck (best for big transition skating) into one bomb-proof package.
Features
Truck Features
No Break-In Period
Mid Riding Height
Precision Axles
Ultra High Rebound Bushings
Lightweight Hanger/Baseplate
Lifetime Warranty
Truck Features
No Break-In Period - No break in needed. Turn and grin smoothly right out of the package.
Mid Riding Height - Offers the best performance on any terrain you choose to skate.
Precision Axles - 8mm axles with a slightly curved hanger designed to lock you into grinds.
Ultra High Rebound Bushings - Offers a smooth ride with precise control.
Lightweight Hanger/Baseplate - The last thing you want is a pair of trucks that unnecessarily weigh you down, Mini Logo has ensured that is never their case with their trucks.
Lifetime Warranty - A warranty against manufacturer's defects.
Non-Compatible Risers
Risers from the following brands are not compatible with the baseplates of these trucks.
Sizing Reference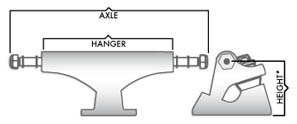 Note - Every skate truck brand represents their sizing a little differently, so it's easy to get confused. Take a look at this graphic and then reference the size chart.
Specs
| Size | 8.38 axle |
| --- | --- |
| Hanger (mm): | 146.05 |
| Board Range (in): | 8.25 - 8.75 |
| Height (mm): | 47.5 |
| Weight (g): | 346.3 |
Reviews
Great trucks for a great price
by
Jeff Atkinson
in
Mckinney, TX
(Verified Buyer)
Posted on 1/10/2022
Mini Logo MiniLogo 8.38" Skateboard Trucks - raw
I've been skating mini logo trucks for 3 months now and I must say I'm impressed. They're lighter than indys, no break in period. Only thing I'm not impressed with is when you tighten the bushing all the way down it's still not as tight as other trucks would be. But they lock in great I love them enough not to go back to indys.
I can see why Andy Anderson rides them!
by
Kevin
(Verified Buyer)
Posted on 6/5/2021
Mini Logo MiniLogo 8.38" Skateboard Trucks - raw
Really great trucks, and the value is even better! They're lower, lighter and maybe slightly more stable than Indy stage 11s. I like how Indys turn just a little more, but that's a matter of preference, and these are still pretty great! Even though they're totally different trucks, overall these feel nearly as good as Indys to me, and they're just as versatile for bowl, transition, park, street, cruising, whatever! When you factor in the price, they're hard to beat. But I can even see why Andy Anderson chooses them when price is no object.
by
Richard Underwood
in
Las Vegas, NV
(Verified Buyer)
Posted on 5/27/2021
Mini Logo MiniLogo 8.38" Skateboard Trucks - raw
Well I ususally ride independent standards 149's being that I've been off the board for over 10 years I wanted to try a lower truck and lighter truck and these trucks are amazing they literally feel exactly like independents if they were lower and significantly lighter plus they grind extremely well can't believe how cheap they are if your looking to buy a set of trucks that are strong light and ride lower then independent these are the ones u want hands down my 2nd favorite truck ever
by
Holly Daniel
in
Akron, OH
(Verified Buyer)
Posted on 1/9/2018
Mini Logo MiniLogo 8.38" Skateboard Trucks - white
They work. Turn well. Light.
by
Adrion Windley
in
Carrollton, GA
(Verified Buyer)
Posted on 2/24/2017
Mini Logo MiniLogo 8.38" Skateboard Trucks - rough polished
Had to tightenthem a Lil but after the break in period they rode clean
totally legit. good turn and grind, light, nice size spread.
Posted on 8/25/2016
Mini Logo MiniLogo 8.38" Skateboard Trucks
I got 8.38, little lighter and slightly lower than independent 139 (which are 8") stage cant remember (9s? one gen old) that i have been riding for years. nice spread of sizes, turn and grind as well as my indies, quite happy with them, Ill get em again. I ride on 56mm, 8.5" deck, no riser, no wheel bite, but it is very close. I ride my trucks average tightness.
Asked by
Newt
on 4/30/2014
okay, for the 20 whatever dollars these are at right now, ist that the set of trucks, like both of them, or is it per truck?
Answered by
James S
(Tactics Employee) on 4/30/2014
All of our trucks come in pairs
---

More from Mini Logo