Orangatang
In Heat Carving/Race Longboard Wheels
$56.00
Be the first to write a review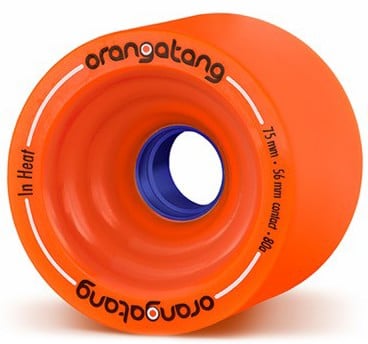 Overview
The In Heat race wheels from Orangatang were designed for speedboarding so you know you can trust them when you're out carving, commuting as well as tearing up the streets with your speed. They were designed to maintain grip and then when desired they can be slid very predictably and smoothly whenever you need a speed check. Repeatedly sliding wears down the sharp lips which results in smoother slides.
Features
Ride Style
Downhill
Carving/Cruising
Ride Style
Downhill - To go fast and stay in control, you want a big wheel with a lot of contact with the pavement.
Carving/Cruising - Carving/cruising wheels meet the needs of many different skate disciplines but generally, have a good roll speed and are soft enough to handle craggy streets riddled with cracks and rocks.
Core Placement
Offset - The most popular; offset cores offer a more forgiving slide initiation and hookup, while still providing ample grip and control in your slide.
Wheel Edge
Square Lip - The most grip allowing you to carve deeper and take tight lines around corners without worrying about losing traction.
Surface Type
Smooth - The natural shiny finish provides extra grip for railing corners and is more responsive when pumping/carving compared to wheels with a stone ground finish.
Specs
| | Durometer |
| --- | --- |
| purple (83a) | 83a |
| orange (80a) | 80a |
| blue (77a) | 77a |
| Size | 75mm |
| --- | --- |
| Diameter (mm): | 75.0 |
| Contact Patch (mm): | 56.0 |
| Suggested Riser Size (in): | 1/2 + |
---

More products from Orangatang