All Shake Junt
Shake Junt

Patches Zip Hoodie

black
$51.95

(19% off)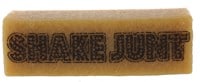 Shake Junt

Grip Cleaner
$12.95
Shake Junt is a grip tape, hardware, and accessory brand founded by Shane Heyl. The name 'Shake Junt' served as a catchy soundtrack to the first all-homie skate video put out in 2006. With a direct affiliation to and supporting clips from the Baker crew, Shake Junt soon developed a niche following.
Determined to keep the fire stoked through paving their own path, Shake Junt kept the antics going with "Chicken Bone Nowison" and "Skate Tank". Today, Shake Junt remains to be "by the homies, for the homies" and is supported by Baker Boys Distribution in North Hollywood, CA.
Get your Shake Junt skate goods and clothing online now at Tactics.